Alabama Councilman Uses Racial Slur to Refer to Black Colleague in Meeting
An Alabama councilman has been filmed referring to a Black councilor using the n-word during a public meeting.
Tarrant city council member Tommy Bryant stood up and asked "Do we have a house [n-word] in here?" during a meeting on Monday.
In a video of the meeting uploaded to YouTube by Bama Politics, the 76-year-old councilman can be heard using the racial slur in response to an audience member who accused his wife of using the n-word on Facebook.
"Let's get to the n-word," Bryant says before asking "Do we have a house [N-word] in here? Do we? Do we?"
He is seen pointing in the direction of city councilwoman Veronica Freeman, who is Black.
There is audible shock on the video among those in attendance.
Freeman can be seen appearing to sob into her hands following the remarks.
The incident begins around the 1 hour 41-minute mark in the video posted below:
Bryant later defended his use of the term in an interview with WVTM, claiming he was only repeating the words Tarrant city's Black mayor, Wayman Newton, had previously used in reference to Freeman.
According to the councilman, Newton described Freeman using the phrase along with the prefix "stupid" in an executive session earlier that day.
"I thought that the city ought to know what sort of terminology the mayor uses and I didn't want him to get away with it so that's the reason I used that comment," Bryant told WVTM.
"We need to stop the racial slurs that the mayor makes. He's always picking on Veronica Freeman...the mayor bullies her. The city needs to know what kind of mayor and what kind of vocabulary he has."
Bryant denied being racist telling the broadcaster: "I did what needed to be done."
Responding to the incident, Newton told Alabama Local News: "The video speaks for itself."
He offered no further comment on whether he used the n-word in relation to Freeman.
Alabama Republican Party Chairman John Wahl branded the remarks "completely unacceptable in any setting," but stopped short of calling for Bryant to resign.
"The Alabama Republican Party is deeply troubled by the racially charged outburst and disrespect shown by Councilman Tommy Bryant. Such language is completely unacceptable in any setting, and even more concerning coming from an elected official," Wahl told Alabama Local News.
"We are proud to have Mayor Wayman Newton as a member of the Jefferson County Republican Party and deeply appreciate his commitment to serving his constituents honorably, even in the face of adversity."
According to The Daily Beast, Newton previously accused Bryant of calling him "boy" during a heated argument between the pair.
Bryant refutes those claims, explaining he used the phrase "little boy" in response to Newton and his use of "foul language" during a private meeting.
Newsweek has reached out to Bryant, Newton and Freeman for comment.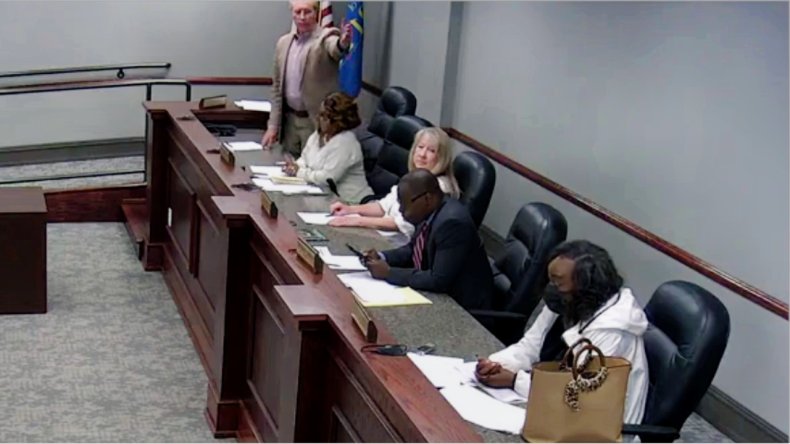 Update 07/22/21 at 3:32 a.m. ET: This article was updated to include a screenshot from the Tarrant City council meeting.