Alabama's Tua Tagovailoa Says 'I Don't Think I'd Be the Same Again' After Hip Injury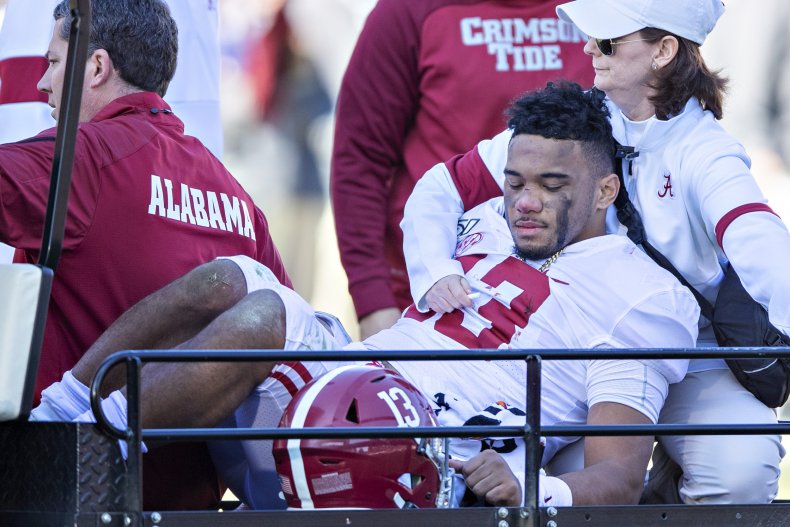 At a press conference on Thursday, University of Alabama quarterback Tua Tagovailoa spoke about the season-ending hip injury he suffered and suggested that his surgery may prevent him from returning to his original self.
"I don't think I'd be the same again because there's like metal in there," Tagovailoa said. "I lose some rotation inward, so I won't be able to twist as much inward and whatnot. I wouldn't need that as much. When you're running you're almost always opening up your hip. From [what] the doctors say, they expect a full recovery and I'll be able to go out there and play football again at 100 percent. It's just I won't be able to rotate it internally the same way."
The Crimson Tide star suffered a dislocated hip injury during Alabama's game against Mississippi State on November 16. Two days later, Tagovailoa underwent surgery that was regarded as a successful procedure, according to team orthopedic surgeon Dr. Lyle Cain.
"The procedure went as planned, and he is resting comfortably," Cain said in a statement. "Tua's prognosis is excellent, and we expect him to make a full recovery."
Despite his doctors telling him that he will be able to make a full recovery on the football field, Tagovailoa noted that there is a difference between a full recovery and returning to his original form.
Tagovailoa's original form helped lead the Crimson Tide to an 8-1 start and he was regarded by many as a potential number one pick in the 2020 NFL draft. Following his injury, many people began talking about the possibility of the quarterback deciding to forego the draft and return to Alabama for his senior season.
Tagovailoa was asked if it would be difficult to pass up the draft if he was projected as a top 10 to top 15 pick despite his injury. The quarterback noted that he did not want to reveal too much about his decision but said, "Yeah, I think that'd be tough to pass up."
Tagovailoa also referenced his conversation with former NFL star Bo Jackson, who suffered a similar hip injury while playing for the Los Angeles Raiders in 1991.
"He [Jackson] gave me some insight on not trying to rush the process in trying to get back," Tagovailoa said.
College football players have until January 20 to decide if they want to declare for the NFL draft.