How Alabama Senate Election Results Could Trigger Trump's Impeachment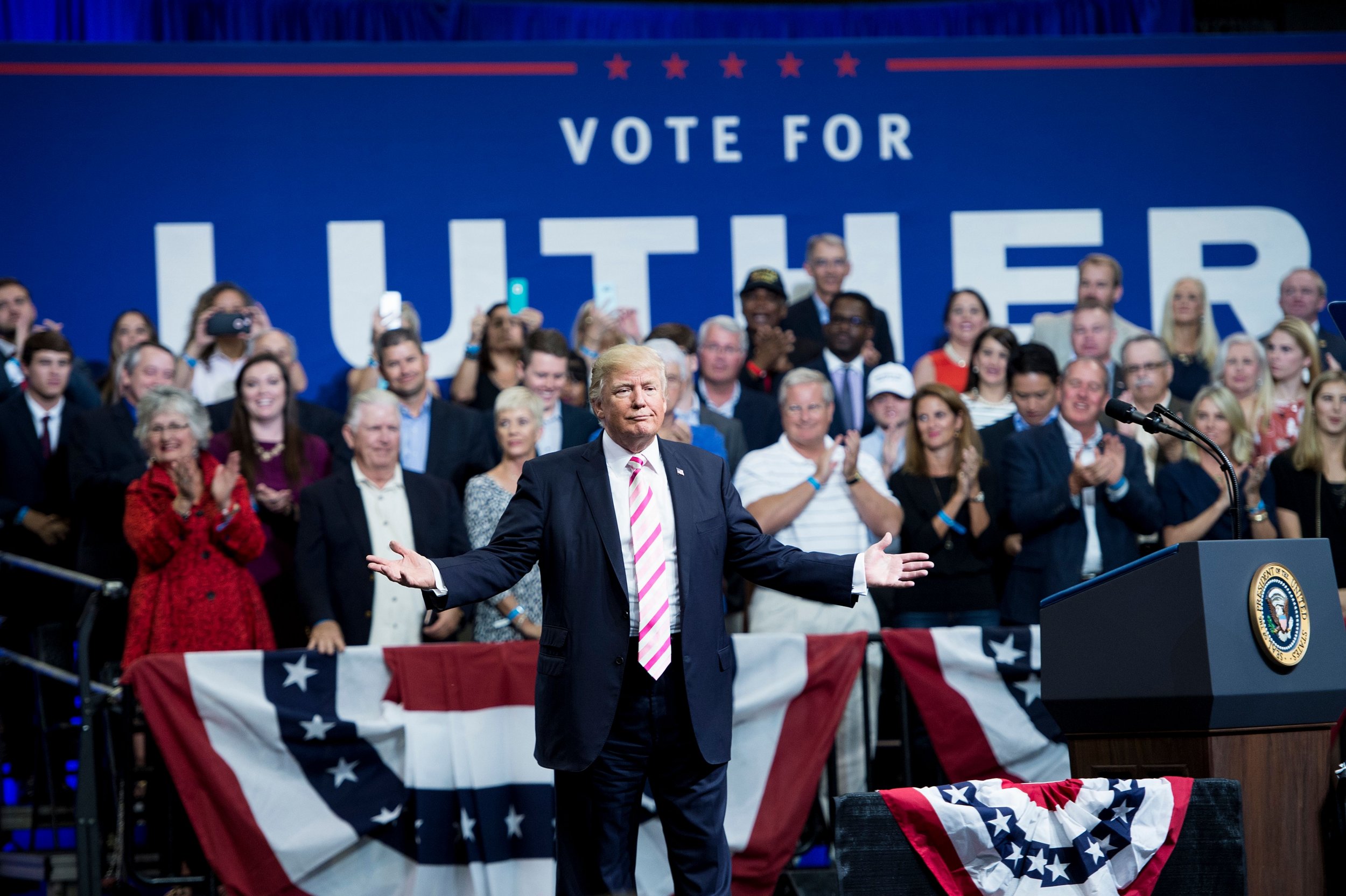 Donald Trump has already suffered some significant defeats as president—from federal judges halting his multiple travel bans to Republicans failing to bend to his will to repeal and replace Obamacare. But on Tuesday he could get his first major defeat at the ballot box.
Related: Bannon Is Taking on Trump in Alabama, but the Real 'War' Is for the Soul of the Republican Party
It may just be a Senate GOP primary, but victory for Roy Moore in Alabama, and defeat for the president's chosen candidate Luther Strange could have far-reaching consequences that could imperil Trump's very presidency.
Trump has thrown his weight—and tweets—behind incumbent Senator Strange in Tuesday's Republican primary to decide who will replace now–Attorney General Jeff Sessions in a special election. The real estate magnate is not a fan of backing losers—or more importantly being seen to have backed a loser—but that's exactly what he's facing in the Southern state. Strange's far-right opponent Moore, who triumphed in the first round of voting last month, has remained consistently in front in the polls ahead of Tuesday's runoff, despite Trump's increasingly vocal support.
There is no doubt, said GOP strategist and commentator Evan Siegfried, that a victory for Moore would be a defeat for the president.
"I think it'd certainly be a rejection of Trump," he told Newsweek Tuesday. "It doesn't help Trump to say 'I need you to give me Luther Strange because he's worked with me' and the voters put in Roy Moore instead. And the bigger loss the worse it's going to be for President Trump."
For a special election just eight months into a presidential term, the race in Alabama has been given greatly outsized in importance by national figures engaging in a proxy war over the very direction of the Republican Party.
On the side of Strange, who was controversially appointed to take over the seat vacated by Sessions, sits an uncomfortable alliance of Trump and the Republican establishment in the form of Senate Majority Leader Mitch McConnell, whose Senate Majority Fund has pumped millions into the race. On the other side now stands a Trumpist candidate and anti-establishment flamethrower propped up by a Breitbart wing emboldened by Trump's victory last November.
Liberated by their recent ousting from the White House, Trump ally and former aide Steve Bannon gave a fiery speech Monday imploring voters to opt for Moore as a way to continue the agenda espoused by the president during his insurgent campaign.
But for Bannon and the rest of the Breitbart faction, victory for Moore would far from be the culmination of the battle, but rather merely the beginning.
"I told [Trump] I was going to go after the establishment, go after the establishment first and the Democrats later," Bannon said at a rally in Alabama on Monday.
Instead, it could be Democrats that stand to benefit most from the Republican civil war. Already Democrats are licking their lips at the prospect in 2018 of incumbent Republicans being primaried by controversial fringe candidates backed by the powerful voice and funds Bannon brings to the table.
"We should all be rowing in the same direction," Siegfried said. "This isn't rowing in opposite directions, this is throwing gasoline all over the boat and trying to set it on fire to prove a point that we could have a better boat."
Gaining control of the House or Senate would not only mean the chance for Democrats to further thwart Trump's agenda, it could truly embolden them to at least show voters that they are serious about moving to end his presidency altogether. The issue of impeachment has already been raised on the House floor by some minor Democrats but the party's leadership has thus far steered clear of such talk while they lack a majority in Congress.
Conservative writers have warned that could change if Democrats gain control of the House, in the same way Republicans had when they voted for Bill Clinton to be just the second president to be impeached in 1998. Siegfried cautions that Democrats would be "dumb" to move for impeachment when they would still undoubtedly lack the two-thirds majority in the Senate required in order to convict Trump and remove him from office. Yet that didn't stop the GOP when it set out to make a political point almost 20 years ago.
Whether Trump is thinking that far ahead, history suggests that his reaction to such a public defeat could be both public and explosive.
"He definitely will cleanse himself of any and all blame," Siegfried said of Trump's possible reaction to a Moore win. "He might throw Luther Strange under the bus. The typical stuff we hear in blind quotes from campaign operatives who are sniping after losing we might see on Twitter from the president of the United States. It really depends on what's in tomorrow morning's news cycle for him to want to rage tweet about."