Alabama Senate Race Live Updates: Latest On Roy Moore, Doug Jones Contest For U.S. Senate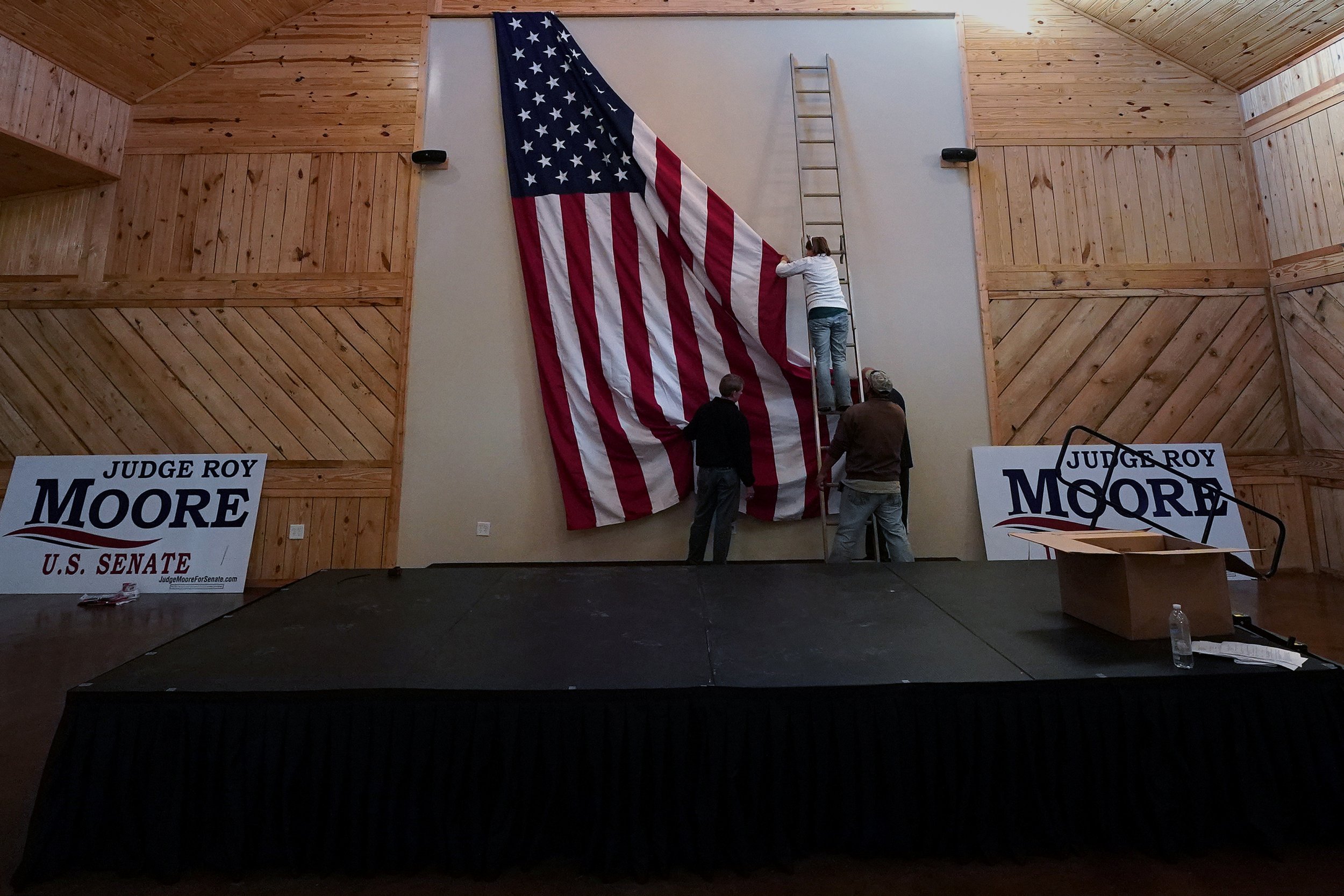 Update | 5:37 p.m. ET – The Roy Moore campaign has expelled reporters for The Washington Post from its election night party, according to a reporter from a local ABC station. It was The Post that published the first series of allegations against Moore that he preyed on teenage girls when he was in his 30s.
Among those allegations was the account of Leigh Corfman that Moore pursued and initiated sexual contact with her when she was 14 years old.
Moore and his allies angrily denied the report and slammed The Post as part of an establishment effort to derail the Republican's campaign. Yet since the story emerged, five more women have come forward with similar stories, including one who accused Moore of attempting to rape her when she was 16.
Update | 5:37 p.m. ET – Early exit poll data should offer further encouragement for Republican candidate Roy Moore, with more Alabama voters stating that they cast their vote as an act of support for DonaldTrump than those who said they did so to voice opposition for the president.
Twenty-nine percent responded to the CNN poll that they were showing their backing for Trump, with 20 percent answering with the reverse. Forty-eight percent said that Trump was not a factor in their decision over whether to vote for Moore or Democrat Doug Jones.
The results do not provide such a rosy picture for Trump, however. In a deep red state, voters were evenly split (48 percent) on whether they approved or disapproved of the job he is doing.
Update | 5:15 p.m. ET – Despite the sexual misconduct allegations against Roy Moore having dominated the Senate race, 55 percent of Alabama voters said they were not an important factor in casting their vote, according to an early CNN exit poll. In contrast, 40 percent said it was an important factor.
The figures suggest encouragement for Moore who has vehemently denied allegations made against him by nine different women. The electorate was split on whether they believed the accusations that Moore preyed on teenage girls when he was in his 30s. Forty-nine percent said they were true, with 45 percent stating they were false. Of those, 29 percent said the allegations were definitely true and 16 percent responded that they were definitely false.
Update | 4:56 p.m. ET – Asked whether Roy Moore still believed that homosexuality should be illegal, campaign spokesman Ted Crockett told CNN Tuesday: "Probably."
Further controversy engulfed Moore during his campaign when comments surfaced from 2005 concerning his views on homosexuality.
Crockett also confirmed that Moore's previous remarks about Muslims being unable to serve in Congress remain the Republican's position.
"Because you have to swear on the Bible," Crockett said, incorrectly. Muslim Keith Ellison was sworn into Congress in 2007 by taking a ceremonial oath with a Quran.
Update | 4:34 p.m. ET – Some of the early turnout predictions offer encouragement for Doug Jones as he attempts to become the first Democrat to be elected to the United States Senate from Alabama in a quarter of a century. In one of the most reliably Republican counties in the state, Shelby, Judge Jim Fuhrmesiter said that turnout appeared to be higher among young and black voters. Getting both groups out to the polls in higher than usual numbers is likely to be crucial to Jones' hopes of victory.
Jones, who has a long record in the civil rights movement, has made a major push for the black vote in the closing days of the campaign.
Update | 4:14 p.m. ET – As Roy Moore presents himself as the ultimate outsider, Doug Jones has continued to tout his celebrity endorsements on election day in Alabama. The latest celebrity to record a message of support for Jones, which he tweeted out in the last hour, is Hollywood star, and Alabama native, Channing Tatum.
"I'm not a liberal, Democrat or Republican," Tatum said. "My choices are between Roy Moore, which is a man who has been accused of assaulting girls. Roy Moore has done things, in my opinion, that go beyond the line of trust, so I'm supporting Doug Jones."
Tatum concludes by stressing that he isn't telling people how to vote but simply encouraging them to get out and counter expectations of pollsters by casting their ballots in force.
Update | 3:54 p.m. ET – A majority of American voters and a plurality of Republicans have said that Roy Moore should be expelled from the Senate if he beats Doug Jones in Tuesday's special election in Alabama. Following allegations from nine women that he preyed on teenage girls when in his 30s, 61 percent of voters said that Moore should not be allowed to sit in the Senate, according to a Politico/Morning Consult poll released Tuesday.
Within that figure, 77 percent of Democrats, 59 percent of independents and 45 percent of Republicans agree. Multiple Republican senators have said that, if Moore wins Tuesday's election, he would face an immediate investigation by the body's Ethics Committee. There is no guarantee of the embattled candidate being removed, however, No senator has been expelled since the Civil War.
Update | 3:36 p.m. ET – Asked whether President Donald Trump thought Roy Moore should be seated if he wins Tuesday's special Senate election in Alabama, White House Press Secretary Sarah Huckabee Sanders said she "can't speak on a hypothetical, particularly not one that could influence an election one way or another."
As to whether Trump would call Moore after the polls close, Sanders said she was "not aware of anything that is scheduled."
While many Republicans have called on Moore to step down following a serious of allegations over preying on teenagers, Trump has enthusiastically endorsed the former Chief Justice of the Alabama Supreme Court and cast doubt on his accusers.
Update | 3:16 p.m. ET – Mitch McConnell, who initially called for Roy Moore to drop out of the race before softening his position to state that the people of Alabama should decide his fate, refused to be drawn Tuesday on what would happen if the Republican candidate wins. Asked by reporters on Capitol Hill whether Moore would be seated on Senate committees were he to beat Democrat Doug Jones, the Senate Majority Leader responded: "All of those are good questions for tomorrow and we await the outcome of the Alabama Senate race."
Meanwhile, CNN is reporting that, in the event of a Moore victory, Senate Republicans will hold a meeting tomorrow to figure out what happens next. McConnell has said that there would be an ethics investigation into Moore.
Update | 2:39 p.m. ET – Attorney General Jeff Sessions, whose vacant Alabama U.S. Senate seat Republican Roy Moore and Democrat Doug Jones are angling for, declined to say who he voted for in Tuesday's special election.
Sessions said he voted by absentee ballot and that he put the election in the hands of Alabama voters.
"I would say the people of Alabama are good and decent, wonderful people. I was proud to serve them in the Senate," Sessions said Tuesday according to Politico. "They'll make the right decision."
Like other established Republicans, Sessions has not shown direct support for Moore, who has been accused of sexual misconduct by nine women when they were teenagers and Moore prosecutor in his 30s.
Update | 2:22 p.m. ET – One day before Alabama's special U.S. Senate election, the state's supreme court granted a stay against a lower court's ruling Monday that blocked state officials from deleting digital copies of Alabama voters' ballots, according to AL.com.
A Montgomery County Circuit Court judge ruled early Monday afternoon that election officials should save images of ballots taken by voting machines, but an emergency filing by attorneys for Alabama Secretary of State John Merrill and Ed Packard led the state's highest court to hinder the lower court's order.
The case was originally filed by four Alabama voters who wanted the digital images of the ballots saved by election officials, and while a state-wide recount would rely on the actual paper ballots, the attorney for the four voters, Priscilla Duncan, said the main concern was possible hacking of voting machines.
"The fact that none of their arguments makes any sense just makes you wonder what's really at stake here," Duncan told AL.com. "These machines are hack-able ... That's what worried us," she said. "It's just all about transparency. It's like saying, 'well, we don't need a car because we have a horse and buggy.'"
Update | 2:02 p.m. ET – Voter turnout for Tuesday's special U.S. Senate election in Alabama is far exceeding that of the race's Republican primary and run-off elections earlier this year.
Absentee ballots, in particular, are much higher in counties across Alabama compared to August and September's tallies, according to NBC News.
Update | 1:19 p.m. ET – Longer than expected lines formed around some Alabama polling stations Tuesday, with some reports indicating the level of turnout was similar to that of last year's presidential election.
The voters, choosing between Republican Roy Moore and Democrat Doug Jones, are experiencing long lines and its possible that could be a positive for the underdog Jones. The previous turnout at special and midterm elections in Alabama had been much lower but the state and the country have focused on the race for Alabama's vacant U.S. Senate seat.
Update | 1:07 p.m. ET – Some reports out of Alabama Tuesday may indicate possible voter suppression and even broken voting machines as the state decides between Democrat Doug Jones and Republican Roy Moore for one of its U.S. Senate seats.
The head of the Lawyers' Committee for Civil Rights Under Law claimed her organization had received reports of text messages sent to Jefferson County voters incorrectly telling them their voting site had changed. Another report indicated a "hostile precinct chief" at a polling site in Ramer, Alabama.
The Washington Post is also reporting that polling sites in parts of Huntsville, Alabama - where a stronger turnout in Jones' favor is supposed expected - are dealing with broken voting machines.
Update | 12:44 p.m. ET – A senior campaign official for Republican Roy Moore told CNN Tuesday that they are "confident" the former Alabama Supreme Court Justice will defeat Democrat Doug Jones for the open U.S. Senate seat.
The official admitted the recent burst of support from President Donald Trump, who initially backed Republican Luther Strange, may have helped Moore's candidacy.
"It never hurts when the biggest surrogate in the free world speaks in support of your candidate," the unnamed campaign adviser said to CNN.
No exit polls have been released since polls opened at 7 a.m. ET but Moore was favored over Jones in the conservative-leaning state.
Update | 12:29 p.m. ET – After riding his horse "Sassy" to the polls Tuesday, Republican candidate Roy Moore's riding ability and experience were questioned by many Twitter users.
Update | 12:10 p.m. ET – Democrat Doug Jones got some help from celebrities on Twitter Tuesday, earning high-profile endorsements as Alabama voters head to the polls.
Actors Mark Ruffalo, Kerry Washington, and Misha Collins championed Jones over Republican Roy Moore.
Update | 11:41 a.m. ET – As promised, Republican candidate Roy Moore arrived at the polls late Tuesday morning on horseback, just like he did for the special election's GOP primary and runoff earlier this year.
As seen in the clip below, Moore charged the brown and white stead named "Sassy" across a field.
Update | 11:30 a.m. ET – Republican Richard Shelby, currently the holder of Alabama's other U.S. Senate seat, received some backlash for stating he could not vote for fellow GOP member Roy Moore over Democrat Doug Jones.
Shelby was labeled as a member of the Washington "swamp" for his refusal to support Moore after the former judge was accused last month of molesting a 14-year-old girl back in the late 1970s.
"I'd rather see the Republican win, but I'd rather see a Republican write-in. I couldn't vote for Roy Moore. I didn't vote for Roy Moore," Shelby, who was technically the last Democrat Alabama voted to the Senate in the late 1980s before he switched parties in 1994, told CNN Sunday.
Update | 11:09 a.m. ET – Much like voters in other major elections around the country, Alabama voters took to Twitter Tuesday morning to post selfies or other messages after they cast ballots for either Republican Judge Roy Moore or Democrat Doug Jones.
Update | 10:41 a.m. ET – Republican Roy Moore's campaign for the U.S. Senate was believed to be in serious jeopardy last month after he faced accusations like child molestation and dating underage girls, but his run for Alabama's vacant seat was reportedly saved by none other than Steve Bannon.
Bannon, formerly President Donald Trump's chief political strategist and one of the architects of Trump's campaign last year, has taken to attacking the Republican establishment and believed Moore fit his revolutionary bill.
So much so, that after Moore was accused Bannon essentially lobbied Fox News host Sean Hannity to make sure he did not call for Moore to resign from the campaign but for Alabama's voters to make up their minds on accusations and Moore's fitness for office, Bloomberg reported.
Hannity has seemingly backed away, and Republican lawmakers like U.S. Senate Majority Leader Mitch McConnell have also changed the talking points on Moore and instead called for Alabama to decide Moore's fate at the polls.
Update | 10:23 a.m. ET - With Alabama's polls now open for more than three hours, social media users have picked their sides and chastised supporters for Republican Roy Moore and for Democrat Doug Jones.
Moore's supports, like President Donald Trump, have likened Jones to a "puppet" for Democrats Chuck Schumer and Nancy Pelosi and derided Jones' pro-choice position on abortion laws and other issues.
Those in Jones' camp have taken to questioning the intelligence of a voter who selects Moore, while repeatedly stating a vote for more is a support for pedophilia. Moore has repeatedly denied accusations of relationships with teenage girls, including who was 14 years old when he was in his early 30s.
Update | 9:37 a.m. ET – Democrat and Alabama U.S. Senate candidate Doug Jones cast his ballot just outside of Birmingham Tuesday morning as his battle with Republican Roy Moore comes to a close.
Jones headed to the polls in Mountain Brook, a suburb just outside the state's most populous city.
Update | 9:17 a.m. ET – Local Alabama peanut farmer Nathan Mathis' response to Alabama Republican candidate Roy Moore's stance on gay rights went viral as he told the story of his daughter, who committed suicide when she was 23.
"Judge Roy Moore called her a pervert, for one reason, because she was gay," Mathis, who described himself as a "man of faith," told NBC News. "If he called her a pervert, he called your child a pervert because if she was gay or if your son was gay. This is something people need to stop and think about.
"You're supposed to uphold the Constitution. The Constitution said all men are created equal. Well, how is my daughter a pervert because she was gay?"
Moore, a former judge who famously had the Ten Commandments installed in the Alabama's Supreme Court, has long railed against a U.S. Supreme Court decision that legalized gay marriage.
Update | 8:49 a.m. ET – Voter turnout reportedly may be the deciding factor for Alabama's special U.S. Senate election Tuesday as Democrat Doug Jones and Republican Roy Moore aim for a victory.
While polls showed a tight race before Tuesday, turnout models based on previous elections greatly tip the race in either Moore or Jones' favor, according to Politico.
Should turnout be like the 2014 midterm election in Alabama, Moore has a 48 to 44 percent advantage over Jones, the Monmouth University Poll Center's data shows.
If turnout is similar to the 2016 presidential election, Jones has the edge at 48 percent to 45 percent.
However, the race is tied at 46 percent each if the turnout reflects that of Virginia's special elections last month despite heavy campaigning by President Donald Trump.
A higher turnout, especially among Alabama's registered Democrats, is viewed as the best way for Jones to defeat Moore in a state largely known for picking more conservative Republicans.
In the 2014 midterm elections, only 41 percent of Alabama voters headed to the polls. That was the lowest mark for a general election in 28 years, according to AL.com. Previously, turnout in midterm elections reached at least 50 percent dating back to 1986.
Update | 8:25 a.m. ET – With polls open for a little over an hour Tuesday morning, "Dear Alabama" became the top trending topic on Twitter as those in and outside the Yellowhammer State tweeted their final arguments in favor of either Republican Roy Moore or Democrat Doug Jones.
Many posts pointed to Moore's stance on health care and the many accusations of sexual misconduct made against the former Alabama State Supreme Court Justice compared to Jones' record in the courts.
Others defended Moore while decrying his accusers for waiting decades to make their allegations, and stated Moore is better poised than his Democratic challenger to cut taxes.
Moore's strict opposition to immigration and Islam has also been a hot topic in the chaotic campaign, and the recent acquittal of immigrant Garcia Zarate in the death of Kate Steinle was politicized as reason enough to vote Moore.
Update | 7:33 a.m. ET – Voters head to the polls to pick either Democrat Doug Jones or Republican Roy Moore for Alabama's empty spot in the U.S. Senate Tuesday.
Polls opened at 7 a.m. ET and are scheduled to close at 7 p.m.
Identification is required at the polls and accepted forms include a current driver's license, non-driver ID, an Alabama voter ID card, a valid US passport and many other forms, according to AL.com.
Original Story
After months of campaigning in the muck, Republican Judge Roy Moore and Democrat Doug Jones will finally square off for Alabama's vacant U.S. Senate seat Tuesday with neither candidate possessing a commanding lead in the polls.
The hardline conservative Moore, who's received on-and-off support from national Republicans, has slogged through the campaign amid accusations of child molestation and sexual misconduct with teenage girls when he was a prosecutor in his early 30s, racism and most recently anti-Semitism.
Jones, a career prosecutor perhaps best known for securing convictions of the two men responsible for the death of four black girls in a 1963 church bombing in Birmingham, has faced an uphill battle throughout as he tries to overcome Alabama's rich history with the GOP.
Alabama has not elected a Democrat to the Senate since the late 1980s and has staunchly picked Republicans for president in every national election since 1980. Alabamans last voted for a Democrat for president in 1976, when Jimmy Carter won the White House.
The candidates are vying for the seat left vacant by now Attorney General Jeff Sessions.
The most recent polls are unclear about which candidate has the advantage. A Fox News poll released Monday put Jones ahead by 10 points while a CBS News/YouGov poll indicated a six-point Moore lead.
The results of the special election will have major ramifications for Republicans and Democrats in the Senate and potentially the second year of President Donald Trump's first term. The GOP currently maintains a 52-46 advantage in the Senate, with two independents.
Trump has played a major role in the campaign and faced national wrath for supporting Moore in spite of the serious allegations made against him. Moore has used Trump's tactic of flatly denying the accusations and then blaming the "liberal mainstream media" for spreading "fake news."
The president held a rally in Pensacola, Florida, some 20 miles from Alabama's border, last week and told the crowd how important he believed Moore's candidacy was for the nation.
"Get out and vote for Roy Moore. Do it. Do it," Trump said.
He added: "We cannot afford, the future of this country cannot afford to lose the seat."
Jones, too, has some major names stumping for him. Former NBA star Charles Barkley, an Alabama native who played college basketball at Auburn, spoke at a Jones rally Monday in Birmingham, proclaiming he was "embarrassed" by Moore and called the Republican a "white separatist."
"At some point we got to stop looking like idiots to the nation," Barkley said. "I love Alabama, but at some point we got to draw a line in the sand and show we're not a bunch of damn idiots."