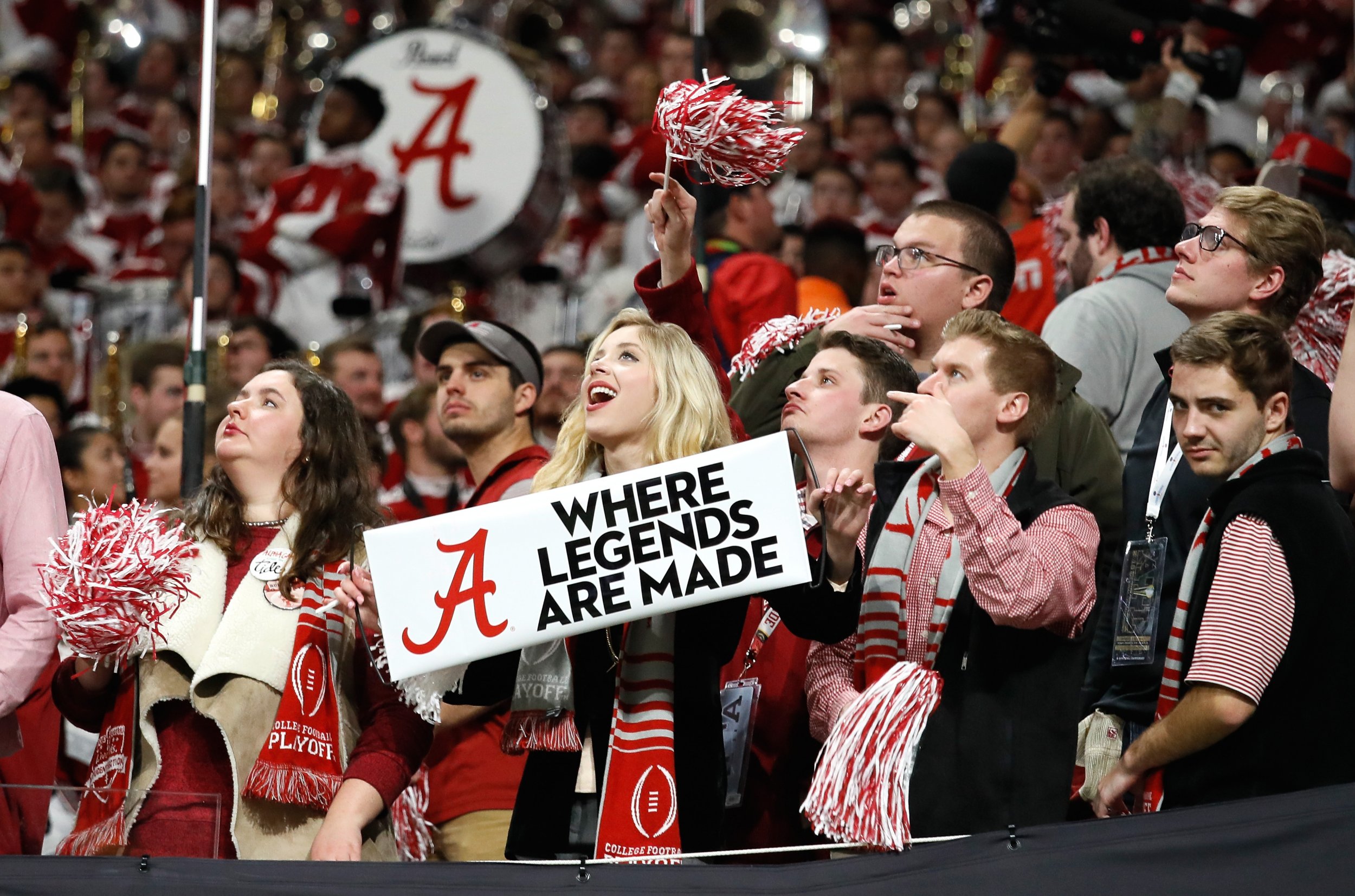 It's gotten to the point where even Bama "wants Bama."
During the final minutes of Saturday's 29-0 rout of No. 3 LSU, fans of No. 1 Alabama celebrated their team's inevitable win by chanting "we want Bama," as captured in a Twitter video shared by Alabama beat writer Marq Burnett.
The chant is typically used by fans when their team picks up a big win and solidifies itself as a national contender. Considering the Crimson Tide has annually been one of if not top-ranked team in college football throughout head coach Nick Saban's tenure --which began in 2007 -- "Bama" is typically the measuring stick opponent.
In this case, Alabama knocked off what seemed to be its biggest regular season threat while also clinching an SEC West Division title, so the chant would be warranted assuming it was any other team.
But there's several layers to this trolling incident. On one hand, the Alabama fans are mocking every other fan base's excitement for winning a big game and immediately measuring themselves against the Tide.
However, they could be saying that the only team capable of stopping Alabama's national championship run is, in fact, Alabama.
The Tide managed to beat the No. 3 team in the nation handedly at one of the toughest venues in college football. Excluding the SEC Championship Game -- which will be a rematch of last season's national championship -- Alabama won't be challenged again until the College Football Playoff.
Saturday's game was supposed to be different than the first seven, which included outscoring opponents 433-127. Many expected the Tide to win, but also for LSU to provide more of a challenge.
The Tigers did hold Alabama to just 13 points in the first half and forced Heisman Trophy favorite Tua Tagovailoa to throw his first interception of the season. But the Tide rolled like the squad that many believe is so far ahead of every other team in college football.
Alabama held LSU to 12 net rushing yards, which included a 0.5 average per rushing attempt and 196 yards of total offense. The Tide finished with 281 rushing yards and 576 yards of total offense.
The Tigers recorded a 5-of-16 on 3rd down efficiency while the Tide went 8-of-14. Alabama had possession for 35:18, far more than LSU's 24:42 total.
So maybe Bama is its only real threat this season. If its first eight games are any indication, the Tide should roll to its sixth national championship under Saban next January.