Alabama Flash Floods Leave at Least 4 Dead, Including 4-Year-Old Female
At least four residents died in Alabama on Wednesday night and Thursday morning after flash floods hit the state.
The Marshall County coroner's office confirmed that one child died "as the result of the flash flooding that has occurred," in the city of Arab on Wednesday night.
On Thursday morning, the Marshall County coroner's office announced that another resident died amid the flash floods.
"A 4-year old female child died at Haynes Road & Hickory Hill Road and was recovered around 11:50 pm on Wednesday night. An 18-year old female was recovered on Friendship Road in the Union Grove area around 7:00 am this morning," Marshall County coroner's office said in a Facebook post.
The Shelby County Coroner's Office confirmed to Newsweek that two others died after their car was picked up by the flash floods and flipped over a guard rail. According to the coroner's office, the individuals were identified as Latin Marie Hill and Myles Jared Butler, who are both 23 years old. The coroner's office also said that the two were boyfriend and girlfriend.
Prior to the two deaths announced by the Shelby County Coroner's Office, Hoover Fire Battalion Chief Duane Prater explained during a press conference that the couple's vehicle was "picked up and pinned against a guardrail trapping the occupants."
"Fire crews arrived on the scene but were unable to access the occupants due to the swift water and the location of the vehicle. Within a couple of minutes, the rushing water pushed the vehicle over the guardrail out of the sight of the responders," Prater said.
According to Prater, additional fire personnel were dispatched to the area to search for the two occupants of the vehicle, but were unsuccessful. "Currently our technical rescue team and dive team are on scene continuing our search," he added.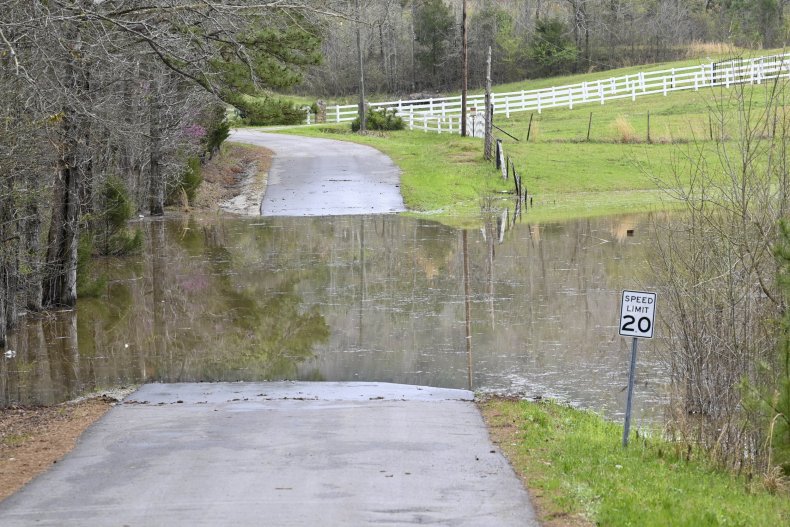 On Wednesday night, numerous flash flood warnings were issued in several cities across Alabama, after extensive rainfall, with some areas experiencing up to six inches.
"MORE heavy rain (round 4 at least at this point) is forming & moving into areas already suffering from significant and life-threatening flooding. Scanner traffic indicate numerous water rescues from vehicles and homes & roads submerged," the National Weather Service in Birmingham, Alabama tweeted on Wednesday night.
According to the Pelham Fire Department, fire officials rescued at least 82 residents from their homes and 15 to 20 others were rescued from their vehicles.
Numerous pictures and videos showing the flash floods and the damage they caused were posted across social media.
"Crosscreek Trail Pelham, AL our neighbors are trapped. Fire dept here with boat. most neighbors are outside because water has almost or has reached the 2nd level of our houses," Twitter user Jade G. wrote.
Meteorologist James Spann of WBMA-LD in Birmingham, shared a video of flooding scene in a local Lowe's location.
"This road was washed out in Arab last night... video from Kaleigh Reed," Spann wrote in another tweet.
Newsweek was directed to the press conference after reaching out to the Hoover Fire Department for comment.