Alabama GOP Congressional Candidate Faces Backlash After Posting and Deleting Meme on Kenosha Shooting Suspect
A Republican congressional candidate for Alabama's 2nd District apologized Saturday after facing backlash for a meme he posted about violence among protesters in Kenosha, Wisconsin.
Barry Moore, a former member of Alabama's House of Representatives and current congressional candidate, deleted the meme shortly after posting it on his Facebook page. According to a screenshot of the meme shared by AL.com, the meme shows photos of two injured people on the ground paired with the phrase, "didn't fight back." Beneath the photos is another of Kenosha shooting suspect Kyle Rittenhouse beside the phrase, "fought back."
Rittenhouse, a 17-year-old from Illinois, has been accused of fatally shooting two people and injuring another during protests in Kenosha last week. He was charged with first-degree intentional homicide on August 28.
"I apologize for the graphic nature of a post earlier, showing scenes from the violence tearing through Kenosha," Moore wrote in an apology posted on Facebook on Saturday. "I should have expressed my feelings about the situation in words, not just with a meme."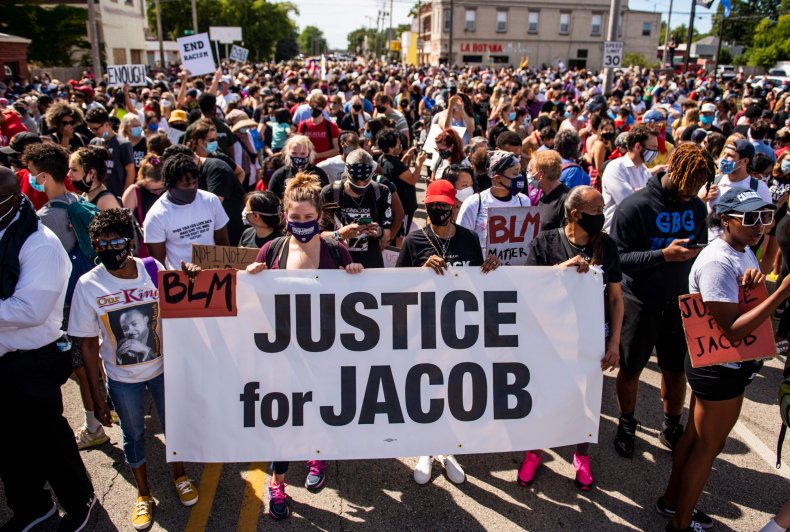 Moore went on to say in his post that he primarily took issue with protests that turned violent and destructive. He said he did not want to speak out in support of either Rittenhouse or Jacob Blake, a 29-year-old Black man who was allegedly shot in the back by Kenosha police last week, because he said it was too early in the investigation process to do so.
"I'm not going to condemn either the police officers involved in Jacob Blake's shooting or Mr. Rittenhouse because I do not have all the facts, and again, I have confidence in our justice system," Moore wrote.
Though Moore's campaign initially told The Montgomery Advertiser that Moore intended to post the meme again with some context added, Moore told Newsweek on Sunday morning that continued violence on Saturday night—which left one protester dead in Portland—made him decide he'd rather share positive content with his supporters.
"I'm called to a position to try to help the country heal," Moore said. "We should not see people of different color or different political beliefs as the enemy. It's too divisive."
Moore's Democratic contender for Alabama's 2nd District, Phyllis Harvey-Hall, released a statement on Saturday calling Moore's original post "unacceptable." The Alabama Democratic Party shared her post on its social media pages with a plug for Harvey-Hall's campaign added: "Time to say NO MOORE. We don't need anymore Republicans who feed violent extremists."
"There should not ever be a time where a lawmaker sees fit and feels comfortable promoting violence," Harvey-Hall's statement said. "As our nation grapples with ending systemic inequality, we need leaders committed to fairness, compassion, and working towards unity, not division."
The Alabama Republican Party told Newsweek that it understood why Moore posted the meme. "Americans are fed up with watching this 'mob rule' mentality, the hate spewed toward our law enforcement officers and are rejecting elected officials and candidates staying silent while our laws are being ignored," Alabama Republican Party Chairman Terry Lathan said in a statement. "No one is given special rights or entitled to break our laws on either side of the current social upheaval—nobody. Mr. Moore seems to have been articulating those thoughts."
Moore told Newsweek he felt "terrible" about how frequently protests have been turning violent and was thinking about that frustration before posting the meme. Even so, "I was wrong in that spot," he said. "I needed to be speaking positive."
Moore said that he received a mixture of approval and criticism from his supporters over the meme, which he said he didn't expect to receive so much attention. In the future, he said he plans to focus on positive messaging for his social media channels.
"I just hope that, as leaders, as we move forward, we can start to be positive and understand opposing viewpoints," Moore said.