Alabama GOP Gubernatorial Candidate Stacy George: Kay Ivey Shouldn't Scold the Unvaccinated
Alabama Republican gubernatorial candidate Stacy George criticized Governor Kay Ivey on Friday for "scolding" unvaccinated people for contributing to the rise of COVID-19 cases across the state.
George, an Alabama correctional officer who announced his bid against Ivey earlier this month, responded to a Thursday statement from Ivey, a Republican, in which she said that "it's time to start blaming the unvaccinated folks" for rising COVID-19 cases.
"Let's be crystal clear about this issue," Ivey said in Birmingham on Thursday. "The new cases of COVID are because of unvaccinated folks. Almost 100 percent of the new hospitalizations are with unvaccinated folks. And the deaths are certainly occurring with the unvaccinated folks. These folks are choosing a horrible lifestyle of self-inflicted pain."
"Folks are supposed to have common sense," she continued, while adding that "It's the unvaccinated folks that are letting us down. I've done all I know how to do. I can encourage you to do something but I can't make you take care of yourself."
In response, George said Friday that he has not received a coronavirus vaccine and that Ivey's comments showed disrespect toward those who may not chose to get the jab for a variety of reasons.
"I am one of those non-vaccinated people that Governor Ivey just scolded," George said in a statement, according to AL.com
"Unlike Governor Ivey I respect everyone who gets the vaccine as well as those like me that choose not to get the vaccine for various reasons. A governor should never belittle the people that disagree with her."
According to the news outlet, George said he has not been vaccinated because he contracted the virus last year and believes he has natural antibodies to fight off further infection. However, the GOP candidate said he would probably not receive the vaccine regardless of a prior infection, partly because he believes he is not in a high-risk population to develop a serious illness.
"I just don't see the need in healthy people like myself being vaccinated," George said. "And that's my opinion. But I respect people that choose to be vaccinated. It's just a personal choice. Kind of like the free enterprise works in Alabama," he added.
Both Republicans' statements come as Alabama is seeing a surge in new virus cases, largely due to the highly infectious COVID-19 Delta variant.
In the last two weeks, Alabama has seen over 9,000 new cases of COVID, including more than 1,000 in Jefferson County alone. On Friday, the state reported 1,733 new cases, with at least 623 people hospitalized from the virus, according to a New York Times database.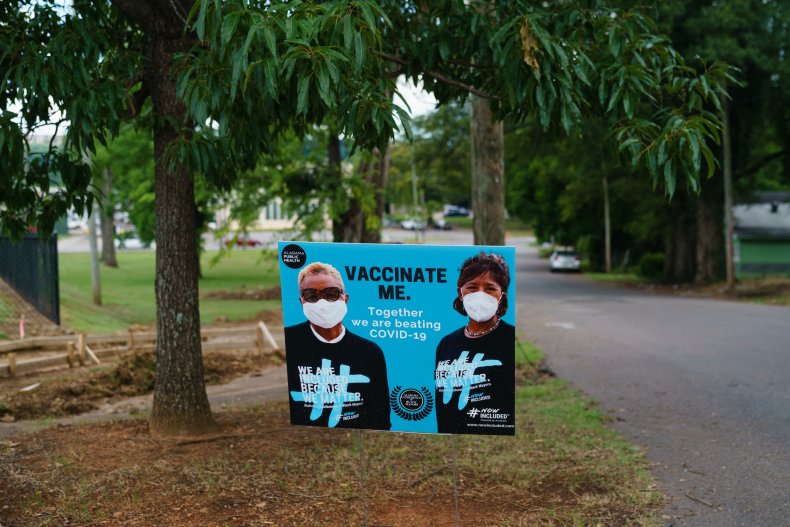 Ivey and state and national health care experts have repeatedly stressed that the only way to combat the rise in new cases is through widespread vaccination efforts.
"I want folks to get vaccinated, that's the cure. That prevents everything. Why would we want to mess around with this temporary stuff? We don't need to encourage people to go halfway in curing this disease. Let's get it done. We know what it takes to get it done, that's to get a shot in the arm," Ivey said Thursday.
Alabama currently has one of the lowest vaccination rates in the nation with just 33.9 percent of the population fully vaccinated, AL.com reported.
Last week, a doctor in a Birmingham hospital said several unvaccinated patients have begged to receive the coronavirus jab before having to be intubated due to serious illness.
"I'm admitting young healthy people to the hospital with very serious COVID infections. One of the last things they do before they're intubated is beg me for the vaccine. I hold their hand and tell them that I'm sorry, but it's too late," Dr. Brytney Cobia, who works at Grandview Medical Center in Birmingham warned.
As the Delta variant continues to spread, it was reported over the past week that no U.S. states have reported a decrease in daily COVID cases.
According to data from Johns Hopkins University, over the past week, 49 states, as well as Washington, D.C., and Puerto Rico, have seen an increase in daily COVID cases of 5 percent or more.
Newsweek contacted Ivey's office for additional comment, but did not hear back in time for publication.