The Alabama Republican Party has joined the growing number of voices calling for councilman John 'Tommy' Bryant to resign after his use of a racial slur during a council meeting on Monday night.
In a video posted on Facebook, the Tarrant City Council member can be seen standing up, pointing at Black councilwoman Veronica Freeman and asking : "Do we have a house [n-word] in here? Would she please stand up?"
His comments draw gasps from those in attendance at the public meeting while Freeman can later be seen on the video appearing to sob into her hands following the remarks.
Bryant has since defended his use of the racial slur, claiming it was something Tarrant city mayor Wayman Newton, who is Black, had said in relation to Freeman during an executive session.
"I thought that the city ought to know what sort of terminology the mayor uses," Bryant told WVTM.
"We need to stop the racial slurs that the mayor makes. He's always picking on Veronica Freeman...the mayor bullies her."
"I did what needed to be done," he added. "It needed to be brought to light what kind of a person the mayor is."
In a statement issued to Newsweek in the wake of the incident, Alabama Republic Party Chairman John Wahl said Bryant's remarks were "completely unacceptable in any setting, and even more concerning coming from an elected official."
"The Alabama Republican Party is deeply troubled by the racially charged outburst and disrespect shown by Councilman Tommy Bryant," Wahl said.
"I believe it is important to be respectful to the people of Tarrant, and the leadership they have elected. I have spoken with the Mayor Newton and offered the Alabama Republican Party's full support."
He added: "The comments made at the Tarrant city council meeting have no place in government leadership, and if they reflect the opinion of Tommy Bryant he should immediately step down."
Alabama Democrats are also calling for Bryant to resign in the wake of his remarks.
"He is racist and unfit to serve," Wade F Perry, Executive Director of the Alabama Democrats said.
"Alabama still has a long way to go when it comes to race, but cozying up to the KKK and using the N-word should make you unfit to serve," he said in a statement.
"These racists belong in the history books with Bull Connor and George Wallace, not on the taxpayer's payroll."
The Alabama NAACP joined those urging that Bryant step down, saying he has "disgraced himself and has stained the position he holds."
"There is no place for racists or white supremacists to hold office or conduct business in our public meeting spaces," they said in a statement posted to Facebook.
"We have received countless messages on our social media platforms from people that are angry and outraged that this behavior still exists in 2021."
Mayor Newton has denied Bryant's claim he used the n-word in relation to Councilor Freeman during an earlier meeting,
"I never used that phrase to speak about her," he told Alabama Local News.
"Ask them to produce the video. They record everything. They should have their own recording. They want me out. He [Bryant] wants to run for mayor."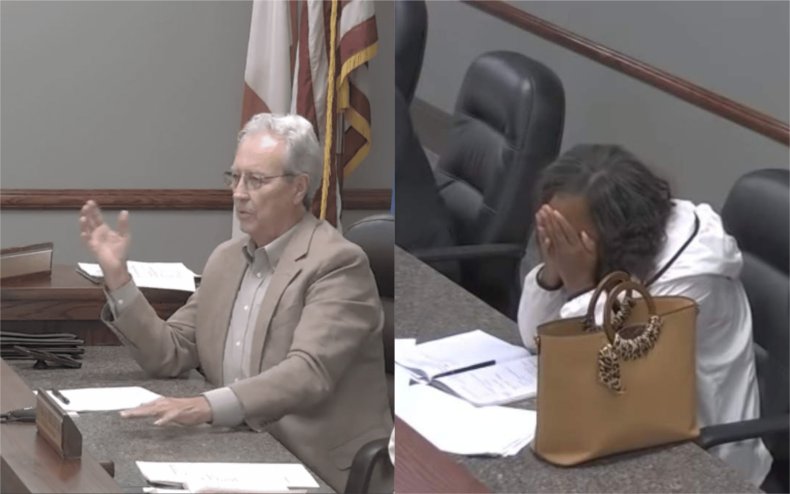 Responding to the incident, Bryan P. Winter, an attorney representing Councilor Freeman, told CNN: "The statements made at the City of Tarrant constitute unconscionable racial discrimination and harassment.
"Such statements are deeply hurtful and absolutely unacceptable in our society."
Bryant has so far refused to apologize for his use of the n-word and is considering running for mayor.
Newsweek has reached out to Freeman, Bryant and Newton for comment.