Alabama Governor Breaks With Fellow Republicans, Sides With Biden on Mask Order
One Republican governor is breaking with the pack and siding with the Biden administration on face masks amid a flurry of rollbacks on COVID-19 restrictions.
Alabama Governor Kay Ivey announced on Thursday that she will extend the statewide mask mandate for another month, noting that while coronavirus metrics have fallen, it is not yet time to lift the order.
"There's no question that wearing masks has been one of my greatest tools in combating the spread of the virus," Ivey said at a press conference.
"And even when we lift the mask order, I will continue to wear my mask while I'm around others, and strongly urge my fellow citizens to use common sense and do the same thing. But at that time it will become a matter of personal responsibility and not a government mandate," she added.
Ivey said the extension is to allow businesses time to implement their own safety policies before the order is lifted on April 9.
Her remarks come days after Governors Greg Abbott of Texas and Tate Reeves of Mississippi have rescinded their statewide mask mandates and rolled back on many COVID-19 restrictions.
On Tuesday, Abbott announced that Texas businesses would be able to reopen at 100 percent capacity as early as next week and Reeves stated that masks would no longer be required effective immediately.
"Governor Ivey has taken a deliberate and thoughtful approach throughout the pandemic and is simply trying to do the best thing for Alabama," Ivey's press secretary Gina Mailoa wrote Newsweek. "We are different than some of our neighboring states, and we are surely not New York or California."
Ivey's Thursday announcement falls closer in line with the advice of health experts from the Biden administration and the Centers for Disease Control and Prevention (CDC).
Although the number of hospitalizations and deaths from the virus have begun declining, officials have asked Americans to stay vigilant in wearing face coverings to continue curbing the spread of COVID-19.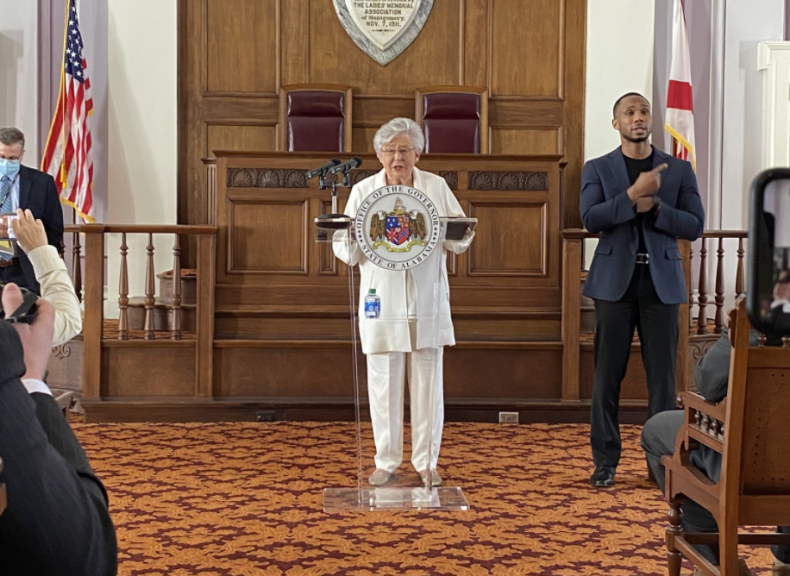 President Joe Biden called it "Neanderthal thinking" to begin lifting mask orders at this time, and CDC Director Rochelle Walensky told reporters that new variants threaten "to completely lose the hard-earned ground we have gained."
"Now is not the time to relax restrictions," Walensky said.
Under Alabama's current order, masks are required in public whenever someone is within six feet of another individual that lives in a different household. Face coverings are also required in schools and colleges for both employees and students in the second grade and above. But masks won't be required in these instances beginning early April.
The order had previously been set to expire on Friday at 5 p.m.
Alabama, like most other states, has seen hospitalizations fall in recent weeks as vaccinations continue to be administered. As of Thursday, there have been 944,795 COVID-19 vaccines administered in the state and the number is expected to rise quickly now that Johnson & Johnson has begun shipping its one-dose vaccine.
According to the CDC, 13.5 percent of Alabamians have received at least the first dose of the vaccine.
"Governor Ivey is taking the Alabama approach, but similar to Governors Abbott and Reeves, she is no fan of government mandates," Mailoa told Newsweek. "Today, she made clear that the mask requirement will not extend past April 9 so that businesses and individuals have time to implement any desired policies or adjustments."