Alabama School Shooting: What We Know About 'Accidental' Huffman Shots that Killed Female Student
An "accidental" school shooting in Birmingham, Alabama, left a 17-year-old girl dead and a 17-year-old boy injured. The shooting occurred at Huffman High School at around 3pm on March 7 as students were leaving for the day.
Police have not yet named the victim because some members of her family were yet to be informed of her death. The victim's alleged identity is circulating on social media.
While Birmingham Police Department initially described the shooting as accidental, WBRC-TV reported that their language later shifted, and the inquiry is now referred to as a "death investigation". Two shots were fired and police recovered the gun from the scene.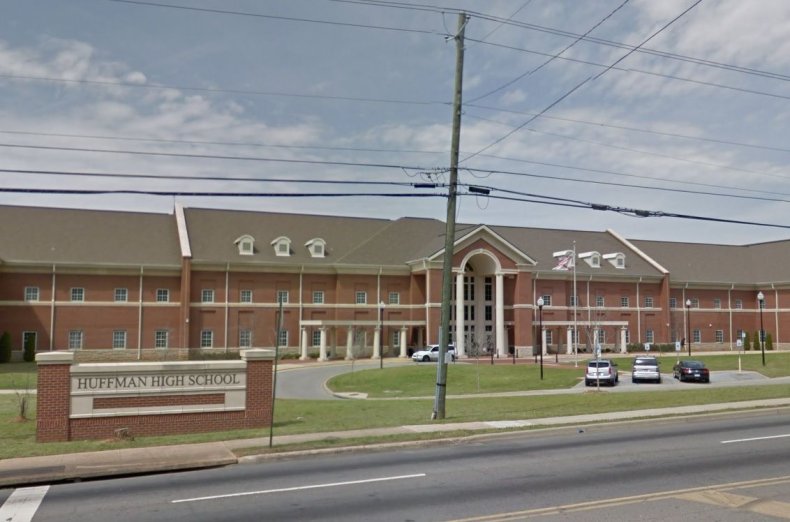 "At this particular time, we consider it accidental until the investigation takes us elsewhere," Acting Birmingham Police Chief Orlando Wilson said, reported Alabama Live. "We have a lot of unanswered questions. There are so many unknowns at this time."
He added that there is CCTV footage from the Huffman school grounds to be reviewed by officers which may give a clearer picture of what actually happened. According to Alabama Live, students said the boy was showing off a gun when it went off.
The victim was given CPR at the scene before she was rushed to nearby UAB hospital along with the boy, who has reportedly been treated and released, before facing questioning by police.
A school official confirmed there are working metal detectors onsite. Police are investigating how a gun was brought onto the school premises, and security will be increased over the coming days.
"Two students were involved in a shooting during dismissal today at Huffman High School," a statement by Birmingham City Schools said. "The school was placed on a brief lockdown, and police were called to the scene. Students have been released and police are actively investigating the circumstances surrounding the shooting."
A later statement from Birmingham City Schools, posted to Twitter, said: "Huffman High School will close tomorrow [March 8] for students and staff. The delay will allow system to conduct a thorough safety sweep of the school. It will also allow the system to collaborate [with] orgs in the community to provide counseling support for students and staff."
"I was upstairs right where the shooting was happening," a Huffman student called Ashley told WBRC-TV, adding "it happened out of nowhere".
"I couldn't really see because there was a crowd in front of me, but I heard the gunshots, and I like immediately ran to the nearest classroom, and they was like pushing all the students in the classroom like go in there, lock the door, y'all get to the wall and be quiet."
She said she knows the boy involved, a senior, and said he's not the type of person to hurt anybody. She said those involved in the incident are "good students".
"Tonight, let us wrap our arms around the Huffman community," Randall Woodfin, mayor of Birmingham, tweeted. "Today, we lost a 17 year old student. A daughter, a niece, a grandchild. An incredible person that was aspiring to be a nurse. Our hearts are heavy, and our prayers are with the Huffman community."
Alabama Governor Kay Ivey paid tribute to the student. "I am saddened to learn about the death of the Huffman High School student," she said in a statement.
"I am praying for the family of this young lady who has tragically lost her life way too early. Every life is precious and, even though this was an accident, it reaffirms that there is no place for students to have firearms or other weapons on campus."
"My heart is breaking for those hurt and killed in the shooting at Huffman High School," Alabama Congresswoman Terri A. Sewell said. "I cannot imagine the grief of the parents who lost their little girl today to gun violence. She was a part of our community's future. Tonight, my prayers are with her, the other victim, and their families.
"We have a responsibility to protect our schools from gun violence, accidental or otherwise. Every year more students and teachers, sons and daughters, and brothers and sisters are killed in school shootings – we need to do everything in our power to make this incident the last.
"We cannot settle for symbolic gestures in Congress when our children's lives are at stake."