Alabama Has Only Two ICU Beds Available As Delta Explodes in State
Only two net intensive care beds are available in Alabama as the state battles a surge in COVID-19 cases and hospitalizations, with one of the lowest vaccination rates in the country.
Dr. Don Williamson, the president of the Alabama Hospital Association, said the state has a total of 1,562 staffed ICU beds but 1,560 patients in need of intensive care, leaving Alabama hospitals with a net of two ICU beds, AL.com reported.
The term "net" is used by the association because one hospital may end up with a net negative of ICU beds because it was forced to move patients who need intensive care to another part of the hospital, while another hospital could have more available ICU beds.
"It's a terrible situation for them to be in because it means they're putting patients in a space that wasn't designed for that," Williamson said.
According to AL.com, 2,634 patients were being treated for COVID-19 in Alabama hospitals as of Monday, including 40 pediatric patients.
The state's hospitals have an average ICU occupancy rate of 93 percent, according to a tracker by The New York Times. Jackson Hospital in Montgomery has 37 COVID patients and its ICU is at 108 percent occupancy, while DCH Regional Medical Center in Tuscaloosa has 79 COVID patients and an ICU at 100 percent occupancy, according to the latest data.
The Alabama Hospital Association has been contacted for additional comment.
Alabama is dealing with a recent surge in COVID-19 cases, hospitalizations and deaths, driven by the highly contagious Delta variant.
The state reported 17,457 new cases and 35 deaths in the past seven days, according to the latest data from the U.S. Centers for Disease Control and Prevention.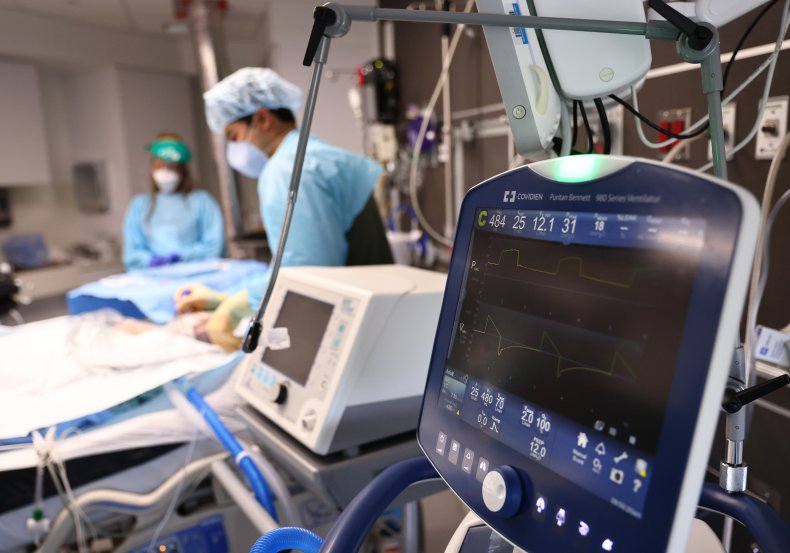 Alabama and Mississippi are the least vaccinated states in the U.S., with only 36 percent of people fully vaccinated against COVID-19.
The state's governor Kay Ivey on Friday declared a state of emergency that she said was focused only on "cutting red tape" for health care workers that were "treating a new wave of patients in Alabama's hospitals."
Ivey, a Republican, insisted there would be no coronavirus restrictions or mask mandates.
"I want to be abundantly clear: there will be absolutely no statewide mandates, closures or the like," she said in a statement. "This state of emergency is strategically targeted at removing bureaucracy and cutting red tape wherever we can to allow our doctors, nurses and hospital staff to treat patients that come through their doors."
She added: "Let me be crystal clear: Alabama remains open for business. Alabamians do not need government telling us what to do or how to do it. Unlike last year when we were hoping for a miracle, our greatest weapon against COVID-19 today is the vaccine, so, if you can, roll up your sleeve and get the shot."