Eight Alabama Inmates Go on Hunger Strike to Protest Alleged Solitary Confinement Without Cause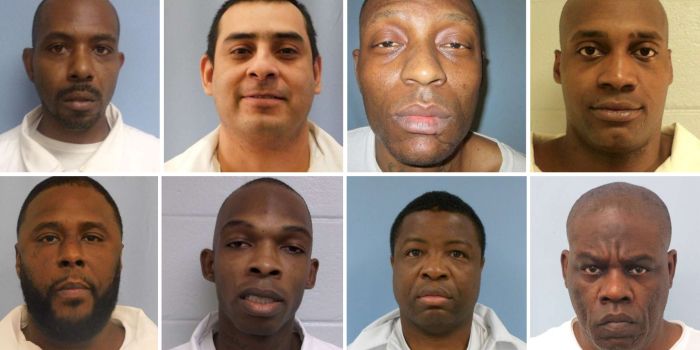 Eight incarcerated men in Alabama embarked on a hunger strike to protest their placement in solitary confinement, allegedly without cause.
In late February, the eight men were among 30 inmates who were transported from St. Clair Correctional Facility in Springville, Alabama, to Holman Correctional Facility, about 230 miles away in Atmore. Upon being transferred, the men were taken out of the general population and placed in the Solitary Housing Unit, according to a letter from the Alabama Department of Corrections Holman Correctional Facility.
The reclassification letter said the segregation was a preventive measure. Warden Cynthia Stewart advised that placing the inmates in the general population would pose "significant safety and security concerns" for staff and other inmates. As a result, the inmates were placed in Restrictive Housing at the warden's discretion.
To protest the decision, eight men began a hunger strike on Monday morning.
"I am on a peaceful hunger strike," the group pledged. "I am not suicidal, but I'm doing this because I'm being held in Holman Correctional Facility segregation without any justifiable reasons why."
Attorney Donna Smalley, a representative for the group, told Newsweek it "makes no sense" that they would be moved for preventive measures because there wasn't an infraction that prompted it. She said it seemed as if the prison was removing activist inmates from the general population.
Those on the hunger strike also said they had no disciplinary actions and given that they hadn't been involved in any riots or escapes, they believed their constitutional rights had been violated.
One of the men who committed to the hunger strike was Kotoni Tellis. His girlfriend, Louise Williams, told Newsweek that she was hurt when she learned that Tellis had been placed in solitary. Before he was removed from the general population, she said he hadn't done anything to another inmate or a corrections officer.
"It scared me at first just like it scared Kotoni because Kotoni has never done anything like this before," Williams said. "Never in the whole time he's been locked up, he's never done anything like this before, but this is something that he truly believes in and he truly feels like he's been wronged."
Williams referred to Alabama inmate Robert Earl Council, also known as Kinetic Justice, who also recently went on a hunger strike after he was transferred to Holman Correctional Facility. Williams told Newsweek that she was unsure if anything good was going to come from Tellis's hunger strike but offered her unwavering support.
"Like I told Kotoni, whatever his decision is, I'm behind him," Williams said. "He's wrongfully in lockup. They pulled him from population and placed him in lockup. No one's telling him why, and that's the only thing Kotoni wants."
This isn't the first time Tellis has been pulled from the general population since Williams met him, but she said while at St. Clair, he was returned to the general population early. She said a guard told the St. Clair warden at the time of his release from Solitary Housing that Tellis was "one of the inmates you don't have to worry about. This is one of the inmates that won't cause you any trouble.
"That's why they pulled him out of lockup early and placed him in population, so they could put someone who was a threat to an officer or an inmate in lockup," Williams said.
Tellis was assigned a custody status of "medium," according to Alabama Department of Corrections records, which signaled he could live in a dormitory or a double occupancy cell. He was also considered suitable for participation in treatment programs, work assignments and other activities within the correctional facility.
"It's really become a travesty and what really needs to happen is that the federal government needs to come in and take over," Smalley said. "That's something most people don't want to happen, but my fear is that the people in charge here in Alabama simply are not up to the task, and I fear that greed and concerns other than public safety and the well-being of the prisoners are their primary concerns."
Alabama's correctional facilities have an extraordinarily high rate of killings and suicides, and in January, U.S. District Judge Myron Thompson ordered the Alabama Department of Corrections to provide data on the number of mentally ill inmates who were placed in segregated units. His order came after he ruled in 2017 that the state's mental-health care violated the Eighth Amendment of the Constitution.
"Simply put, ADOC's mental-health care is horrendously inadequate," Thompson wrote in his ruling.
As far as the path forward, Smalley said she believed procedure dictated that the inmates taking part in the hunger strike must be moved to the infirmary for observation. She added that Alabama Department of Corrections Commissioner Jeff Dunn should also conduct an investigation into the situation.
"Kotoni's a strong man so I think he can hold out for as long as it takes," Williams said.