'Sexual Harassment' Senate Contender Roy Moore Is the Real Victim, Say Supporters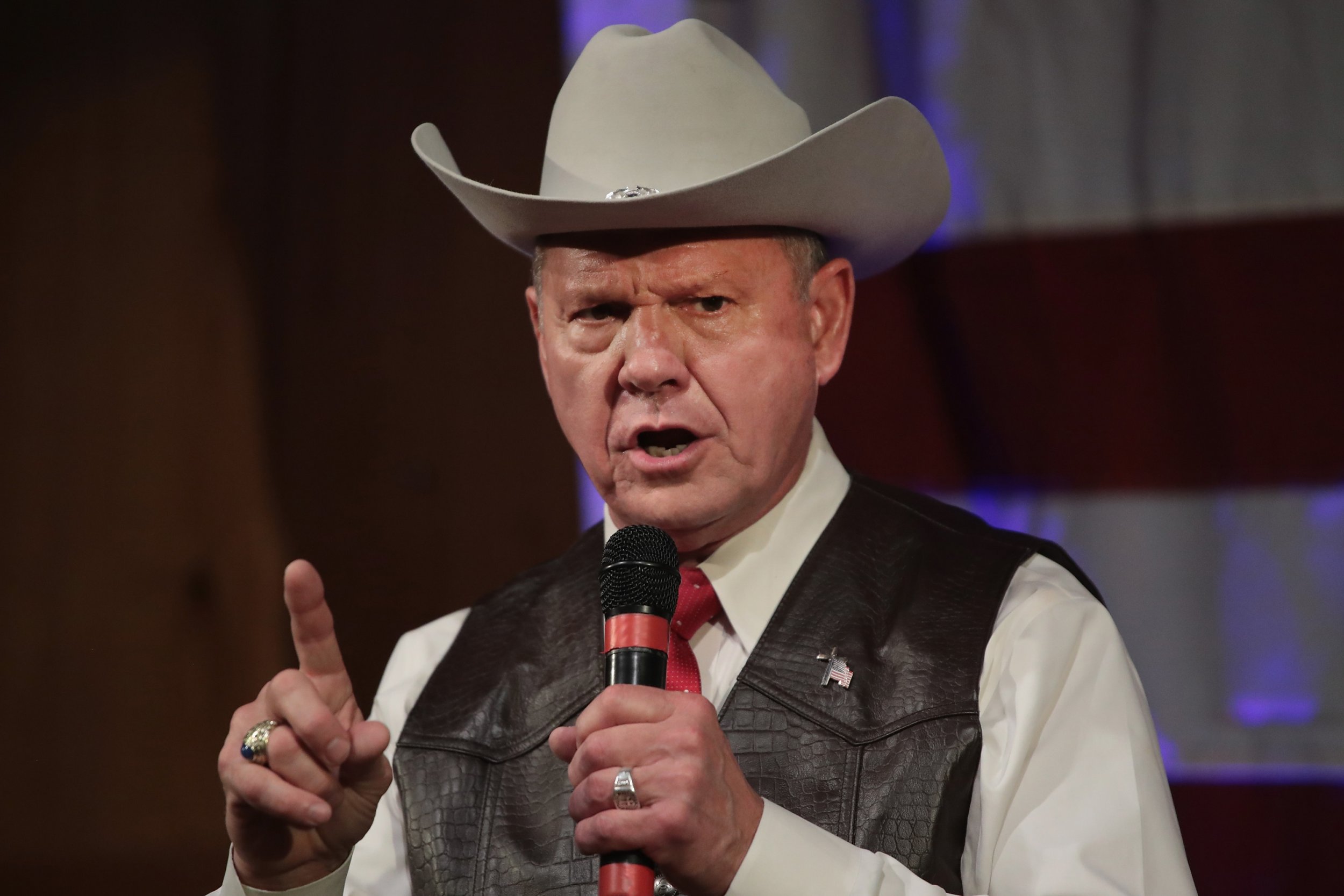 GOP Alabama state representative Ed Henry said Friday that he believes Roy Moore is the "victim," after the Senate contender was accused of inappropriate sexual conduct with several teenagers.
"I think probably more often than not, the accuser is the victim," Henry said during an appearance on CNN's "Anderson Cooper 360." "But I do believe occasionally the accused is the victim, and I do believe in this instance Roy Moore is the victim."
"I believe that he is the victim of a political hack job," Henry asserted.
Without citing evidence, the Congressman also alleged that someone "paid" for the allegations against Moore.
In a bombshell report on Thursday, The Washington Post reported that Moore engaged in inappropriate sexual conduct towards a 14-year-old girl in 1979, when he was aged 32. Three other women told the publication that Moore had approached them around the same time, when they were aged between 16 and 18.
Moore has denied the allegations, saying they are completely false and telling supporters they are the work of "those who want to silence our message."
Following the allegations, senior Republicans have distanced themselves from Moore. Senate Majority Leader Mitch McConnell and House Speaker Paul Ryan have called for Moore to drop out of the race if the allegations prove true.
GOP Senators Mike Lee of Utah and Steve Daines of Montana both announced they were withdrawing their backing for Moore for the Senate Friday night.
Steve Schmidt, the GOP strategist behind Senator John McCain's bid for the White House in 2008, called on Republicans to repudiate Moore in an interview with MSNBC's Chris Hayes Friday.
"There needs to be a repudiation, not just a rescission of an endorsement," Schmidt said. "He should be called on to get out of the race."
"Shame on Mitch McConnell, shame on Paul Ryan for not speaking out, not doing the right thing here," he continued. "Shame on them."
Others have resorted to the Bible to defend Moore, with some the former judge's most fervent support coming from hardline Christians.
"Take Joseph and Mary," Alabama State Auditor Jim Zeigler told the Washington Examiner. "Mary was a teenager and Joseph was an adult carpenter. They became parents of Jesus. There's just nothing immoral or illegal here. Maybe just a little bit unusual."
Moore swept to victory in the Alabama primary in September with strong backing from former White House chief strategist Steve Bannon, who has continued to defend Moore following the allegations.
"Until I see additional evidence on Judge Moore, I'm standing with him," Bannon said in Charleston, South Carolina on Friday night.
He compared the scandal engulfing Moore to the reporting of the Access Hollywood tapes that were released before the 2016 presidential election, on which Donald Trump was caught boasting of groping women.
"The Bezos Amazon Washington Post that dropped that dime on Donald Trump is the same Bezos Amazon Washington Post that dropped the dime this afternoon on Judge Roy Moore," Bannon said at a dinner of conservative activists in Manchester, New Hampshire, on Thursday night. "Now is that a coincidence? That's what I mean when I say opposition party, right?"
Moore beat Luther Strange in the primary race, despite Strange having enjoyed the support of President Donald Trump and key members of the GOP establishment.