Alabama Lawmakers Call for End to Jefferson Davis Holiday in Only State to Still Give Confederate President Own Day
Some Democratic lawmakers in Alabama called for the repeal of a state code that allows the state to celebrate Jefferson Davis' birthday, honoring the late Confederate leader. The request comes as protesters against racism across the U.S. have targeted Confederate monuments as symbols of hate.
Davis was the president of the Confederate States of America (CSA) during the Civil War from 1861 to 1865. The CSA seceded from the U.S. for the duration of the war and is known for upholding the practice of African slavery. Monuments to the Confederacy exist in several southern cities. Though some people believe they represent an important part of American history, others consider them to be reminders of slavery and racial oppression.
In a Tuesday letter sent to Alabama Governor Kay Ivey, state Representative Chris England called for an end to Jefferson Davis Day. "We should not give Davis, a traitor and racist who lived in our state for less than a year, his own state holiday," England wrote.
Davis was born on June 3, 1808, and the state holiday in Alabama is celebrated on the first Monday in June. Though most state offices close for the holiday, the U.S. Post Office and city and county offices typically remain open.
England referred to Davis as a "traitor" and "avowed racist" whose belief that African people were inferior to whites made him a "religious heretic."
"Davis' enduring legacy in Alabama is one of pain and division for Alabamians of all races," England wrote, "and includes the needless deaths of many white Alabamians who served as soldiers and sailors during the Civil War—some of whom disagreed with Davis' position on slavery, and many of whom did not benefit from the economics Davis and his slaver class embraced."
Newsweek reached out to the Alabama GOP for comment. This story will be updated with any response.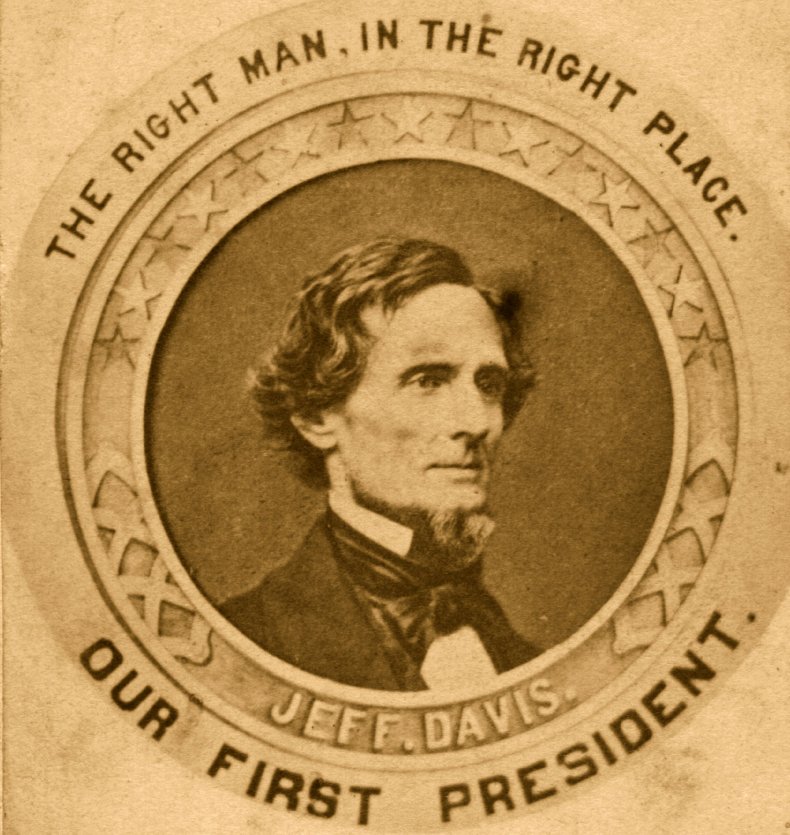 Alabama Democratic Congresswoman Terri Sewell said Monday that the holiday should be ended. "Our nation's racial divide is long and wide," she said.
Not only does Alabama celebrate Davis' birthday, it also celebrates Confederate General Robert E. Lee concurrently with the birthday of Dr. Martin Luther King. The state also observes Confederate Memorial Day in April to honor soldiers who were wounded or killed during the Civil War.
As a result of protests in Birmingham, Alabama, Mayor Randall Woodfin had a Confederate monument in his city removed. After demonstrators spray-painted and pushed over the Confederate Soldiers and Sailors Monument in Birmingham's Linn Park Sunday night, the statue was taken away on Monday. It had stood in the area for more than 100 years.
In response, Alabama Attorney General Steve Marshall filed a lawsuit against Birmingham for breaking a state law designed to protect monuments that had existed in public spaces for over 40 years. Violation of that law carries with it a $25,000 fine.
"I chose my city to avoid more civil unrest," Woodfin told NBC's Today program on Monday. "It's probably better for this city to pay this civil fine than to have more unrest."
Protests were sparked by the death of George Floyd, a black man from Minneapolis who died while in police custody in May. Video taken by a witness caught Derek Chauvin, a white Minneapolis police officer, kneeling on Floyd's neck for nearly nine minutes. All four officers involved in Floyd's death were arrested and charged in connection with the event.