Alabama Man Wakes Up in Woods After High Winds Hit Mobile Home Park
An Alabama homeowner says he fell asleep inside his house, and then woke up to find himself in the woods as the state contended with severe weather Friday morning.
Still, the man fared better than several individuals who were in areas hit by the high winds. As of Friday afternoon, officials are saying that a total of six people have been injured. No fatalities have been reported so far.
Authorities have not yet determined whether a tornado hit the area, or if it was just heavy winds. About nine mobile homes were destroyed and others were damaged, Escambia County Sheriff Heath Jackson told Mobile, Alabama news station WALA-TV.
The National Weather Service, which typically assesses areas that have dealt with extreme weather to determine what caused it, sent out several tornado warnings for the southern part of the state. But Escambia County (AL) Emergency Management Director David said that a warning wasn't in effect in the area of the mobile home park in Atmore when the severe weather hit, according to the AP.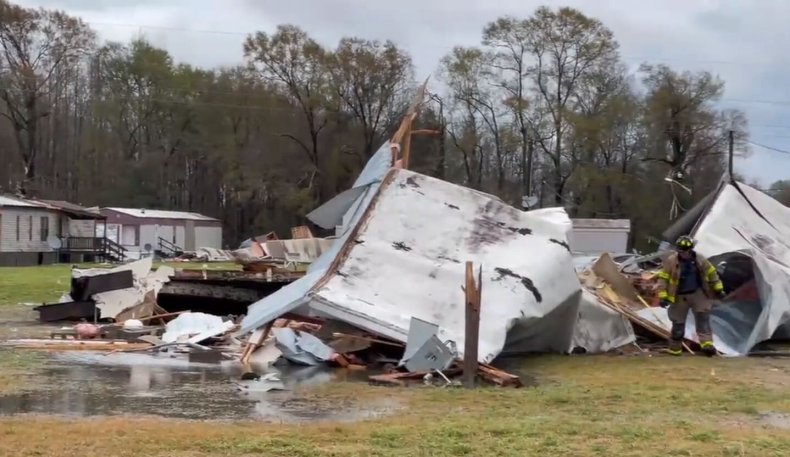 The National Weather Service in Mobile did issue a severe thunderstorm warning for several Alabama counties Friday morning, including Escambia County, the sheriff's office said in a Facebook post.
Jackson did not name the man who had reportedly woken up in the woods, but told WALA that "the good Lord was looking out for him." He lamented the destruction in the community, particularly for those who had lost their homes.
"It's devastating, and those people have nothing left. We are so thankful that nobody was killed or severely injured," Jackson said.
Atmore Fire Chief Ronald Peebles told NorthEscambia.com, a local news site, that it looked like a bomb hit some of the homes. After authorities conducted a search through the wreckage, they determined that everyone was accounted for.
Outside of the Alabama community, more than 13,000 homes and businesses were left without power in the state, and there were reports of flash flooding south of Birmingham, the Associated Press reported.
The Florida Panhandle also dealt with some of its own severe weather Friday. In a Twitter post, the Okaloosa County Sheriff's Office said that deputies were doing a damage assessment after receiving reports of a possible tornado in the community of Holt.
"There are multiple trees down but thankfully no reports of any injuries at this time, including at this damaged mobile home," the office said in a tweet that included a picture of a mobile home missing part of its roof.
Newsweek reached out to the Escambia County Sheriff's Office for comment.
Update 03/18/22, 4:55 p.m. ET: This article was updated with additional information.
Update 03/18/22, 4:20 p.m. ET: This article was updated with additional information and background.