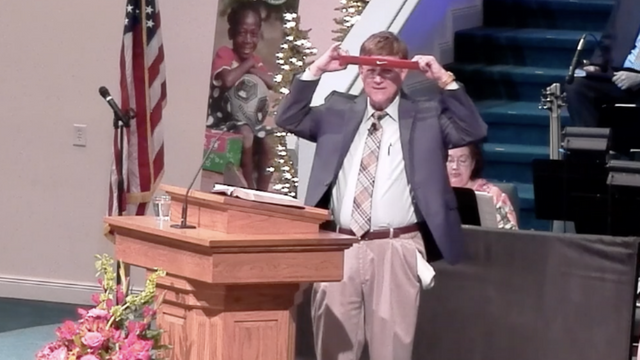 An Alabama preacher joined the ranks of those speaking and acting out against Nike for its recent advertising campaign featuring Colin Kaepernick, the first professional football player to kneel during the national anthem.
The Rev. Mack Morris, a senior pastor at Woodbridge Baptist Church in Mobile, said during his Sunday sermon from the pulpit that he is through with Nike products. He took a Nike headband and a wristband and cut them up. Those packing the sanctuary gave a standing applause, reported al.com.
"I ain't using that no more," Morris said in his sermon, posted online. "I've bought my last pair of Nike shoes."
Morris was upset that Nike had to make a contract with Kaepernick to make the ad campaign.
"He's inked a contract with Nike," Morris said in the sermon. "No one knows or is telling how many multi-million dollars that is going to be simply because he won't stand when the national anthem is sung."
"America may not be the best country in the world and we have a lot of faults, but I tell you what, a lot of folks died for the sake of what the flag represents."
Nike sales reportedly grew 31 percent over Labor Day weekend, likely fueled by the ad and controversy featuring Kaepernick. Morris said, however, he knows many people are upset with Nike's decision to feature Kaepernick and believes Nike hasn't heard the last of it.
"I know there are a lot of people, in general, who are very upset," Morris said during an interview with AL.com. "I know there are a number of high schools and colleges who are dropping Nike. Some folks are tied into long-term contracts, so I don't think we've seen the end of this. It's a ground swell. I think Nike, personally, made a calculated decision."
Nike's "Just Do It" ad featuring Kaepernick, the former NFL quarterback, debuted last week during the NFL season opener. The ad is narrated by Kaepernick and highlights athletes Lebron James, Serena Williams and others – "on the controversy of NFL players protesting racial inequality, police brutality and other issues by demonstrating during the national anthem," according to the Associated Press.
"Believe in something, even if it means sacrificing everything," Kaepernick said in the two-minute ad. "If people say your dreams are crazy, if they laugh at what you think you can do, good. Stay that way, because what nonbelievers fail to understand is that calling a dream crazy is not an insult, it's a compliment."