Pastor Prays For Trump To Defeat Deep State 'Witchcraft,' Speaks in Tongues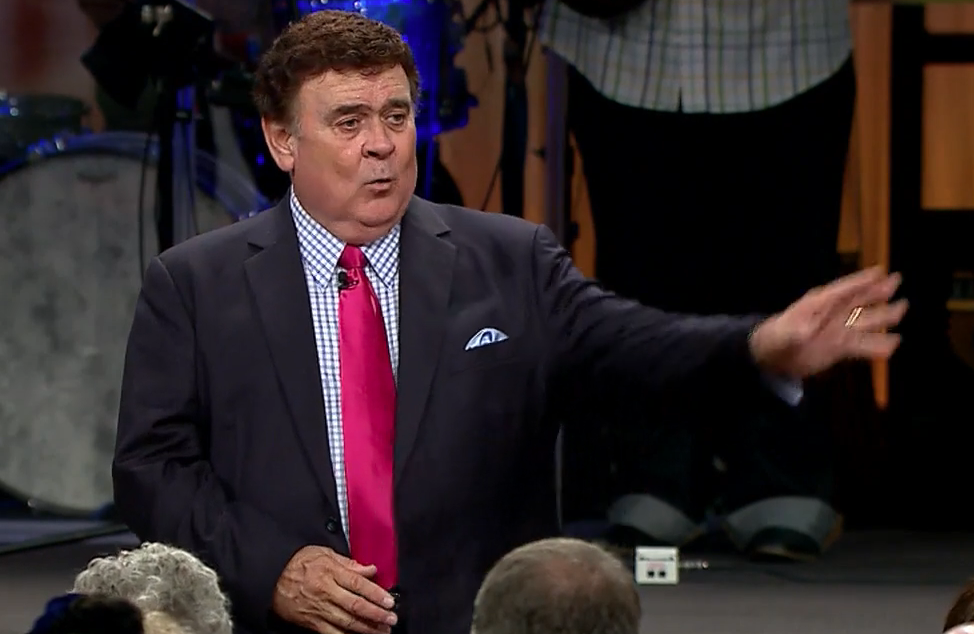 An Alabama pastor took President Donald Trump's "witch hunt" accusations literally enough to ask that his congregation pray for Trump in his fight against witchcraft.
Pastor John A. Kilpatrick, who founded the Church of His Presence in Daphne, Alabama in 2006, appeared in a video shared widely on social media showing his "pray for Trump" sermon delivered Sunday. Kilpatrick connected America's current scourge of "witchcraft" that is attacking the president to a biblical struggle in which Trump is in a "showdown" for power with the shadows of the Deep State.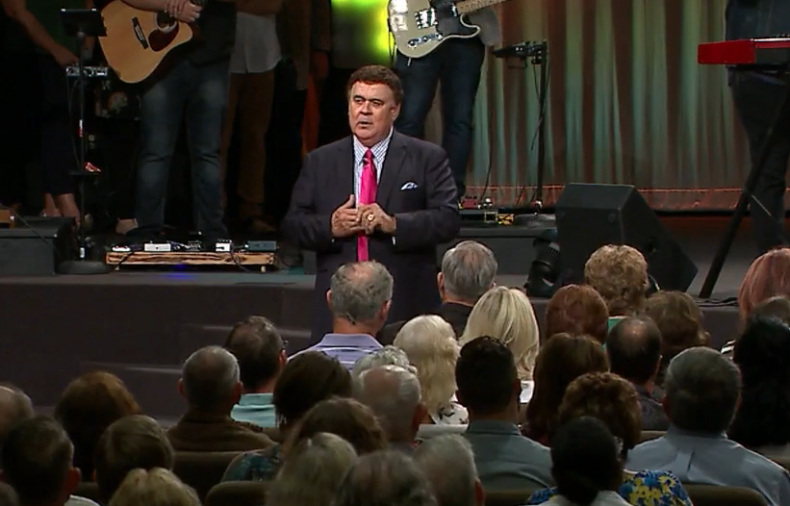 In the video, Kilpatrick can be seen shouting and speaking in tongues as he prays for Trump to defeat the evil "witchcraft" powers.
"I don't know if you know this, and I don't know if you're going to believe me when I tell you this, but what's happening right now in America is witchcraft is trying to take this country over," Kilpatrick says, as a mixture of gasps and laughter fill his audience.
"I am not being political, but I don't see how President Trump bears up under it," Kilpatrick said in his sermon. "He is as strong as I've ever seen a man be. But here's what the Holy Spirit said to me last night and what He said for me to tell you. He said, 'Tell the church that so far, Trump has been dealing with Ahab. But Jezebel's fixing to step out from the shadows.' That's what the Lord said to me."
Kilpatrick references the Kings I and II story from the Bible in which Elijah struggles against the Phoenician wife of Ahab, named Jezebel. The Biblical story of the conniving woman leads to the word's modern definition as "an impudent, shameless, or morally unrestrained woman."
"He said, 'Pray for him now, because he said there's about to be a shift, and the deep state is about to manifest, and it's going to be a showdown like you can't believe.' So, I'm coming to you as a prophet, as a man of God, and I'm telling you, it's time to pray for the president."
The full sermon video, which had been viewed on Facebook more than 300,000 times by Thursday, can also be seen on the Church of His Presence website.
The Pentecostal, Assemblies of God Minister founded the church in 2006 and his wife and son are also in the church leadership. As part of a Pentecostal practice, he also began speaking in tongues (a phenomenon also known as glossolalia) and shouting as he performed his prayer for Trump.
"God make him bold, make him strong! Preserve him, Holy Spirit! Keep him, Holy Spirit! Preserve him, Holy Spirit! Don't let him lose his voice! Make him stronger than ever, Holy Spirit! Let no weapon be formed against him that will knock him out of power. Strengthen him, Lord! It's time to pray, church. I believe our nation is in the balances."
Kilpatrick told AL.com he is not a Republican despite voting for Trump in the 2016 election. He said that "both parties nauseate me" and that "Trump has his faults and I don't believe he's a man of God." But the pastor said the Kings verses he told his congregation are simply showing a parallel of the pressures Trump faces versus that of the struggle Elijah, Ahab and Jezebel.
"This president has been under pressure, in an Ahab-like situation," Kilpatrick said. "When you graduate up to the main power broker, that's Jezebel. I really do feel this way. His greatest attack is yet to come. It's all a culmination...."It's not a witch after him, it's a spirit of witchcraft trying to muzzle him."