Who Is Phillip McCain? Singer Vows to 'Shoot' Immigrants, Goes Viral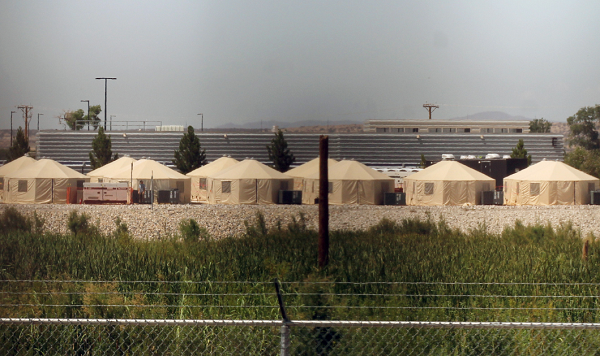 An Alabama musician found himself without a job after making a few salacious comments and threats toward immigrants on social media.
In a post shared on Facebook, which was reported by Alabama's AL.com on Tuesday, singer and songwriter Phillip McCain offered to "shoot" immigrants in an effort to prevent migrants from illegally crossing the border.
"I'll tell ya what I'll volunteer to shoot their asses when they approach the border. Problem solved. No more illegal fucks coming in here. Period," read the post, which has since been removed from Facebook.
McCain continued: "I don't give a shit about them, their kids, their shitty life or asylum. I care about American kids and American families. You've got to be a complete idiot to not get it, but then again we are talking about the libtard agenda. Liberalism is a mental disorder and I'm damn sure glad that I'm not dumb s**t."
Despite being deleted from Facebook—McCain's page has also been deactivated since posting—a screenshot of the musician's statement surfaced on Twitter and went viral on Tuesday.
His post has since resulted in the cancellation of his Tuesday performance at Alabama restaurant Putu Primanta, as well as cancelled shows at three other venues where McCain was expected to perform solo, along a wave of criticism online. McCain's band, Buck Wild, also parted ways with the singer following his comments.
"I lost my job in my band Buck Wild, roughly $3,000 [in expected future performance fees], and I've lost three solo gigs already. And that's all for voicing my opinion, and yes, it was harsh, but it was just an opinion," McCain told AL.com on Tuesday, adding that the post was "taken out of context."
McCain's post comes during a time in which the country is embroiled in controversy over immigration and Attorney General Jeff Session's latest "zero tolerance policy," which allows the immediate arrest of people attempting to cross the Mexican border without following the appropriate legal border crossing guidelines. Adults who are arrested for illegally crossing the border with children are placed in detention centers while being forcibly separated from the minors.
Who Is Phillip McCain? Singer Vows to 'Shoot' Immigrants, Goes Viral | Culture