Alabama: Poncho Via, the Steer with Horns Wider than the Statue of Liberty's Head, Breaks Record for World's Longest Horns
A steer in Alabama has become a world record-breaker thanks to his huge horns which span almost 11 feet. The horns of 7-year-old Poncho Via, a Texas longhorn, span 323.74 centimeters (10 feet 7.4 inches), according to Guinness World Records.
The enormous pointy projections have earned the steer the title of largest horn spread on a living steer, and also largest horn spread on a steer ever. His horns are double the width of a grand piano, and wider than the Statue of Liberty's head is thick, which from ear-to-ear measures 10 feet according to Liberty State Park.
Adjudicators confirmed Poncho's horn tip span was just over an inch longer than the former record holder Sato, a steer from Bay City, Texas. His span measured a still-impressive 320.99 centimeters (10 feet 6.3 inches) when he claimed the record on September 30, 2018.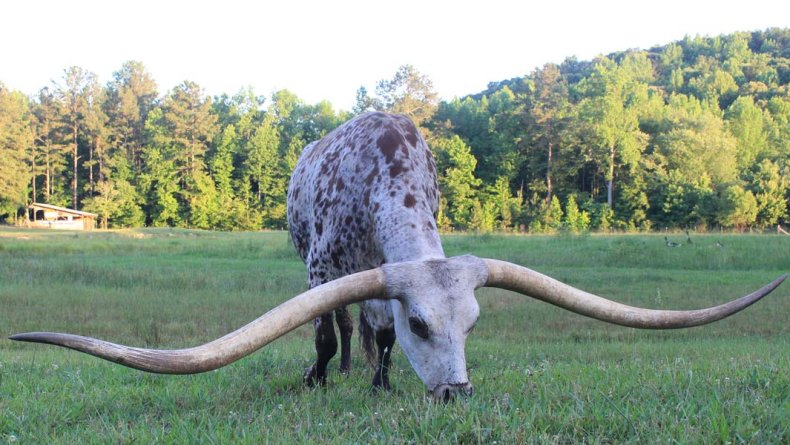 Texas Longhorns are descendants of the first cattle to arrive in North America almost 500 years ago. According to Oklahoma State University department of Animal Science, the animals are "Hardy, aggressive, and adaptable."
Poncho was reared by the Pope family in Goodwater, southeast of Birmingham, Alabama. They bought him when he was 6 months old, and named him after Poncho Via, the 1960s TV and movie character based on the Mexican revolutionary Pancho Villa. By the time he was aged four, they realized they might have a record-breaker on their hands when they noticed his horns weren't like their other animals.
While the horns of most steers curve up, Poncho's grew straight.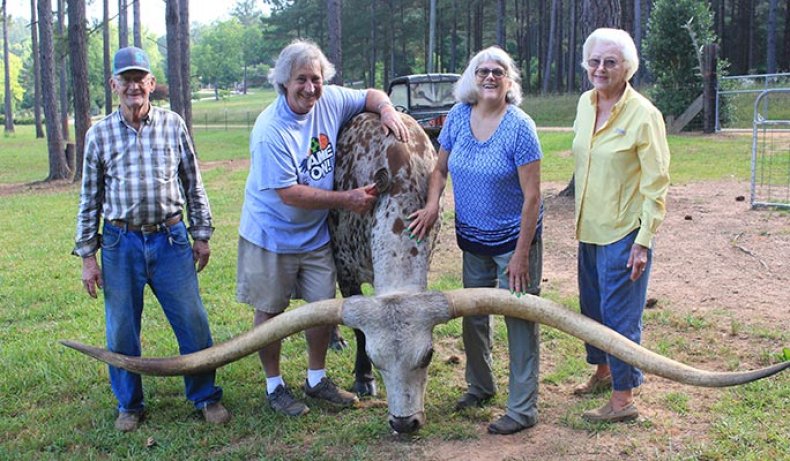 Jeral Pope, Poncho's owner, described the moment he and his wife first decided to raise longhorns.
"My wife and I went somewhere out west, riding a hay wagon," he said. "Up on the hill, outlined against the sky, were three or four longhorns. They stood out like anything on the crest of that mountain—it was the prettiest thing. I told my wife, we got to have one of them."
In his younger years, Poncho was a little boisterous, according to George Jones, a member of the Pope family who works on the ranch with the steer.
"Back when he was younger…he [only] had small horns, but he would get frisky…bucking and snorting and charging… But he's mellowed out as the years have gone by… and pretty much walks where he wants to go nowadays instead of running," said Jones.
And because of his humongous horns, Poncho sometimes finds himself in trouble. Jones recalls the time he was fishing and Poncho came up behind him and pulled a bottle of water out of his pocket with his tongue. Jones started to scratch the steer.
"All of a sudden, he turned that head and I went airborne into the pond! He just knocked me completely off my feet into the water."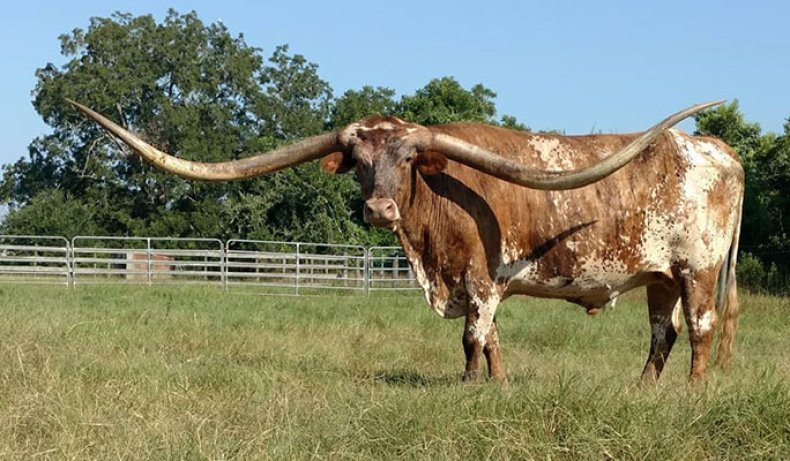 Now, Poncho has calmed down a little, and become a local attraction.
Jeral said: "All my neighbors round here, any time they have company, they come over to see the longhorn. He's just a big, gentle character. Everyone brings [food] with them—he likes apples, carrots and marshmallows."
Dennis Pope, Jeral's son, explained: "He's just a big pet. He's had so many people over the years stop by to see him, feeding him treats, that he's turned into a wonderful big pet."
Speaking in 2018 to the Bay City Tribune, Sato's owners similarly had a feeling that their steer could make headlines.
"We knew he was going to set a world record a few years back," his owner Scott Evans said. "The problem is now is that we can't transport him anymore for competitions. His horns have grown so big, it become dangerous to move him."