Alabama to Receive Fewer Monoclonal Antibody Treatments Amid High COVID Cases
The Alabama Department of Health warned statewide healthcare providers that they'd be receiving fewer doses of monoclonal antibody treatments from the federal government than previously, so providers should consider who is receiving the treatment.
Monoclonal antibodies have shown to be beneficial in helping to keep people out of the hospital. The treatment's becoming more commonplace, and in Alabama, which leads the U.S. in COVID-19 cases and has a low vaccination rate, plans to expand access to the treatment had to be put on hold because of a notification from Health and Human Services (HHS).
An announcement from the HHS put monoclonal antibody treatments on temporary allocation for every state. They'd be restricted to sites that have an HHSProtect account and only be approved in alignment with utilization, and the Alabama Department of Public Health told Newsweek their understanding was that they would receive only 70 percent of their requested product.
"As a result of this temporary allocation, Alabama will receive less than the amounts previously ordered," the Alabama Department of Public Health said in a message to healthcare providers.
"To hopefully assure that monoclonal antibodies are available now and in the future for those patients most at risk, providers are reminded that not everyone qualifies for non-hospitalized patient treatment with monoclonal antibodies."
Three monoclonal antibody treatments have been given Emergency Use Authorizations (EUA) so they can be administered during the pandemic despite not having approval from the Food and Drug Administration (FDA). Under that EUA, people qualify for monoclonal antibody treatments only if they are considered high risk for developing COVID-19, are at least age 12 and have tested positive but not been admitted to a hospital.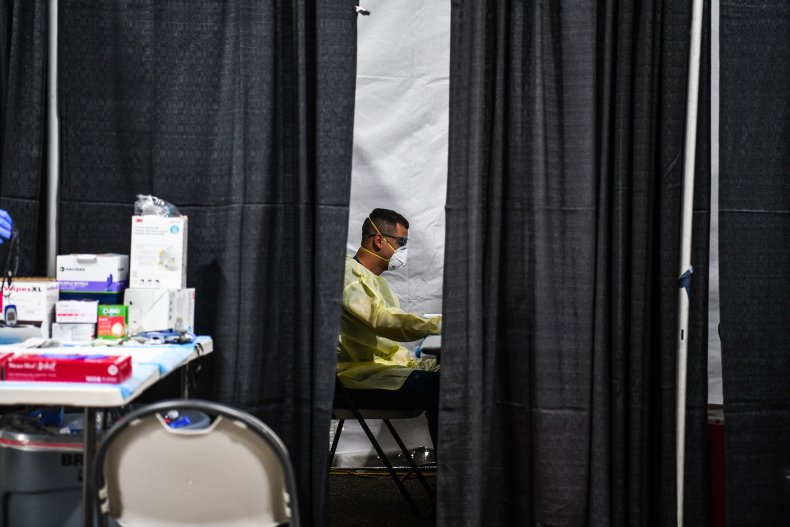 While high risk might seem to be a limited portion of America's population, it actually includes a broad swath of people because one factor that makes a person high risk is being overweight. Defined as an adult whose body mass index is over 25, it likely includes at least 50 percent of America's population, according to data from the Centers for Disease Control and Prevention (CDC). People over 65 and those who are pregnant are also considered high risk, as are people with certain medical conditions.
Monoclonal antibodies can also be used to help prevent someone from contracting the virus. In the case of prophylactic use, a person must be at least age 12, at high risk of developing COVID-19 and have been exposed to COVID-19. While monoclonal antibodies can be used as a treatment for anyone, regardless of vaccination status, the preventive use can be used only on someone who is not fully vaccinated or vaccinated but immunocompromised.
"It is important to understand that post-exposure preventive monoclonal antibodies are not a replacement for vaccination," Alabama Department of Public Health Chief Medical Officer Dr. Mary McIntyre said in a statement. "The best way to prevent any infectious illness is to avoid being exposed to it. People have the power to protect themselves and their families by reducing the chance of being exposed and of exposing others."
Alabama has one of the lowest vaccination rates in the country and is leading in new COVID-19 cases. Hospitals saw a massive influx in admissions this summer and a 20-person U.S. Navy medical unit was dispatched to the Dale Medical Center in Ozark to help treat patients. It's the third federal unit to temporarily deploy to an Alabama hospital, and hospitals are struggling to find ICU beds for the number of patients needing critical care.
Dr. Scott Harris, Alabama's state health officer, blamed the surge largely on people not getting vaccinated despite being eligible. Although there have been breakthrough cases of vaccinated individuals getting sick, he noted the overwhelming number of people dying are unvaccinated.
"If we just had people vaccinated who are eligible we would not be in this boat," he told the Montgomery Advertiser.
With hospitalizations putting immense strain on healthcare systems, healthcare professionals pushed for officials to expand access to monoclonal antibody treatments. The Alabama Department of Public Health was working to promote the treatment and increasing locations for people to receive it, but they've put those plans on pause in light of the HHS announcement.
In a September 3 Public Health Emergency Declaration, the HHS announced changes to the ordering process in an effort to ensure "continued availability of these drugs for current and future patients." The changes were intended to promote "optimal and equitable use" of the available supply and are intended to be temporary.
Newsweek reached out to the Department of Health and Human Services for comment but did not receive a response in time for publication.