Alabama Records Highest Daily Increase in Coronavirus Cases Since Pandemic Began
Alabama reported its highest single-day increase in new cases of the novel coronavirus on Thursday, with health officials confirming 1,129 additional diagnoses identified since its previous update 24 hours earlier.
The latest jump in infections surpassed Alabama's previous record high, reported June 12, of 1,047 cases confirmed on a single day.
A growing number of Alabama residents have tested positive for the novel virus since May 26, when the Alabama Department of Public Health (ADPH) reported 637 new cases, its highest daily increase at the time. Alabama's daily diagnosis reports have exceeded the state's May 26 total at least 10 times since then and set new records for single-day increases on three separate occasions. Although the state has administered diagnostic tests for the virus in greater numbers throughout June than it had been earlier during the pandemic, additional data released by the CDPH shows the state's test-positivity ratio peaked last week, with 10.9 percent of tests yielding positive results.
As of Thursday morning, the state has reported more than 33,200 virus cases since the pandemic began, according to the ADPH. Its tally accounts for lab-confirmed diagnoses and probable cases. Of those who contracted the respiratory syndrome, close to 900 people have died in Alabama. Roughly 18,800 people have recovered, according to the health department's estimates.
Alabama's virus cases have tripled since businesses first started to reopen last month. Following the termination of Alabama's stay-at-home order at the end of April, Governor Kay Ivey permitted restaurants, bars, personal care service establishments and retailers to resume in-person operations with some safety requirements in place on May 11. At the time, Alabama had confirmed 10,087 overall virus cases. Entertainment venues, like bowling alleys, arcades, theaters and museums, began to accept patrons just over a week later, under a revised reopening order issued by Ivey on May 21.
Ivey has not required Alabama residents to wear face masks in public spaces, although recommendations included in the governor's reopening guidelines encourage businesses and individuals to do so. A spokesperson from Ivey's office discussed her position on mask mandates in previous comments to Newsweek earlier this month, after health officials reported Alabama's previous record increase in daily cases.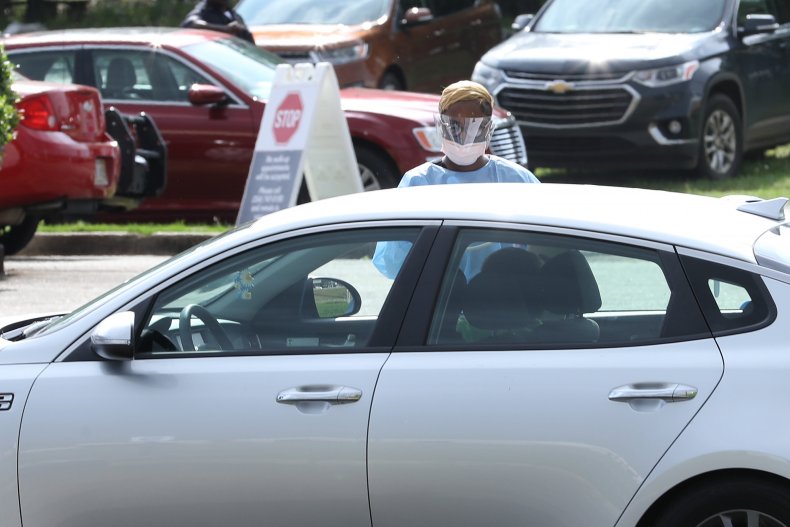 "Governor Ivey respects the individual choice of citizens to wear a mask or not, just as she respects that of businesses or local entities to require it," the spokesperson said. Last week, Montgomery Mayor Steven Reed issued a local mandate requiring residents to wear face coverings in the city's public spaces. Montgomery is one of Alabama's harder-hit areas.
Newsweek reached out to the ADPH for comments but did not receive a reply in time for publication.