Alabama Rep. Barry Moore Tests Positive for COVID-19, Continues to Rail Against Mask Mandates
Representative Barry Moore announced Friday that he and his wife have tested positive for COVID-19—and then he continued to criticize mask mandates and advocate for the freedom to choose.
"I'm sad to share that Heather and I have tested positive for COVID-19. To every extent possible, I will continue working virtually while recovering in quarantine," the Alabama Republican wrote in a statement shared to Facebook.
"While I believe every American has the freedom to make their own health-related decisions, I encourage talking with your doctor about the different vaccines and therapies available and making an informed decision about the prevention and treatment that is best for you," he added.
Moore—who protested House Speaker Nancy Pelosi's face mask rule for representatives inside the U.S. Capitol—declined to disclose whether he was vaccinated and continued to rail against federal mask mandates in an interview with The Daily Beast on Saturday.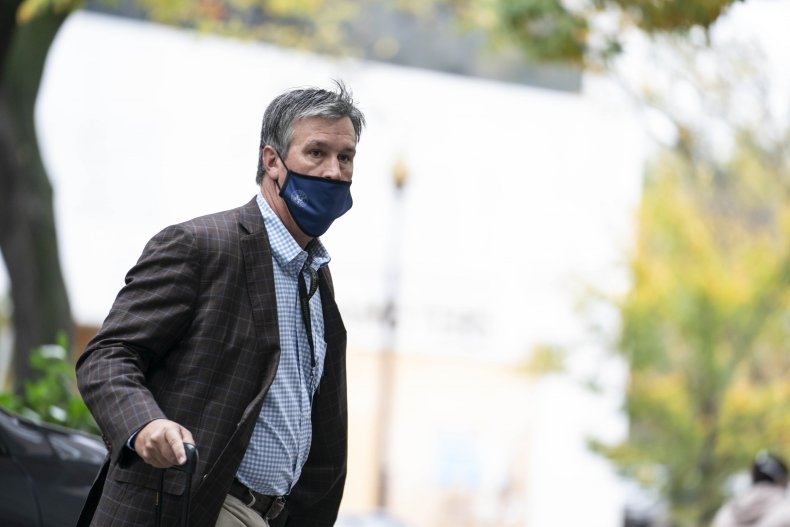 "I just don't believe in mandates from the federal government," he said. "If I died of COVID yesterday, I wouldn't want to force my beliefs and opinions on anyone ... I'm not sure that me wearing a mask, whether you think I should or not, really is going to help anybody."
The freshman congressman also falsely claimed that vaccines were "untested," saying that we "don't know a lot about them yet."
Moore's infection comes amid a deadly surge of COVID-19 cases and hospitalizations across the U.S., including Alabama, a state with low vaccination rates that has been adding about 3,500 new daily cases. The Alabama Hospital Association said Wednesday that there were "negative 29" I.C.U. beds, making it the first state to run out amid the latest wave of the virus.
Alabama Health Officer Dr. Scott Harris said Friday that the state has "not had a particularly good week," as hospitalizations continued to exceed the health care system's capacity. In response, the state has requested resources from the Federal Emergency Management Agency (FEMA) to help its medical staff.
Vaccination rates ticked up in Alabama over the past few weeks, elevating the state from last in the U.S. to 44th among individuals who have received at least one dose.
The Alabama Department of Public Health on Saturday warned of a rise in cases among children, with more than 6,000 testing positive over the past two weeks.
The highly contagious Delta variant now accounts for about 95 percent of the country's cases.
Newsweek reached out to Moore for further comment.