Alabama Republican Blames Mass Shootings on U.S. 'Spiritual Deficit'
In the wake of two back-to-back mass shootings that killed 31 people, Alabama Republican John Merrill blamed the tragedies on what he called America's "spiritual deficit" rather than a gun violence epidemic.
"We do not have a gun control problem, we have a spiritual deficit problem, and by making this a matter of faith, we can confront evil head-on," Merrill wrote in an op-ed published by the conservative news website Yellowhammer on Tuesday.
Merrill is currently serving as Alabama's secretary of state and is one of multiple Republicans running for Senate in 2020. One of his primary opponents includes Roy Moore, the embattled judge who was forced to drop his congressional run in 2017 amid accusations of sexual misconduct.
Merrill's comments come after two mass shootings in El Paso, Texas, and Dayton, Ohio, killed at least 31 people and injured more than 50 others. The tragedies sparked a national debate about gun control, in which President Donald Trump has signaled support for stronger background checks.
Merrill, like many Republican lawmakers, blamed the violence on video games despite there being no evidence connecting the two. He wrote in his op-ed that liberal Hollywood is marketing violence to children and "puts more money behind the marketing of video games with a purpose of killing."
The Alabama Republican also slammed Democrats for pointing the finger President Trump and his anti-immigrant rhetoric for inciting the violence in El Paso. The shooter posted a racist manifesto blaming a "Hispanic invasion of Texas" for the killing spree.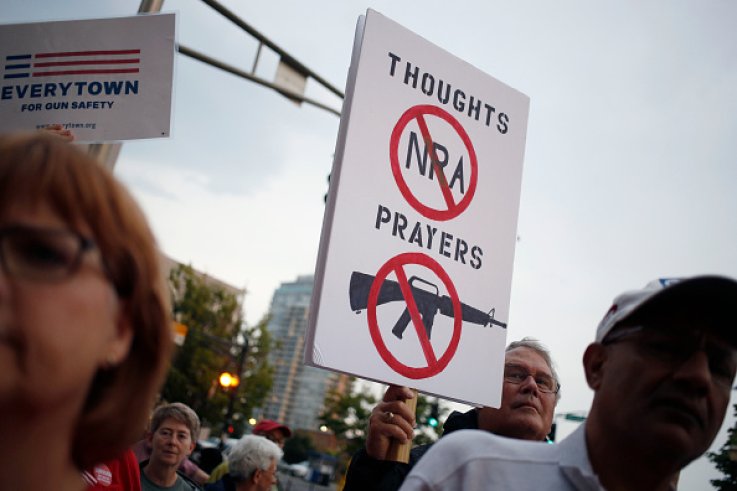 "What we need is more prayer that teaches what Matthew 7:12 speaks of when he said, 'Therefore, however you want people to treat you, so treat them,'" Merrill wrote. "We need more thoughts that teach our children to respect life and call out bullying, violence, and aggression. And we need to renew our faith because more gun laws will not solve a moral problem."
Several prominent Republicans have also attributed the attacks in El Paso and Dayton to a crisis in faith.
Former Arkansas Governor Mike Huckabee argued in an op-ed that mass shootings were always going to happen in America "until we have a reawakening of morality and values, and until kids are brought up once again to believe that we are all made in the image of God, that life is sacred and superficial differences like skin color are meaningless."
Trump's evangelical adviser Robert Jeffress told Fox News last week that teaching children that "they are accountable to God for their actions" could help reduce gun violence.
"I'm not arguing against legislation," Jeffress said. "I'm saying that one thing we can do is quit this devaluation of human life in our society that is seen by the glorification of violence in our culture."
Alabama Republican Blames Mass Shootings on U.S. 'Spiritual Deficit' | U.S.