Alabama Republicans' Pick For Roy Moore's Old Job Is a Lot Like Roy Moore
The Alabama GOP nominated Associate Justice Tom Parker Wednesday in the primary election for Alabama chief justice. Parker will face off against Judge Bob Vance, an unopposed Democrat who nearly won the position in 2012.
Parker served as an aide to former Chief Justice Roy Moore, whose run for a United States Senate seat in the state was derailed late last year following multiple allegations that as an adult he romantically pursued teenagers, some of which were under the legal age of consent.
Parker's campaign has largely centered around the same social issues Moore ran on, including opposition to same-sex marriage and abortion. Parker also has a documented appreciation for the Confederate flag.
"Political correctness should not cause people to dishonor our history," Parker said after passing out Confederate flags at a funeral for a widow of a Confederate soldier, according to a 2004 article from The Associated Press.
The article noted that Parker associated and took photos with Leonard Wilson, a board member of the White Supremacist Council of Conservative Citizens, and Mike Whorton, a leader of The League of the South, a controversial Southern-rights group that advocates for the secession of Southern states from the rest of the country.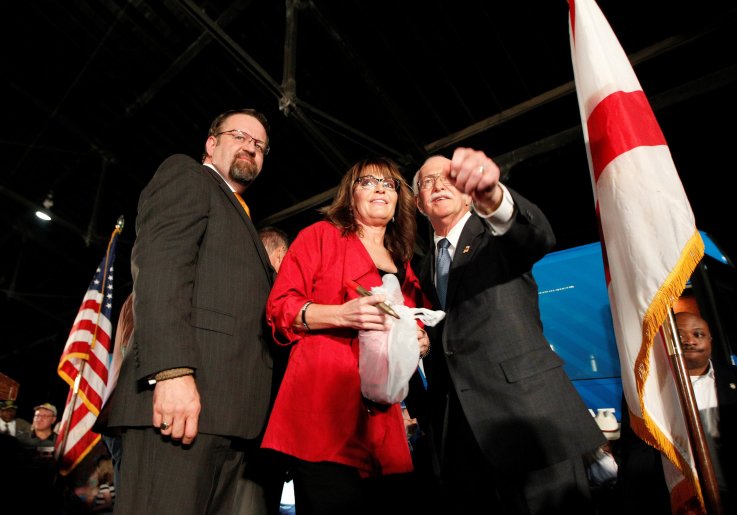 Parker responded to criticism from the Southern Poverty Law Center (SPLC) over his association with Wilson and Whorton when he stated he "must be doing the right things" if the organization was upset at him.
He said the center was "the most liberal, politically correct law firm in the country, and they have fought virtually every attempt in our state to acknowledge God, who is the source of our rights."
According to Think Progress, Parker ran a campaign ad in 2010 that compared a liberal-leaning judge to Al-Qaeda. "Most people believe that Al-Qaeda is one of America's biggest security threats," he said. "I think it's time to add liberal activist judges like Judge Phillips to that list."
In 2004, Parker attended a birthday party honoring Confederate General Nathan Bedford Forrest, the SPLC also noted. Bedford was the first "grand wizard" of the Ku Klux Klan. The SPLC filed a complaint against Parker in 2015 after he went on a radio show as a sitting judge to advocate that state courts resist the U.S. Supreme Court's ruling that legalized same-sex marriage.
Parker's website doesn't currently list his platform, but an archived version from 2006 includes a candidacy announcement from a previous campaign that said "I'm running to defend you, the people of Alabama, from liberal activist judges who legislate from the bench their foreign values—such as higher taxes and so-called 'same-sex marriage.'"
Parker lost his job after Moore was removed from his position as chief justice when he refused to remove a monument of the Ten Commandments from the Alabama Judicial Building.
Alabama Republicans' Pick For Roy Moore's Old Job Is a Lot Like Roy Moore | U.S.