Alabama is Responsible for LSU-Clemson National Championship, and More Like This in the Future
Alabama did not make the College Football Playoff this season. It's the only time in the six years of major college football playoffs the Crimson Tide did not make the final four. It doesn't mean their presence isn't felt, though.
The Crimson Tide is responsible for LSU making it to the national championship this year, and they're the reason Clemson is back to try and make history.
The fingerprints of Alabama coach Nick Saban on the Crimson Tide football program have changed the blueprints of how other teams can win national titles.
When Clemson made its first College Football Playoff appearance following the 2015 season, it lost to Alabama in the national championship game. In 2016, the Clemson Tigers got revenge and beat Alabama in the title game. In 2018, Clemson made it back to the pinnacle by beating Alabama again.
For Clemson to beat Alabama, they first had to resemble Alabama. In the 2018 season, Clemson benched previous starting quarterback Kelly Bryant for true freshman Trevor Lawrence, who had an accurate arm for downfield throws and ability to quickly dissect defenses. The move paid off.
"I think Clemson's move for sure was with Alabama in mind," ESPN college analyst Todd Blackledge said in the Wall Street Journal last year. "Alabama has been the team to beat. They've been the standard bearer. Now all of a sudden, they have changed up offensively. And they are throwing the football and scoring a ton of points. So the idea of 'How do you compete against them and beat them?' changed."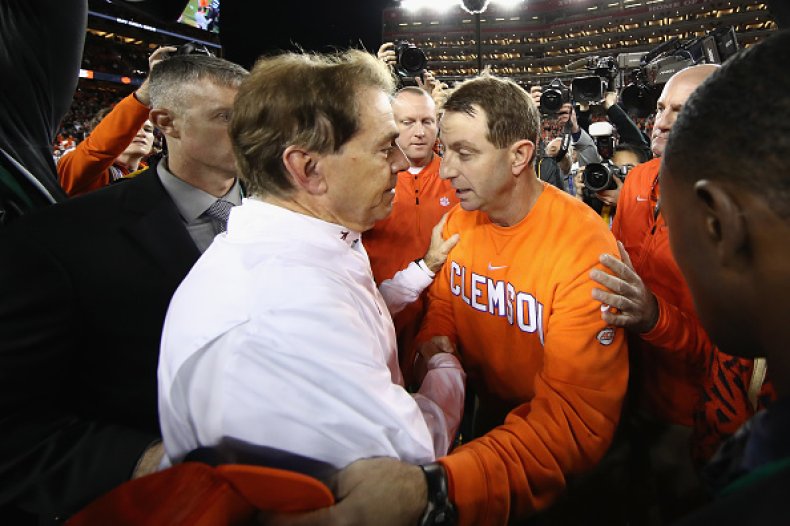 Meanwhile in Baton Rouge, Louisiana, Ed Orgeron was promoted from assistant coach to interim head coach in September 2016 after LSU fired longtime coach Les Miles, who led the Tigers to a national title in 2007 and lost the national championship in 2011—to Alabama.
Orgeron was officially hired as LSU's head coach on November 26, 2016, and he had one message for fans: "We have to beat Alabama."
Alabama had put together a Big 12-style offense to go along with its vaunted defense, and the Crimson Tide won national titles in 2009, 2011, 2012, 2015 and 2017. During that span, Alabama evolved from a run-heavy attack to an aerial assault, posting gobs of points.
LSU had not beaten Alabama since the 2011 regular season—the 9-6 overtime game in Tuscaloosa. Alabama got revenge in the national championship two months later, and the Tide beat LSU seven more times in a row.
Orgeron knew a change was needed. After bringing in transfer quarterback Joe Burrow for the 2018 season, he brought in offensive coach Joe Brady, who is capping his first year with LSU on Monday night as the passing game coordinator.
LSU broke endless passing records in the 2019 season. They defeated six teams that were ranked in the top 10 at the time, starting with a win over Texas—in Austin. They beat Auburn and Florida at home, and they beat Alabama in Tuscaloosa when the Tigers were No. 2 and the Tide was No. 3. LSU had a 20-point halftime lead, and had a double-digit lead late in the game before Alabama rolled off a long touchdown pass.
Before the game, Orgeron knew the task of beating Alabama still lied ahead.
"You can tell by the rankings we made up some ground," Oregron said on CBS Sports. "We still have to beat them."
They did it. The game was validation for LSU.
The Tigers went on to crush Texas A&M in the season finale, and then walloped No. 4 Georgia for the SEC Championship. Three weeks later, LSU dominated No. 4 in the Peach Bowl to make it to the national championship game.
During all of this, LSU quarterback Joe Burrow hauled in every major quarterback award and player of the year honor, including the 2019 Heisman Trophy in a landslide.
LSU and Clemson will line up Monday night as mirror images of each other. Each side has an unbelievable amount of talent all over the field. They have perhaps the two best quarterbacks in the land, both have fantastic receiving corps, a top-notch running back, athletic defensive lines, smart linebackers and stingy defensive backs. On top of that, the coaches on both sides are both masterful and confident.
They have the two longest winning streaks in the country. Though both teams are 14-0 this season, Clemson has a 29-game win streak after going undefeated last season. Counting LSU's Fiesta Bowl win over Central Florida following the 2018 season—which ended the Knights' 25-game winning streak—LSU stands at 15-straight wins heading into Monday night.
Clemson and LSU are two programs built to beat Alabama, but now they must face each other. It doesn't stop with these two teams, though. Just looking at the SEC West division, other teams are trying to catch up quickly.
Auburn has a team that beat Alabama this year and played LSU to a 23-20 game. The Tigers started a freshman quarterback in Bo Nix all season, and Gus Malzahn always has the Tigers playing tough defense.
Jimbo Fisher enters his third season at Texas A&M, and his offense could take off in 2020. The Aggie defense remains a question mark.
In Mississippi, the two SEC schools hired offensive geniuses to guide their program. Lane Kiffin is now the new head coach at Ole Miss while Mike Leach was hired last week at Mississippi State to bring his air-raid offense to the Bulldogs program.
And over in Tuscaloosa, Saban, 68, is not getting any younger, and he lost all-everything quarterback Tua Tagovailoa three times in 2019. Twice was to injury and a third time when Tua announced he is leaving school early for the NFL Draft.
The way to get into the college football is becoming evident, as teams like Ohio State, Oklahoma and Oregon have been knocking on that door with stellar quarterback play and revamped defenses. The two teams on display tonight have knocked down that door, and one of them will hold college football's crown jewel by the end of Monday night.