Alabama Senate Republicans Try Speeding Through Anti-Abortion Vote, Sparking Mayhem Among Members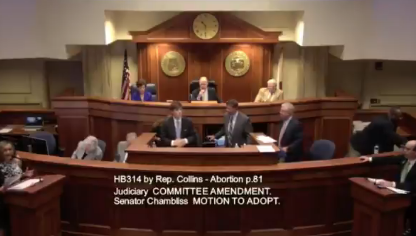 Alabama Senate Republicans, a caucus composed entirely of men, tried to pass a vote that would punish almost all abortions with 99-year prison terms without allowing a traditional roll call as requested by Democrats.
Republican Lieutenant Governor Will Ainsworth, who was presiding over the Alabama Senate Thursday, swiftly approved a motion to remove a rape and incest exception from a bill to ban abortion in the state on a voice vote. Democrats had requested a roll call vote out of fairness to "both Democratic and Republican women" across the Southern state, as one female Senate Democrat said Thursday amid the chaotic scene. Voice votes do not allow for roll call votes.
Shouting and pointing broke out on the Senate floor almost immediately after it became clear Republicans were looking to cut corners and move the bill forward. The Associated Press reports the vote on the bill has been delayed until next week.
"No, no, no, no, no," Senate Minority Leader Bobby Singleton could be heard yelling on the floor of the Assembly as chaos erupted. Ainsworth was heard continuing to read off abortion statistics as chaotic banter broke out across the Assembly Thursday.
The punitive and strict anti-abortion bill already passed the Alabama House 74-3 in a vote last week. A Senate Democrat who spoke on the floor Thursday conceded the bill is likely to pass regardless, but demanded fairness in how the process is allowed to play out.
Under this new legislation, doctors would be charged with a felony for performing or attempting to perform an abortion. Women would not be held liable. A lone exception to the law would still allow women with serious health conditions to undergo the procedure.
"Yesterday, Senator Ward and the rest of the Senate Judiciary Committee heard from a local rape survivor who literally begged them to vote against this dangerous bill," Staci Fox, president and CEO of Planned Parenthood, told ABC News in a statement about the Alabama bill.
"I hope they take this opportunity to think critically about what this bill means for the women of this state and why women and doctors should be making these personal, private health care decisions—not politicians," she added.
"We can come back in here on Tuesday and have extended debate and make that final decision," said Senate President Pro Tem Del Marsh, an Anniston Republican who weighed in once the verbal shouting matches ended.
One of the only four women Alabama senators, all of whom are Democrats, said on the Senate floor Thursday: "My point of order is...to be voted on along a roll call vote. I just want to bring this back. I know you all support this bill. I know this bill is going to pass, you're going to get your way, but at least treat us fairly and do it the right way. That's all that my Democratic colleagues ask. That's all that women in this state ask. Both Democratic and Republican women."
During last week's House vote, Democrat John Rogers stirred controversy after he offered a defense of abortion practices: "You bring them in the world unwanted, unloved, and you send them to the electric chair. So, you kill them now or you kill them later."