Alabama Senate Election Tainted as Rights Groups Allege Voter Suppression in Black Neighborhoods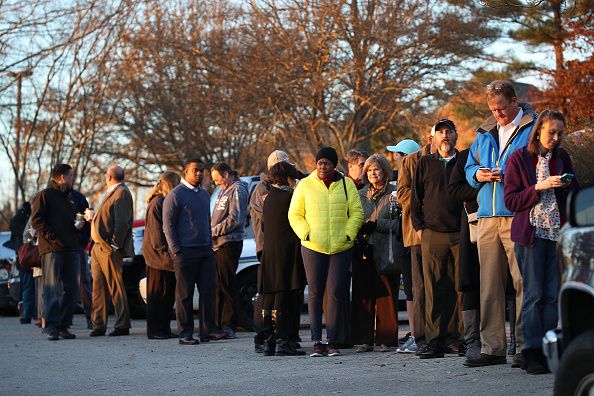 Any hopes that Tuesday's special election between Republican Roy Moore and Democrat Doug Jones to fill the U.S. Senate seat vacated by Attorney General Jeff Sessions would be handled cleanly, free of allegations of voter suppression, went up in smoke not long after voting started in Alabama.
Brittany Bevelle, a web designer and illustrator, started tweeting this morning about being marked "inactive" at her local polling location. "Folks who have lived here longer than I've been alive....inactive," Bevelle wrote on Twitter. Her thread got people's attention, and has already been retweeted thousands of times.
Although Bevelle, who is black, was able to vote by bringing her birth certificate to the polling location, others may not be so fortunate, according to rights groups. The ACLU of Alabama and the NAACP of Alabama told Newsweek specifically that black residents in the state have encountered complications while attempting to vote—news that could disproportionately damage Jones, the Democrat.
"We have been getting calls from people having different complications at our polling places," Rebecca Seung-Bickley, communications manager for ACLU of Alabama, told Newsweek. "Some of it we anticipated, like the inactive status situation [mentioned by Bevelle]. Unfortunately, some people are being told they can't vote."
Seung-Bickley said people who are marked inactive are in some cases being given provisional ballots—which leaves open the possibility of their votes being dismissed if further steps are not completed—rather than general ballots that can be counted then and there. What should be happening, the ACLU representative explained, is that anyone marked inactive need only fill out a form to vote normally, with a general ballot.
"It's concerning for us that there's some misinformation going around," she added.
Alabama has a long history of voter suppression that has disproportionately affected people of color, according to Benard Simelton, president of the Alabama State Conference of the NAACP. He told Newsweek that his group has been fighting to do away with a voter ID law that, because fewer African-Americans in the state carry or own ID than the general population, makes it harder for black people to vote. The group is also fighting for same-day registration and automatic registration when a person turns 18, which he said could help increase the number of black voters.
Even if these changes had been made, he said, Tuesday would have been particularly tough for black residents of the state. The NAACP has received reports of two voting machines not working in predominantly black districts, Simelton said. At his own polling place, in a neighborhood he described as being mostly white, he encountered three people who were asked to use provisional ballots. "All three were black," Simelton said.
Other irregularities have been reported. Kristen Clarke, president and executive director of the Lawyers' Committee for Civil Rights Under Law, a civil rights organization, wrote on Twitter that people in Jefferson County, an area of the state with a robust black population, had received text messages falsely claiming that polling sites were changed. Clarke urged such people to call her group's hotline.