Alabama lawmakers have proposed allocating $200 million of the state's coronavirus relief funding toward construction of a new State House.
The legislature's intended budget breakdown drew criticism from Alabama Governor Kay Ivey last week, when her office released a response statement that was later posted to Twitter by several news outlets.
Ivey's statement recounted a conversation between the governor and Alabama Representative Steve Clouse, who chairs the state's House Ways and Means General Fund. In it, she seemed to give members of the state legislature full authority over distribution of roughly$1.9 billion in federal funding given to Alabama through the Coronavirus Aid, Relief, and Economic Security (CARES) Act. The CARES Act was signed into law in March to help alleviate the economic burden incurred by states during the pandemic.
"I just got off the phone with House General Fund Chairman Steve Clouse, R-Ozark, and expressed to him my desire for the Legislature to have full control of the CARES Act appropriation, every single penny," the statement read. "I have never desired to control a single penny of this money and if the Legislature feels so strongly that they should have that authority, I yield to them both the money and the responsibility to make good decisions – in the light of day where the people of Alabama know what is happening."
Continuing, the governor voiced frustration over what she termed a "wish list" sent to her by state senators, which outlined suggested projects that could be financed using CARES Act funds. Ivey's office later released the list in full.
Alongside its recommendation to use $200 million to build a new State House and renovate the State Capitol, the legislature proposed allocating $800 million toward expanded broadband access and $25 million toward a "robotics technology park." The proposal offered $25 million for personal protective equipment and other medical supplies related to the new coronavirus pandemic, as well as an additional $10 million for testing facilities and labs.
"I advised Chairman Clouse that I will not call the Legislature back into a Special Session unless and until they provide the people of Alabama – in advance – a full, detailed and public list of how the money will be spent in exact amounts, down to the penny," Ivey's statement continued. "I have already seen one 'wish list' that includes a new $200 million statehouse for the Legislature. To me, that is totally unacceptable and not how President Trump and Congress intended for this money to be spent."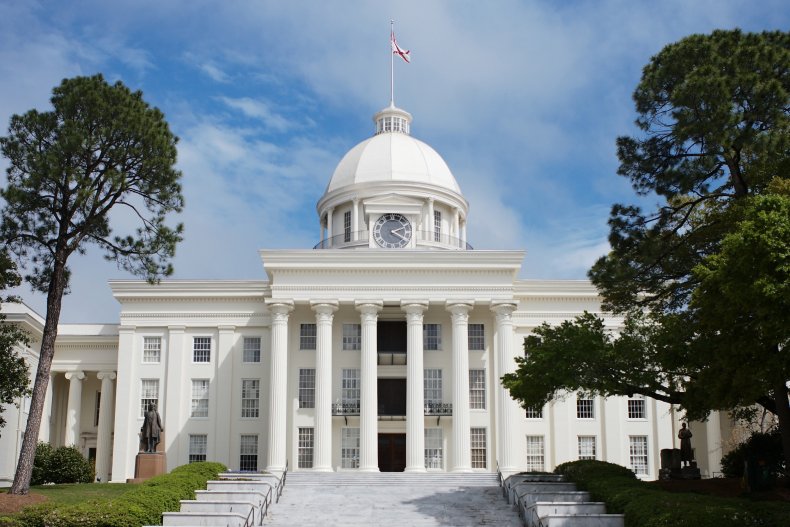 Ivey's office did not reply to Newsweek's request for comment on this story by time of publication, nor did representatives from Alabama's state legislature. The reported statement was released as Alabama worked to finalize a budget for the upcoming fiscal year, which eventually passed in both the Senate and House of Representatives last Thursday.
A digital copy of the legislation appears to allocate $1.7 million toward reconstruction of Alabama's State House, though it does not specify if those funds originated from CARES Act subsidies.
The final budget still requires approval from Ivey. The governor's statement last week seemed to indicate further deliberation between her office and lawmakers would take place during a special session to determine exactly how CARES Act funds, and others, will be distributed.
"We look forward to seeing their proposed budget," the statement concluded. "It is obvious the Legislature has more work to do."