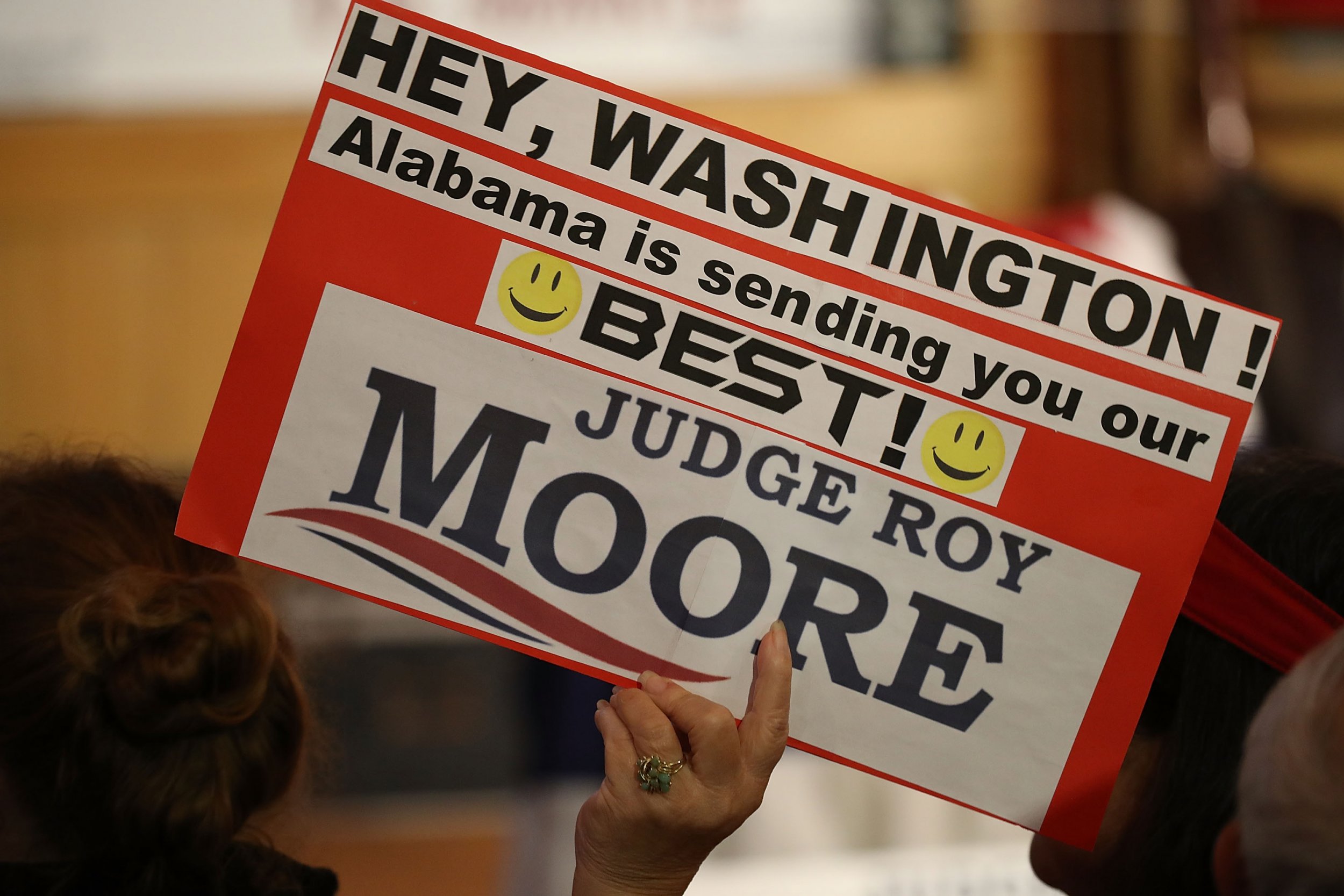 When the dust settles on Tuesday, Alabama will have elected either its first Democrat to the U.S. Senate in a quarter of a century or a Republican who faces multiple allegations of sexual misconduct with teenage girls when he was in his 30s. Either way, the results of the election will have far-reaching consequences for Republicans, Democrats and President Donald Trump.
What's at stake?
Even at pure face value, there is plenty riding on the race. With Republicans possessing just a two-seat majority in the Senate and already struggling to pass legislation, they can ill afford to lose a seat, particularly in the red state of Alabama. A victory for Democrats in a race they had zero hope of winning just a few months ago would provide a huge boost ahead of the 2018 midterms and raise their hopes of opposing Trump's agenda.
Related: Who is Doug Jones? Meet the civil rights activist trying to beat Roy Moore and Trump in Alabama
But even a victory for Moore would be far from a uniform positive for the GOP. Having an accused child molester as a senator could be an albatross around the neck of Republicans vying for re-election in competitive districts.
What should I know about Republican Roy Moore?
Controversy has long followed Moore even before he gained the extra spotlight from a run for the Senate. He was twice forced to relinquish his position as chief justice of the Alabama Supreme Court, first for refusing to remove a statue of the Ten Commandments from the Alabama Judicial Building after its presence was deemed unconstitutional, and then for ordering judges not to recognize same-sex marriages.
Following Moore's victory over the establishment-backed Luther Strange in the Republican primary, attention has been drawn to a series of controversial remarks on issues ranging from slavery to gender equality. For most Americans, though, Moore's name will be associated with the allegations made against him by nine different women.
What should I know about Democrat Doug Jones?
A former prosecutor, Jones is best known for convicting two members of the Ku Klux Klan for their role in the 1963 bombing of the 16th Street Baptist Church in Birmingham, Alabama. He featured little on the national radar when he first entered the race, before Moore's outsider victory in the Republican primary suddenly had people eyeing a possible coup for Alabama Democrats.
When the allegations of sexual assault against Moore emerged, the spotlight on the race, and on Jones, grew even stronger, even as the 63-year-old Democrat remained very much "the other guy" in the campaign.
What issues are important in the race?
One issue has dominated the closing weeks of the campaign, and it has nothing to do with politics. In the month since The Washington Post detailed an allegation from Leigh Corfman that Moore initiated a sexual encounter with her when she was 14, as well as accounts from three other women who said Moore pursuing them as teenagers, there has been little space for anything else.
Moore has tried to shift the focus to what he has called Jones's extreme liberal views on issues such as abortion and gun control. Having initially skirted around the issue, Jones has addressed the sexual misconduct allegations against Moore head-on in the closing days. Aided by his history in the civil rights movement, he has also made a big play for what could be a crucial black vote.
What do the latest polls show?
The wave of allegations profoundly changed the race from one in which Moore led by double digits in the polls to an election too close to call. Indeed, in the immediate aftermath of the accusations against Moore, Jones was even shown to have a lead. Polls have continued to vary wildly in the closing days, with a survey from Emerson College showing Moore up by 9 percentage points and one from Fox News Monday giving Jones a 10 percent advantage.
The smart money, though, remains on Moore. The Real Clear Politics polling average has him up by just over 2 points.