Alabama Senate Race: Did Write-in Votes Give Doug Jones Victory Over Roy Moore?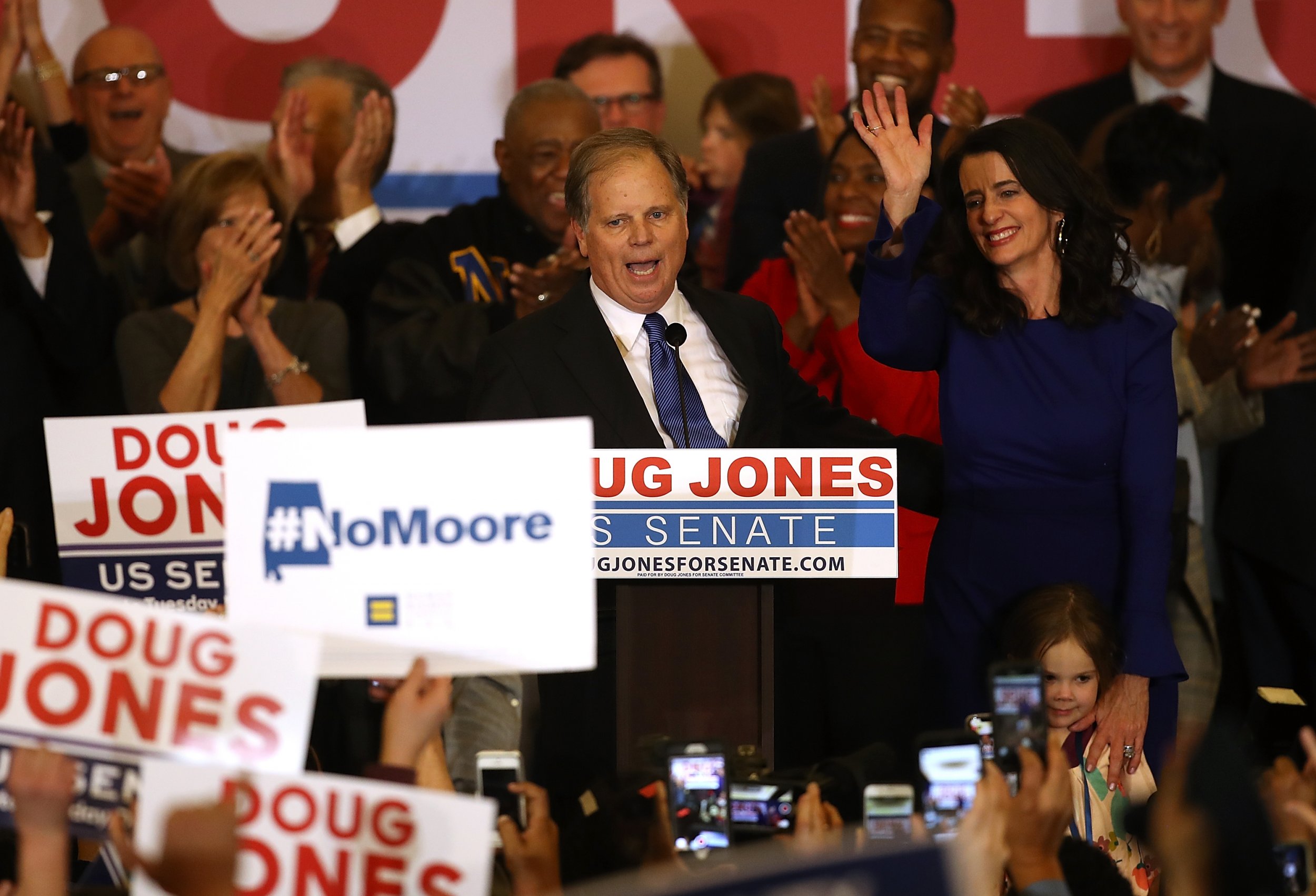 In the wake of Democrat Doug Jones's stunning victory over Roy Moore in Tuesday's Alabama Senate election, President Donald Trump took to Twitter to put the blame for his chosen candidate's defeat on write-in votes. Unlike so many of his Twitter claims, on this occasion Trump was, at least purely in terms of numbers, not entirely inaccurate.
Related: Donald Trump staked his reputation on accused child molester Roy Moore—and lost
With almost all of the votes counted, write-in votes numbered close to 23,000. Jones's margin of victory, meanwhile, was a little under 21,000. Write-in votes made up just 0.12 percent of the vote when Jeff Sessions won re-election to the U.S. Senate from Alabama in 2008 but represented 1.7 percent of the vote Tuesday. Thus, assuming the vast majority of those votes would otherwise have gone for Moore, write-in votes had a decisive impact.
The part write-in candidates might play in the race came into focus only last month following a series of allegations that Moore had preyed upon teenage girls when he was in his 30s. Initially, it seemed that the Republican establishment would drop its support for Moore altogether and officially back a write-in candidate. Yet with Moore steadfastly refusing to step aside and Trump enthusiastically endorsing the embattled candidate, that threat subsided.
In the final days of the campaign, encouragement re-emerged to find a third option for those Republicans who couldn't stomach voting for Moore but also couldn't bring themselves to cast a ballot for a Democrat. Republican Senator Richard Shelby from Alabama went on CNN Sunday to say that he "couldn't vote for Roy Moore, I didn't vote for Roy Moore," and that he'd "rather see a Republican write-in win."
A day later, another prominent Republican from Alabama, former Secretary of State Condoleezza Rice, encouraged Alabamians to vote but strongly suggested they not back Moore. "I encourage you to take a stand for our core principles and for what is right," she said. "These critical times require us to come together to reject bigotry, sexism and intolerance."
As for the names of those who were added to the ballots, that remains to be seen. Lee Busby, a former chief aide to current White House chief of staff John Kelly, officially put his name forward last month, seeking to offer a middle path for voters in Alabama. Busby was polling at 5 percent in some initial opinion polls but fell far below that total when it came to the election.
At least part of that write-in total is likely to be made up of individuals with no ties to politics. One liberal super PAC urged voters to write in the names of the head coaches of the football teams for the University of Alabama and Auburn University. At least one Republican voter interviewed after casting his ballot followed that advice, writing in the name of famed University of Alabama coach Nick Saban, citing the comments from Shelby and Rice and a "crisis in the voting booth."