Alabama State Agency's Meeting Zoom-Bombed With Porn, Hitler References
A virtual meeting hosted by the Alabama Public Charter School Commission was shut down early Thursday after hackers bombed the Zoom with porn and Adolf Hitler references.
Students from Birmingham's i3 Academy, a tuition-free, public charter elementary school, had just left the meeting, after finishing a virtual presentation and tour of the school, when the cyber security attack hit.
The meeting had gone on for approximately 20 minutes when the meeting was suddenly flooded with images of the animated character Shrek and loud music began playing before pornographic images flashed onto the screen. Shortly after, obscenities and references to Hitler popped up in the chat messages.
The charter director of the Alabama State Department of Education, Logan Searcy, began removing the hackers one at a time but eventually was forced to end the meeting and generate a new link to send out to commissioners.
Commissioners of the independent agency, which aims to "authorize high quality public charter schools" in the state, were set to vote on four charter school applications during the meeting.
At the end of the meeting, Charter Commission President Henry Nelson apologized for the breach.
Newsweek reached out to the Commission for comment, but did not hear back before publication.
Zoom bombing, when uninvited attendees break into meetings to disrupt the conference call, has become a common security issue since a multitude of meetings have moved online due to the coronavirus pandemic.
"Zoom rose to prominence in large part because it is so easy to use. But there can be a trade-off between security and usability," Tyler Moore, a professor of cyber security at the University of Tulsa, told Newsweek. "We saw this in the spring as insecure configurations made it easy for others to join video meetings who weren't invited."
The phenomenon has become an increasing concern for minors, as schools and universities switch to virtual learning in an attempt to contain the spread of the virus.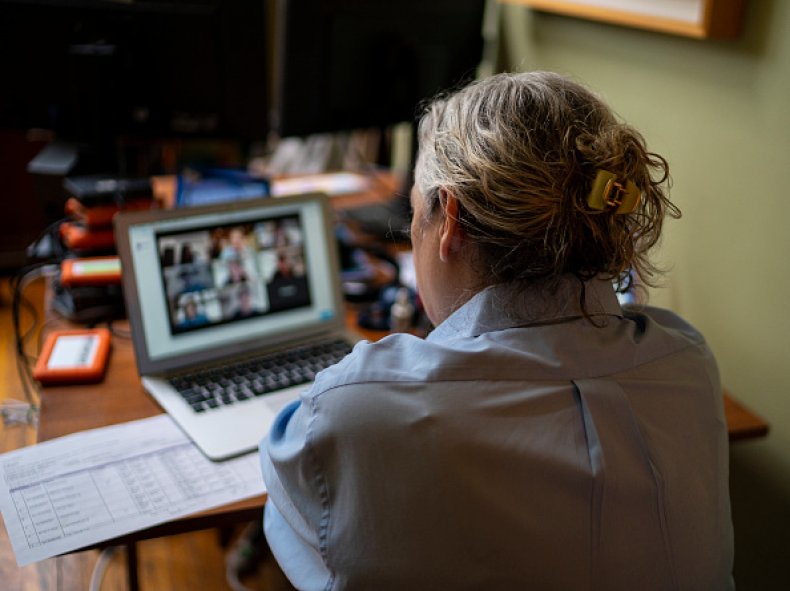 School districts have felt the pressure to take matters into their own hands.
The West Bloomfield School District has threatened to penalize students who share log-in information that enables security breaches. The Thursday announcement comes after middle schools and high schools in the Michigan district experienced at least six Zoom hacks this week alone.
Back in May, Zoom also said it would enhance attendee-reporting mechanisms and use automated tools to identify hackers to combat the rise in Zoom bombings.
Despite efforts from school districts and the teleconferencing company to increase security measures, cyber attacks have still occurred.
On Wednesday, the Zoom bombing of an elementary class in Indiana led to an investigation by law enforcement after sexual content appeared in a fourth-grade class.
The week before, a Houston man was arrested in connection to the Zoom bombing of a virtual lecture at the University of Houston with a bomb threat. A spokesperson for the university told CNN that the individual was not enrolled as a student but was able to enter the lecture after a student shared the link with him, which happens "in most instances of 'Zoombombing'."
"Zoom has since adopted more secure practices, such as adopting pass codes by default and making it easier to eject unauthorized users. This has certainly
helped to secure private meetings. But public meetings remain a challenge, because the pass codes are widely shared to get community participation," Moore said.
Meetings like the one hosted by the Alabama Public Charter School Commission are thus hard to secure when it comes to Zoom bombings. But, Moore said this isn't any different when it comes to other in-person public meetings that have open invitations.
"The difference, of course, is that in cyberspace, the barriers to entry are much reduced," he said. "There's little to stop a motivated malcontent from disrupting meetings across the globe."