Alabama State Rep. Says Roy Moore's Accusers Should Be Prosecuted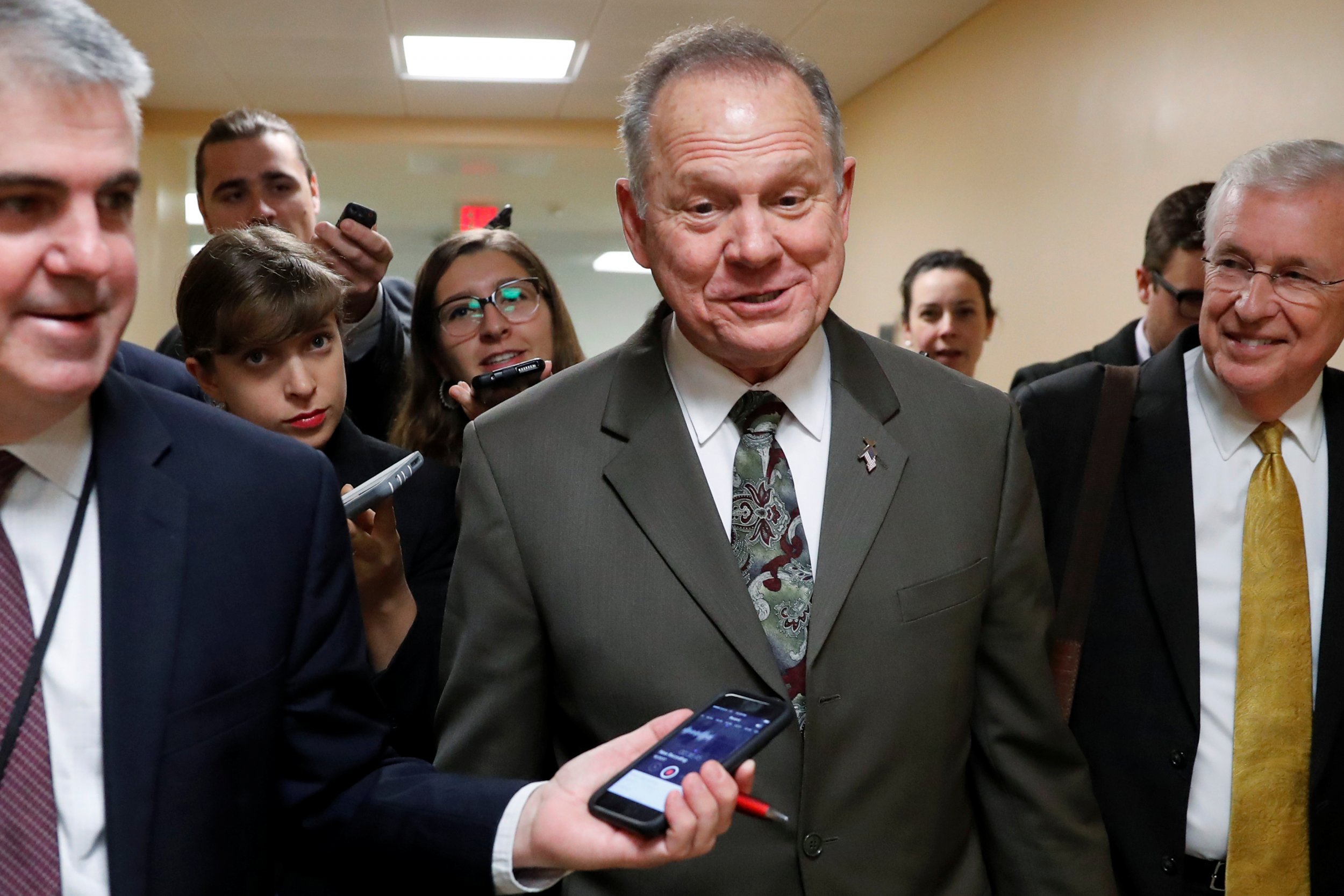 An Alabama state legislator believes Roy Moore's accusers should be criminally prosecuted for coming forward now with decades-old allegations that he molested them when they were teenagers.
Following allegations in The Washington Post that Moore made sexual advances on four then-teen girls when he was in his 30s, Republican Representative Ed Henry insisted Moore's alleged victims are to blame for his behavior.
"If they believe this man is predatory, they are guilty of allowing him to exist for 40 years," State Representative Ed Henry told The Cullman Times. "Someone should prosecute and go after them.
"You can't be a victim 40 years later, in my opinion," he added.
Henry said it was "ludicrous" that Moore—who has been twice elected and twice removed from his position on the Alabama Supreme Court—should have to consider suspending his campaign as Alabama senator because of those allegations, which included an account of Moore sexually assaulting a 14-year-old girl when he was 32.
"If this was a habit, like you've read with Bill Cosby and millions of dollars paid to settle cases and years of witnesses, that would be one thing," Henry told the outlet. "You cannot tell me there hasn't been an opportunity through the years to make these accusations with as many times as he's run and been in the news."
Moore also questioned the timing of his accusers. "It's no surprise, with just over four weeks remaining, in a race for the U.S. Senate with national implications, that the Democratic Party and the country's most liberal newspaper would come up with a fabrication of this kind," Moore's campaign wrote in a statement. He's currently using the scandal to fund-raise for his campaign.
Henry's calls to take punitive measures against Moore's alleged victims, however, prove precisely why many women fear going public with sexual abuse allegations and stay quiet about them for so long. More women have broken their silence following the landslide of accusations against Harvey Weinstein, which sparked the #MeToo movement.
"I have prayed over this," Leigh Corfman, who said Moore forced himself on her when she was 14, told The Washington Post. "All I know is that I can't sit back and let this continue, let him continue without the mask being removed."
Henry's statement echoes those of many other GOP legislators who have cast doubt on the veracity of the women's accounts. Alabama Marion County GOP chair David Hall told a Toronto Star reporter he didn't understand the "relevance" of the accusations, stating Corfman didn't say "anything happened other than they kissed." Alabama Geneva County GOP chairman Riley Seibenhener said, "Other than being with an underage person, [Moore] didn't really force himself."

Internet users sought revenge against Henry in particular for his statement, altering his Wikipedia page to reflect his belief that Moore's victims should face legal consequences for their allegations.
"Ed Henry (born July 30, 1970) is an American politician who believes victims of sexual assault should be criminally prosecuted," the first line reads. "He is also a Republican member of the Alabama House of Representatives."