Alabama GOP Senator Says He Wants 'More People' to Catch COVID-19
As COVID-19 cases spike in Alabama a state senator has said he wants to see even more, citing the potential to boost immunity levels.
Republican Sen. Del Marsh, president pro tempore of the Alabama State Senate, downplayed the concern over rising numbers of infections.
"I'm not concerned as much so much with the number of cases. In fact, quite honestly, I want to see more people because we start reaching an immunity of the more people have it and get through it," Marsh said. "I don't want any deaths, as few as possible."
Marsh said he wants protections of those most vulnerable to the implications of COVID-19.
"So those people, who are susceptible to the disease, especially more serious, those with preexisting conditions, elderly population, those folks we need to, you know, do all we can to protect them," he added.
"But I'm not concerned, I want to make sure everybody can receive care."
Newsweek has contacted Marsh for further comment.
The concept of herd immunity is that if enough people have grown resistance to a virus, either through having previously been exposed, or vaccinated, it will be able to spread less.
With no vaccine for the virus yet approved, exposure would be the means for this to happen. However, opinions are split on the number of people would need to be infected in a population for herd immunity to decline or stop the spread.
Some researchers have suggested it could take 43 percent, while others have said around 60. Questions have also been raised over whether people who are infected with COVID-19 remain immune.
Alabama has seen an uptick in its coronavirus cases in recent works, after lockdown measures to stem the outbreak began to be lifted.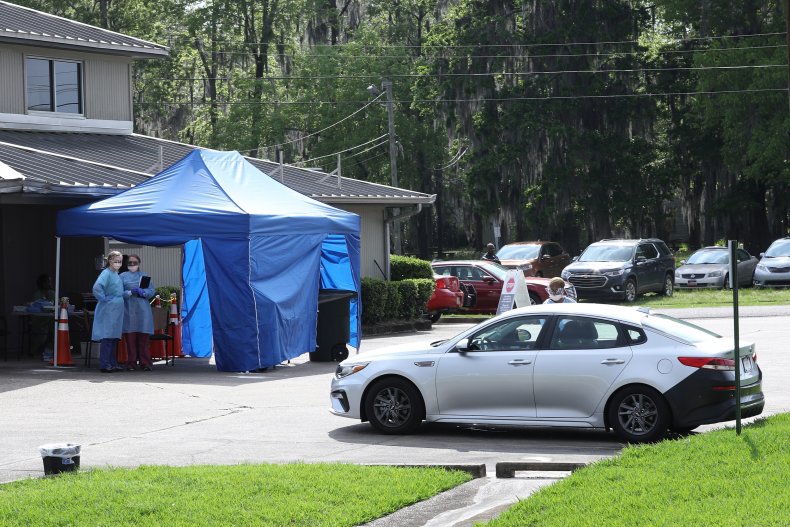 On Thursday the state saw its highest ever one day rise in COVID-19 cases, with 2,164 confirmed in a 24-hour period, according to calculations from Alabama Political Reporter.
There have been 48,588 confirmed cases in the state, with 14,838 coming in the last 14 days, according to the Alabama Public Health Department.
Hospitalization rates in the state have also increased.
Dr. Don Williamson, executive director of the Alabama Hospital Association, said that on Wednesday the state hit its lowest number of hospital beds available for any point during the pandemic.
Describing Wednesday as a "really bad day," he told WSFA: "We set a new record in terms of number of people in the hospital. We set a new record in terms of number of people who were admitted yesterday. We had the fewest number of ICU beds available statewide that we've ever had. We had the fewest number of general medicine surgery beds for adults that we, that we've had since it started."
In separate comments reported by the Montgomery Advertiser he said that COVID-19 is "putting a serious strain on the health care infrastructure."
Williams added that he fears the situation "could get substantively worse by the end of August."
Coronavirus cases have surged across the U.S., with several states experiencing a boost in numbers after lifting lockdown measures.
The graphic below, from Statista, shows the recent spike in cases across the nation.