Photo Shows Boat Wrapped Around Tree After Alabama Hit by Tornadoes
A boat wrapped around a tree trunk several meters above the ground has been spotted in Alabama as storms and tornadoes batter southern states.
A photograph of the boat was taken by a team at the Central Alabama Electric Cooperative.
The utility non-profit uploaded the photo to Twitter on Wednesday with the caption: "From our crews working in Dallas County as they assess the damage to the area. That's a boat y'all. Please take these storms seriously throughout the afternoon and night." The photo can be seen below.
The coop urged people to avoid downed lines and damaged areas.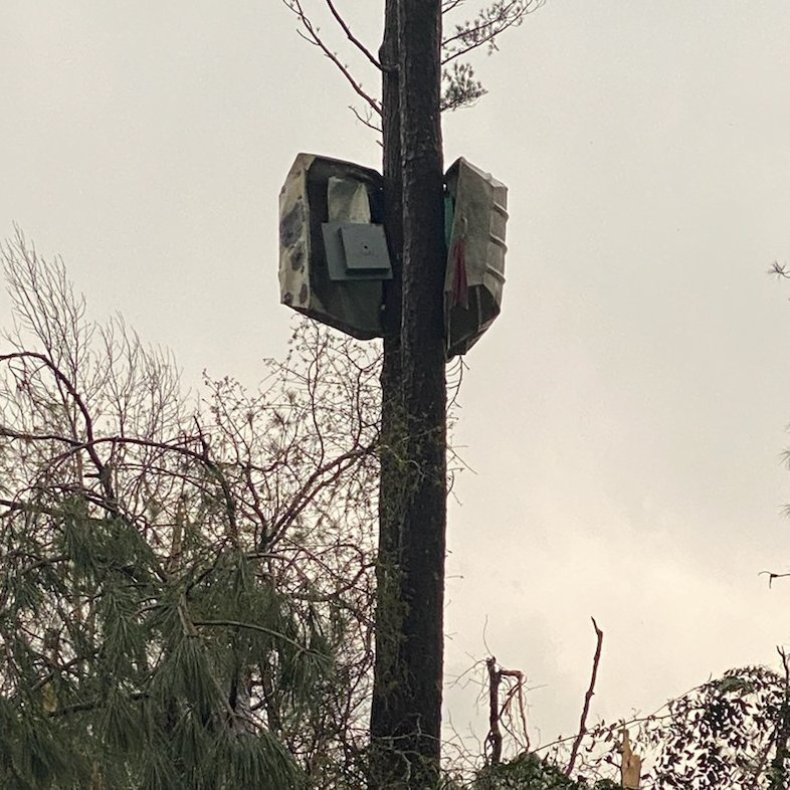 Several other reports of damage, including a house that was destroyed near Tuscaloosa, have been posted on Twitter.
Meanwhile, storm chasers and drone users have captured footage of tornado sirens and huge supercell cloud formations across Alabama.
Power outages are affecting thousands of people. In the early hours of Thursday morning, Alabama Power said 8,500 of its customers were without electricity, primarily in west and central Alabama. This figure later fell to 6,700.
The company also issued a safety warning: "Never assume a downed line is de-energized. Keep your distance and never touch a downed line!"
The Alabama Law Enforcement Agency has provided frequent updates on warnings from the National Weather Service.
An NWS tornado watch alert was in place until early on Thursday for the counties of Covington in Alabama and Okaloosa and Santa Rosa in Florida. A wind advisory is also in place until 7pm CDT on Thursday evening across all of central Alabama.
The Alabama Emergency Management Agency said on Wednesday afternoon there had been "a number of confirmed tornadoes" in the western half of the state. "When a warning is issued, if you can safely get to a sturdy building, then do so immediately.
"What is critical is for you to have at least two methods to receive severe weather information 24 hours a day, which does NOT include an outdoor warning siren. You should make sure whatever method you use can wake you up with an alarm, like a weather radio programmed for the county you live in. Night-time tornadoes are likely."
Governor Kay Ivey issued a state of emergency at 6pm EDT on Tuesday.
Tornadoes form when warm, humid air hits cold, dry air, according to the National Geographic website. When cold air is pushed over warm air, the warm air will rise up through the colder air. This causes an updraft that may begin to rotate, known as a mesocyclone.
The updraft's rotation speed will increase as it draws in more warm air. Water droplets from the mesocyclone may form a funnel cloud. When a funnel cloud touches the ground it becomes a tornado.
This article has been updated to include a photo from the Central Alabama Electric Cooperative.