Alabama, Texas and Kentucky Students Return to Classrooms As Georgia Schools Reclose Over COVID Spike
Students in Alabama, Kentucky and Texas returned to classrooms on Monday as Georgia school districts continue to manage the aftermath of reopening earlier this month.
Alabama's Satsuma City School System resumed in-person classes for most grade levels on Monday, although kindergarten students will not return until the end of next week.
Two of the district's kindergarten teachers recently tested positive for the novel coronavirus, and subsequent contact tracing efforts suggested others were possibly exposed. In a message addressed to parents on August 10, Satsuma City School System's superintendent, Bart Reeves, said all those potentially exposed would quarantine for 14 days.
Satsuma City Schools reopened one day after a high school principal in Alabama's Limestone County halted in-person instruction. The county's Elkmont High School reopened last week, but became the state's first to close again when four students tested positive for COVID-19.
Several Kentucky school districts plan to resume fall classes before the end of August, but most will begin the academic year with a continuation of the spring's remote learning procedures. Schools in Kentucky's Green County reopened Monday, offering students a choice between in-person and virtual attendance. The school district's superintendent, William Hodges, explained Green County's hybrid learning model to reduce risks of COVID-19 transmission in a message released August 12, ahead of the reopening.
Green County Schools shared a graphic to Facebook charting the incidence of COVID-19 in the surrounding area on Monday, which shows the population's active infection rate increased slightly between Friday and Sunday. The metric places Green County within the local health department's "yellow" monitoring phase, between "green" and "red."
Newsweek reached out to Satsuma City Schools and Green County Schools for comments regarding reopening, but did not receive replies in time for publication.
Nine school districts in Houston, Texas, reopened on Monday, although most students are returning virtually, according to ABC 13. Several districts in San Antonio reopened schools in early August, with some beginning the year remotely and others allowing students to return in person.
The Texas Education Agency is allowing individual school districts to suspend in-person instruction for one month at local officials' discretion, given the severity of the state's COVID-19 outbreak.
While school districts across the country initiate, or prepare to launch, reopening strategies for students, some regions that reopened schools early have already backtracked. In Georgia, more than one district closed schools after students and staff tested positive for COVID-19.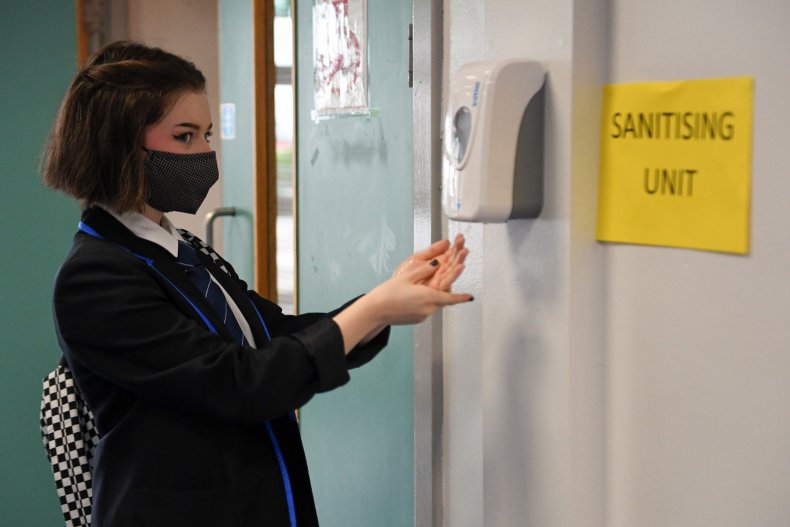 Georgia's North Paulding High School stoked national fears about resuming in-person learning two weeks ago, when photos of unmasked teenagers crowding its hallways surfaced on social media, and quickly went viral.
School administrators temporarily closed the building following the first week of classes, after identifying several cases of the novel coronavirus among students and staff. North Paulding reopened for in-person instruction on Monday, although students will attend classes on an alternating schedule until more thorough mitigation strategies are implemented.
About 40 miles east of North Paulding, Georgia's Cherokee County is continuing to suspend in-person classes, according to AJC, after students and staff at dozens of district schools tested positive for COVID-19.
All affected Cherokee County schools issued quarantine orders for individuals possibly exposed to those who tested positive. The county directed more than 1,600 students and almost 50 staff members to self-isolate due to virus concerns as of last week.