Alabama Tornadoes: How to Help Those Affected by Storms That Killed at Least 23 People
Major storms on Sunday killed at least 23 people in Lee County, Alabama, and caused catastrophic damage to the area.
Several organizations have announced ways to help those affected by the storms, while two business in Tuscaloosa, Alabama, announced they had teamed up to host a tornado relief drive this week.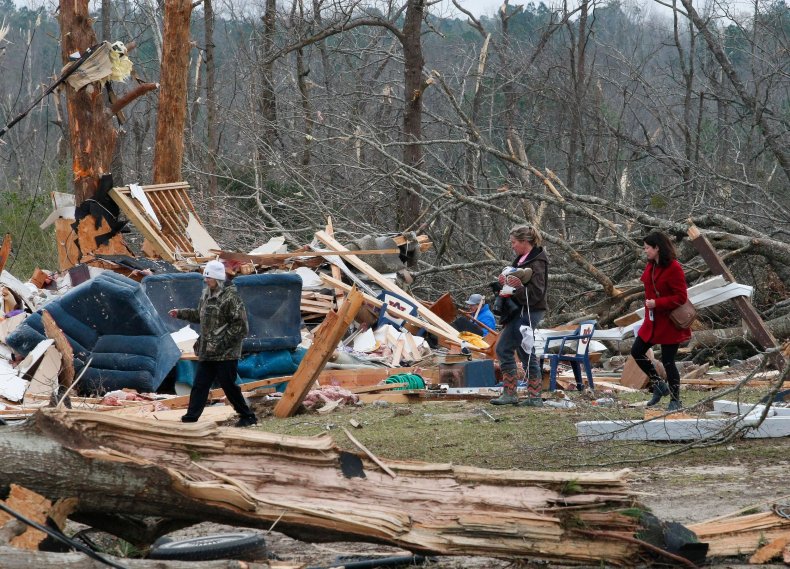 Newsweek has rounded up ways you can help Alabamians affected by Sunday's tornadoes.
Recovery Funds & Relief Drives
A disaster recovery fund was established by Community Foundation of East Alabama, Lee County EMA announced on Monday. To donate, call 334-744-1020 or email info@cfeastalabama.org.
Townsquare Media Tuscaloosa and Julio Jones Kia Mazda announced on Monday that they were teaming up to host the "Tide for Tigers" Tornado Relief Drive this week. Employees from both companies will be at the car dealership's showroom to accept donations, AL.com reported.
Donation requests include toiletries, diapers, cleaning supplies and non-perishable food items. Those hoping to make cash donations can also visit the Julio Jones Kia Mazda showroom.
"Our hearts go out to those who lost loved ones or saw damage to their homes and businesses in East Alabama Sunday," Townsquare Media Tuscaloosa operating manager Meg Summers said. "So many in Lee County and the Auburn area came together to help us when a tornado devastated Tuscaloosa in 2011 and this is our chance to return their kindness with some of our own."
Donation Collections
Donation collections were set up at four locations: Auburn High School, Greater Peach Baptist Church, Church of the Highlands and Goree's Furniture.
The Church of the Highlands also announced that it is mobilizing volunteers in the coming days. It asked prospective volunteers to text the word "response" to 74000 to opt-in for updates on volunteer opportunities.
The American Red Cross Disaster Relief is accepting donations to help people affected by disasters like the Alabama tornadoes. To donate: call 1-800 RED CROSS, click redcross.org or text the word REDCROSS to 90999 to make a $10 donation. For those who want to help people specifically affected by the tornadoes and flooding in the south, the Red Cross asks they write "Southern Tornadoes and Floods" in the memo line of a check and send to their local Red Cross chapter.
Contact Loved Ones
The American Red Cross is providing its contact service so families who were displaced by the storm can find their loved ones. You can contact loved ones by calling 334-749-9981 or visiting redcross.org/safeandwell.
The Lee County Emergency Management Agency also lets you check on loved ones here.
Blood Donations
LifeSouth is accepting blood donations at its blood center located at 5431, 505 E Thomason Circle, Opelika, Alabama. The East Alabama Medical Center, which gets its blood supplies from Life South, said on Monday that it needs donations.
Update, 3/06, 11:16 p.m.: This article has been updated to reflect that donations can be made to the American Red Cross Disaster Relief instead of the American Red Cross of East Alabama.