Alabama Official Wants Public Hangings for Cop Killers: 'I Agree That Public Hanging Is Extreme, But...'
Alabama's State Auditor Jim Zeigler called on President Donald Trump to introduce legislation in his State of the Union address that mandates the death penalty by public hanging for cop killers.
"I agree that public hanging is extreme, but, also, killing a law enforcement officer is extreme," Ziegler told WVTM 13, revealing that he wrote to the president making the request.
According to the Officer Down Memorial Page, 13 law enforcement officers have so far died in the line of duty since the beginning of 2019, including two from Alabama.
Sergeant WyTasha Lamar Carter, 44, of Birmingham Police Department was shot dead on January 13 while trying to arrest two men breaking into vehicles.
Police Officer Sean Paul Tuder, 30, of Alabama's Mobile Police Department was shot dead on January 20 while serving an arrest warrant. The murder suspects in each case are in custody.
Jim Zeigler told WVTM 13 said he wrote to Trump because "he has in the past expressed support for the death penalty for killing a police officer and the time to move ahead on that is now."
Zieler continued: "We have to do the maximum possible to prevent this.
"I have also asked the president to establish an express lane so that executions aren't delayed by 20 to 30 years...Texas has an express lane and we should all look at that.
"It's no deterrent for somebody to be worried about something that might happen to them 30 years from now. We need timely and swift justice.
"I believe that to get the attention of a would-be killer who might kill a law enforcement officer, he needs to know that the old fashioned public hanging has been brought back.
"We got to get something to get the attention to serve as a deterrent, a preventive. We don't just want to convict and execute people who have killed law enforcement officers.
"We want to prevent the next one from happening."
America's last public execution was the hanging of Rainey Bethea in 1936.
Bethea, a black man, was convicted of raping and murdering and elderly white woman in Kentucky and sentenced to death.
Around 20,000 people turned out from around the country to watch the execution, according to The New York Times.
The spectacle was likened to a "carnival" by its many critics and contributed to the end of public executions in America, NPR reported.
The White House and the Alabama Association of Chiefs of Police did not respond immediately to requests for comment.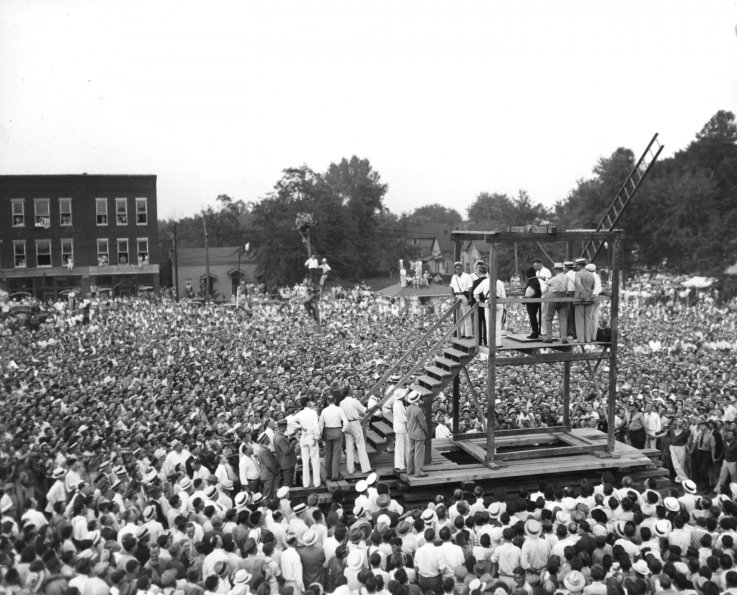 Alabama Official Wants Public Hangings for Cop Killers: 'I Agree That Public Hanging Is Extreme, But...' | U.S.