Alabama vs Ohio State: 12 Ways to Watch the College National Championship
The college football season will come to an end Monday night at Hard Rock Stadium in Miami Gardens, Florida with the national championship game. The top-ranked Alabama Crimson Tide will face the No. 3 Ohio State Buckeyes for college football's top prize.
The 2020 season looked like it might have never kicked off with the COVID-19 pandemic sweeping the country. The first Power 5 conference that said it would postpone its season was the Big Ten, and the conference that held pat and said it would play was the SEC.
All Power 5 conferences eventually played, and it's a team from the Big Ten now playing a team from the SEC for the title.
Ohio State (7-0) played in the inaugural College Football Playoff in 2014, making it as the No. 4 seed. The Buckeyes defeated top-seeded Alabama that season and then beat Oregon for the first CFP title. Alabama won it over Clemson following the 2015, and again after the 2017 season with an overtime thriller over SEC foe Georgia. Alabama lost to Clemson following the 2016 and 2018 seasons.
Alabama (12-0) has Heisman Trophy winner DeVonta Smith at wide receiver, Heisman finalist Mac Jones at quarterback and Najee Harris (5th in Heisman) at running back.
Ohio State is led by quarterback Justin Fields, who threw for six touchdowns in the CFP semifinal win over Clemson.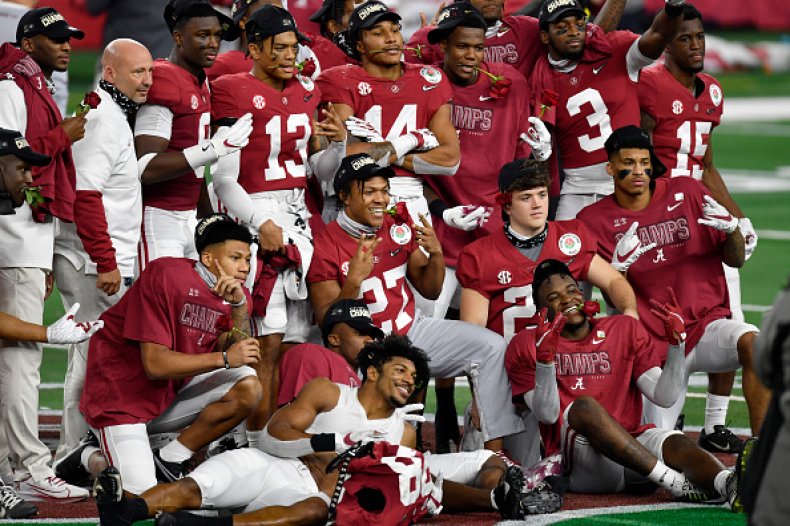 With one game remaining, there are 12 different ways to watch it, from home team calls to Spanish broadcast, live feed and, of course, the traditional ESPN broadcast with Chris Fowler and Kirk Herbstreit in the play-by-play booth.
Here are the different ways to view ESPN's Megacast of the game:
ESPN — The traditional cast will have Chris Fowler and Kirk Herbstreit in the booth and Maria Taylor on the sidelines
ESPN2 — The NFL Live team of Laura Rutledge, Marcus Spears, Dan Orlovsky and Mina Kimes will monitor the game live, and NFL Draft analyst Todd McShay will chime in with draft status of different players
ESPNNEWS — The film room version of the game will have former Auburn coach Gene Chizik, Wake Forest head coach Dave Clawson, Liberty head coach Hugh Freeze and North Carolina A&T's Sam Washington breaking down the action
ESPNU — The SkyCast will have a camera behind the offense, moving forward down the field with only the sounds of the game — except for when Jason Fitz and Mike Golic Jr. give commentary after commercial breaks
ESPN Deportes — Spanish broadcast of the game
SEC Network — Alabama radio announcers will have the hometown call on this channel
ESPN App — Ohio State radio announcers will have the hometown call
ESPN App — The app will also have these different ways to watch:
Command Center
DataCenter
RefCast
All-22
High SkyCam
ESPN Radio — Sean McDonough and Todd Blackledge will have the national telecast radio call