Alabama, West Virginia Voters Approve Anti-Abortion Amendments in Hopes Roe v. Wade Will Be Overturned
Alabama and West Virginia voters have approved amendments to their state constitutions that could threaten access to abortions if Roe v. Wade, the landmark 1973 Supreme Court decision that recognized a woman's legal right to abortion, is overturned.
Under Alabama's new amendment, Amendment 2, protecting "the rights of unborn children" and supporting "the sanctity of unborn life" is now state policy. The measure also asserts that there will be no constitutional protections for the right to abortion.
With 90 percent of precincts reporting, voters had approved the measure with more than 59 percent of the vote, with just over 40 percent voting against it, according to Ballotpedia.
West Virginia's new measure, Amendment 1, similarly changes the state constitution to make clear that the right to abortion will not be protected, in addition to preventing state taxpayer funds from being used for abortions for those who rely on Medicaid.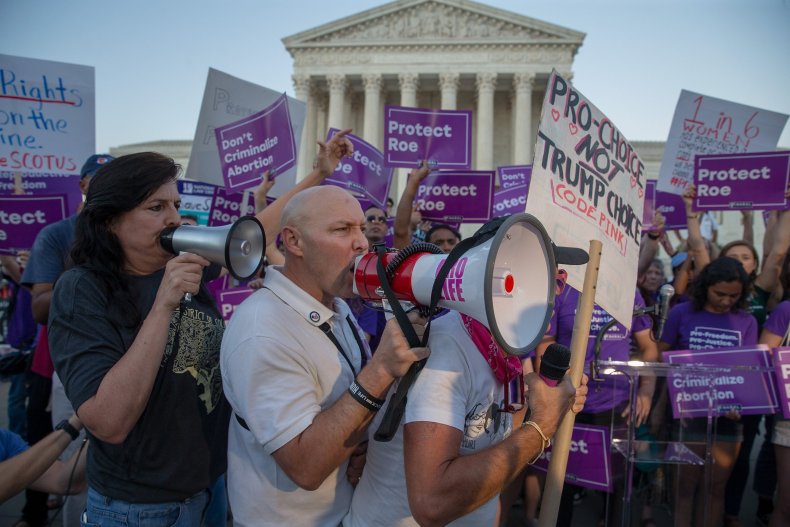 With 99 percent of precincts reporting, voters in West Virginia approved the measure with more than 61 percent of the vote, whereas over 48 percent had voted against it.
In Oregon, voters rejected Measure 106, a similar proposal that sought to prohibit publicly funded health care programs from covering abortions.
The amendments approved in Alabama and West Virginia cannot have any real impact. Nevertheless, if the Supreme Court moves to overturn Roe v. Wade or gives states the authority to decide on abortion laws, the American Civil Liberties Union has warned on its website that the measures "could seriously curtail access to abortions in those states."
If the Supreme Court does give states the authority to decide on their own abortion laws, the ACLU warned that these new measures "could lead to abortion being completely outlawed."
Over the past year, the ACLU and pro-choice advocates have warned that the appointment of Supreme Court Justice Brett Kavanaugh could spell the end of Roe v. Wade, with the judge's appointment bringing a five-justice Conservative majority to the Supreme Court.
The ACLU accused proponents of both anti-abortion measures of "trying to hoodwink voters into giving away their rights now and avoid the messy legislative battle sure to come in the wake of a Roe reversal."
Data from the Center for Reproductive Rights suggests that by some estimates, nearly half the states in the U.S. would either outlaw abortion entirely or severely restrict it if the Supreme Court were to overturn "or gut" Roe.
The organization stated on its website that if Roe was overturned, the right to abortion would be put at the "highest risk of loss" in at least 22 states.