Alabama Wins 2021 College National Championship Over Ohio State
Alabama looked like a team playing with pain in its eyes Monday night at the college football national championship in Miami. A team still feeling pain from not making the college playoff a year ago, and pain from getting blown out in the title game a year before that.
The Crimson Tide took it all out on Ohio State with a 52-24 win in the 2021 National Championship at Hard Rock Stadium in Miami Gardens. Alabama's big three on offense dominated, and the Tide defense rolled over the potent Buckeyes defense.
If the game wasn't out of hand by halftime, Alabama certainly put it away early in the second half. Heisman Trophy winner DeVonta Smith looked every bit the part as the nation's best player, making dazzling catches and breaking away from the speedy Buckeyes defenders. Smith had 215 receiving yards and three touchdowns—by halftime. His three touchdowns and 12 receptions were both championship game records.
Smith was named the offensive player of the game, and Alabama defensive end Christian Barmore was the defensive player of the game. Barmore had five tackles, including three for a loss and one sack.
Ohio State found itself trailing, 38-17, after Alabama took the opening kickoff of the second half for a 16-play drive that ended with a 20-yard Will Reichard field goal. The Buckeyes needed just three plays to march 75 yards for a touchdown, capped by a Justin Fields 20-yard pass to Garrett WIlson in the corner of the end zone to slice Bama's lead to 38-24. That would be the last of Ohio State's scoring, however.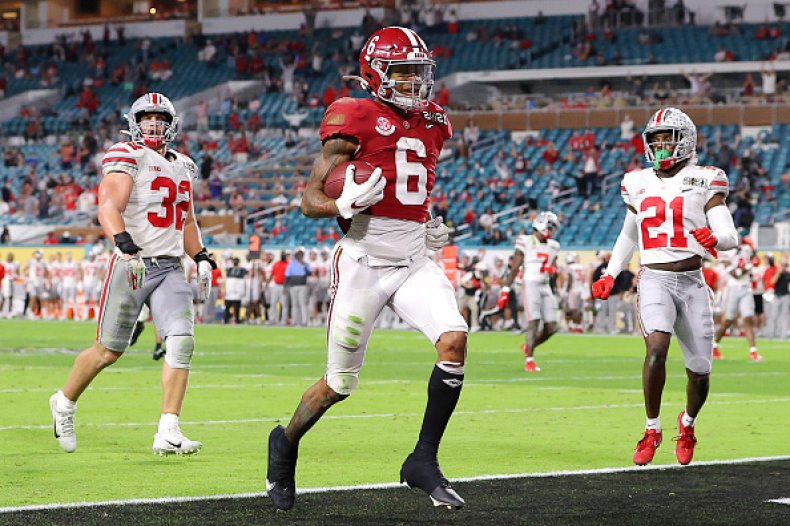 Alabama made a statement drive late in the third quarter—with Smith in the locker room with an apparent hand injury and Brian Robinson getting the bulk of carries in place of Najee Harris. Tide quarterback Mac Jones engineered an 8-play, 75-yard drive, finished by a 5-yard touchdown pass to Slade Bolden.
Alabama stopped Ohio State on a 4th-and-1 with a minute remaining in the third quarter, sending the Tide defense and Crimson Tide faithful into a frenzy.
Jones got back to offense and threw a dart to John Metchie for 27 yards to end the third quarter, and Harris rumbled for a 1-yard run to make it 52-24 Alabama. The Crimson Tide salted the game away in the final frame, and coach Nick Saban won his seventh national title (1 with LSU and six with Alabama). His six in Tuscaloosa matches the six won by legendary coach Paul "Bear" Bryant.
The game was rather tight for a while in the first half. Alabama scored to make it 7-0, and Ohio State answered. The Tide took another lead and regained the ball, but Jones fumbled the ball, and Ohio State needed just one play to tie it at 14-14.
Then the Alabama offense kicked into another gear with three touchdowns.
Harris caught a floating wheel route out of the backfield on a play-action pass by Jones, and the powerful back took off down the left sideline, cut back inside and flew over an Ohio State defender for a 26-yard touchdown to put the Tide ahead, 21-14.
The score gave Harris 29 touchdowns this season, which set a new Alabama record that was previously held by current all-Pro running back Derrick Henry.
Ohio State got two big running plays by Fields (28 yards) and Teague (29 yards) to get the ball to the 15. After two plays resulted in minus-1 yard, Fields tossed a deep slant to Jeremy Ruckert, who was lit up by Alabama defender Jordan Battle. After review, Battle was called for targeting, and he was ejected from the game.
The Alabama defense held Ohio State to no yards on three plays, which led to a 23-yard field goal by Jake Seibert at the 5:21 mark in the first half.
Jones got back to work with a rifling pass to John Metchie for 16, then a 46-yard fade to Smith, who caught it over his shoulder while going out of bounds. On the next play, Jones hit Smith on a quick out for a quick, 5-yard scoring pass and a 28-17 lead with 3:19 to go.
The Crimson Tide forced a punt, which Smith returned 19 yards. After two short passes to Harris, Jones connected with Smith again—this time on a deep post—for a 42-yard touchdown pass and 35-17 lead that held through halftime.
Jones and Smith each had a beast of a night just by halftime. Jones completed 25-of-30 passes for 342 yards and four touchdowns by intermission and Smith hauled in 12 passes for 215 yards and three touchdowns through the first two quarters.
Alabama last won a national championship following the 2017 season when they knocked off Georgia in overtime, 26-23. The Crimson Tide lost to Clemson the following season, 44-16, in the national championship.
LSU defeated Clemson for the championship in the 2019 season, and that was the first year Alabama did not make college football's four-team playoff since its inception during the 2014 season.