Alabama Wins SEC, But Likely Captured Another First in Its Storied History
It's like Forrest Gump was talking about Alabama football Saturday night in Atlanta.
"We went to the SEC championship, again. We won it, again. We're going to the College Football Playoff, again. We'll be the No. 1 seed, again."
And it seems like the Crimson Tide will have another Heisman Trophy winner, again.
One year after the school's first wide receiver won college football's most-coveted individual award, its first quarterback now seems poised to win it.
Alabama quarterback Bryce Young has done pretty much did what it takes to win the award. In the second-consecutive week, he put up Heisman moments. Eight days ago, he led a 97-yard drive to tie the Iron Bowl and eventually put away Auburn in a heart-wrenching four overtimes.
On Saturday at the SEC title game in Atlanta, Young got shifty with his legs, launched perfect touchdown strikes and used an improvised triple option on the fly to extend another drive. Heck, he even fumbled the ball into massive Georgia defensive arms, only to recover it himself.
The Alabama Crimson Tide won, 41-24, to secure a spot into the College Football Playoff, which will be announced Sunday at noon ET.
Heisman Trophy voters have been mailed their ballots, and Young was the slight frontrunner heading into championship weekend. With Ohio State quarterback C.J. Stroud watching from home while Michigan won the Big Ten on Saturday night, the Heisman award seems to be a done deal for Young.
What did Young do on Saturday against Georgia, who had the prohibitive best defense in college football?
Young completed 26-of-44 passes for 421 yards and three touchdowns with no interceptions. He also ran three times for 40 yards and a 15-yard touchdown—something not designed for him.
Georgia took a 10-0 lead early in the second quarter, but Bama struck quickly with a 67-yard pass from Young to wide receiver Jameson Williams to cap a three-play drive.
Alabama took a 17-10 lead before Georgia tied the game in the second quarter. The Crimson Tide took a 24-17 lead by halftime and 31-17 lead in the third quarter before salting the game away.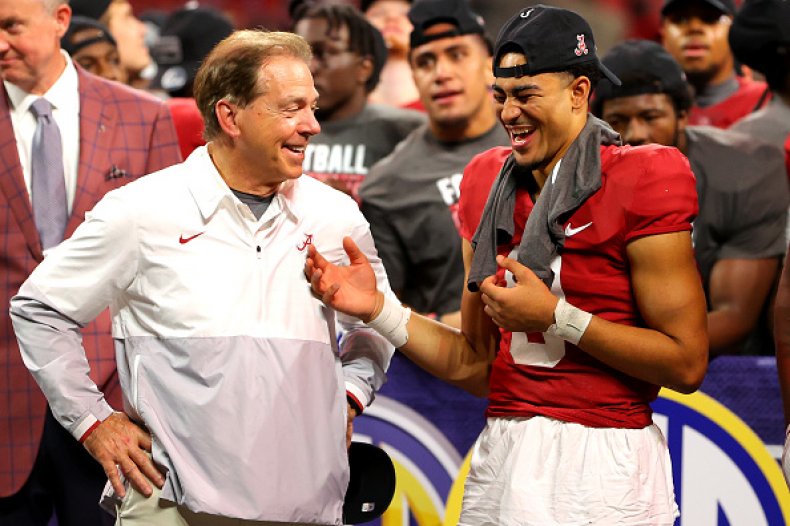 Young had a sparkling game without star receiver John Metchie III the entire second half, just one week after dealing without Williams for the second half against Auburn. During one scramble Saturday night, Young pulled a Houdini act to get away from pressure and found a teammate on a last-second pitch to gain more yards. When his offensive line gave him time, he found Williams for a 55-yard touchdown bomb.
Young was impressive when it counted the most. Now, they move onto the playoffs, again.
Alabama was the No. 3 team in the CFP rankings before knocking off top-ranked Georgia. No. 2 Michigan won the Big Ten title Saturday night over No. 13, and No. 4 Cincinnati won, pretty much guaranteeing them a spot in the playoff.
Alabama is expected to be the No. 1 team when the final rankings are released Sunday, followed by Michigan, Georgia and Cincinnati. No. 5 Oklahoma State lost the Big 12 championship Saturday to Baylor, and No. 6 Notre Dame is unlikely to leapfrog Cincinnati since the undefeated Bearcats went into South Bend and handed the Irish their only loss this season.