Alabama Women's Center Director Vows to Continue Providing Abortions: 'Alabamans Deserve Better'
A day after Alabama Governor Kay Ivey signed a bill banning almost all abortions in the state, a provider spoke of her determination to continue offering terminations.
"Until I am told otherwise, I will continue to provide the best reproductive health care I can," Yashica Robinson, the medical director at Alabama Women's Center for Reproductive Alternatives, wrote in a piece for CNN. "Bottom line: Alabamans deserve better."
Dr. Robinson said the legislation, which could become enforceable six months from now, would not change her daily routine as an OB-GYN. "Just as I have for the last 15 years of my medical career, I will continue to deliver babies, give prenatal care—and provide abortions," she wrote.
The board member of Physicians for Reproductive Health said she was "appalled" that rapists could receive a lesser punishment than she would for completing an abortion if the law went into effect. A doctor could in theory face between 10 to 99 years in prison for providing an abortion, while an individual found guilty of second-degree rape can be punished by a maximum of 20 years behind bars.
Robinson suggested that a "hostile climate for abortion" had already added unnecessary pressure to her job. She recalled how she had struggled to persuade a hospital and other doctors to allow a 22-week pregnant woman diagnosed with a condition which threatened both her and the life of her fetus to have an abortion.
The doctor warned that members of her profession would be put off from offering the appropriate care in complex situations in a state with an "unconscionably high maternal mortality rate."
According to the CDC, pregnancy-related mortality ratios across the U.S. in 2011-2014 were:
12.4 deaths per 100,000 live births for white women
40.0 deaths per 100,000 live births for black women
17.8 deaths per 100,000 live births for women of other races
In Alabama the figures are worse, according to the Alabama Department of Public Health:
48.4 deaths per 100,000 live births for white women in 2016
50.4 deaths per 100,000 live births for black & other women in 2016
31.0 deaths per 100,000 live births for white women in 2017
84.1 deaths per 100,000 live births for black & other women in 2017
"I am enraged that the state of Alabama would force me to choose between what is ethical and medically appropriate care and breaking the law," wrote Robinson.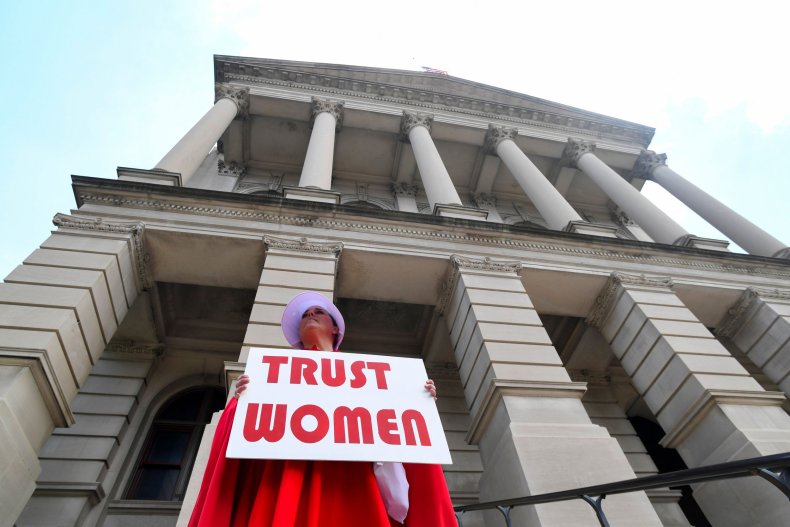 Passed in Alabama's state Senate on Tuesday with a 25-6 vote and signed into law by Ivey on Wednesday, HB 314 is the most restrictive abortion legislation in the U.S. The legislation restricts abortions to cases wherein a woman's health is at "serious" risk and if an "unborn child has a lethal anomaly," but does not include cases of rape or incest.
Ivey said in a statement that Alabamans believe "every life is a sacred gift from God."
The decision has sparked intense debate around reproductive rights in the U.S. and is seen as part of a wider attempt to see Roe v. Wade overturned in the Supreme Court.
Randall Marshall, executive director of the American Civil Liberties Union of Alabama, said in a statement: "We will not allow that to happen, and we will see them in court. Despite the governor signing this bill, clinics will remain open, and abortion is still a safe, legal medical procedure at all clinics in Alabama."