Alabama state Representative Andrew Sorrell proudly cited the state's high approval rating for President Donald Trump during Monday's roll call at the Republican National Convention. Sorrell serves as chair of Alabama's 50-person delegation, which unanimously voted to nominate Trump.
Alongside other Republican delegates from across the U.S., Sorrell delivered remarks supporting the president's nomination as he presented the Alabama delegates' votes on Monday. To open his speech, Sorrell introduced himself as "chairman of the delegation from the Yellowhammer State, the state with the highest approval rating in the country for Donald Trump."
"Yellowhammer State" is one of a few unofficial nicknames for Alabama. Opinions about its origins vary, with some suggesting it refers to the state bird and others noting its connection to Confederate uniforms during the Civil War. There is also some variation in the statistics that indicate Trump's approval rating in Alabama, although surveys conducted among voters in the historically red state consistently show majority support for the president.
Alabama's approval rating was the nation's highest for several months around this time last year, AL.com reported. A broad evaluation of Trump's state-by-state approval ratings, updated by Civiqs last Friday, placed Alabama ahead of most states in terms of the president's favorability among voters. The Civiqs report, which incorporated data collected between January 2017 and August 21 of this year, estimated Trump's overall approval rating in Alabama at 56 percent through that period.
Approval ratings were higher in Arkansas, Idaho, Kentucky, North Dakota, Oklahoma, South Dakota and West Virginia, with results ranging from 57 to 64 percent in support of Trump. Wyoming's overall approval rating matched Alabama's, according to the Civiqs report.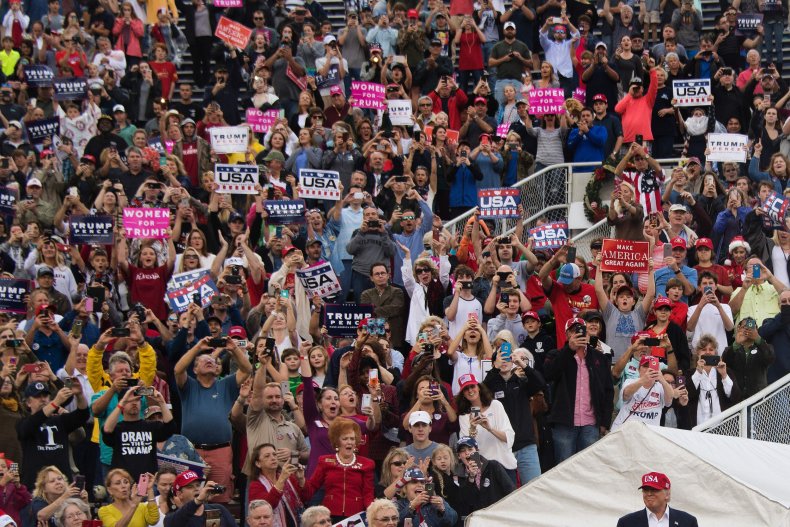 Sorrell's remarks during the Republican Convention's opening day included a list of Alabama's attributes he believes are most notable. The speech's structure was similar to those delivered by other states' delegation chairs, who also cited their states' achievements ahead of announcing the delegates' votes. After mentioning Alabama's Trump approval rating at the start of his speech, Sorrell acknowledged a handful of defense and manufacturing industries with a significant presence in different areas of the state.
"This state strongly supports our president and his policies," Sorrell said. "Today it is my honor to announce that Alabama has unanimously cast our 50 delegates votes for President Donald J. Trump."
Jon Favreau, a political commentator and podcast host, noted on Monday the differences in remarks delivered by Alabama's GOP and Democratic delegates at their parties' respective conventions. In a tweet, Favreau recounted U.S. Representative Terri Sewell's remarks from the Edmund Pettus Bridge in Selma last week, where she discussed the late congressman John Lewis' legacy and called for restoration of the Voting Rights Act.
"At the DNC roll call, Alabama Rep. Terri Sewell spoke in front of the Edmund Pettus Bridge about John Lewis, and the great unfinished business of civil rights and voting rights," Favreau wrote response to Sewell's roll call speech. "And there's the difference between your two political parties, folks."
Newsweek reached out to Sorrell and the Trump campaign for additional comments but did not receive replies in time for publication.