Alabama's Roy Moore to Sexual Assault Accusations, 'I Never Molested Anyone, I Did Not Recognize Any Of These People'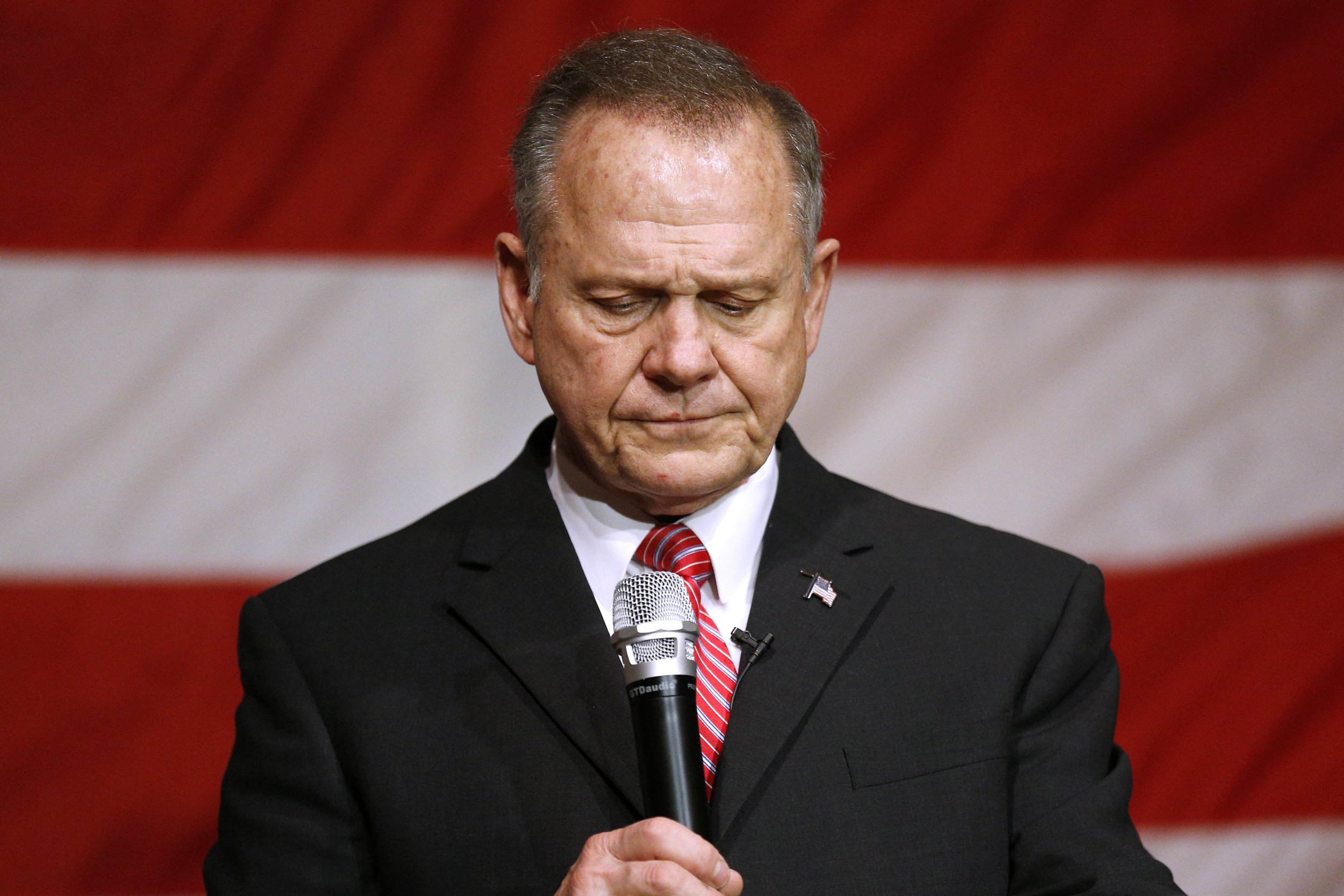 Ahead of Tuesday's special election, Alabama Senate candidate Roy Moore repeatedly denied allegations that he sexually assaulted teenage girls and said he never even knew his accusers in a sit-down interview with a local Alabama television station on Sunday.
"I did not know them, I had no encounter with them," he told The Voice of Alabama Politics host Bill Britt in response to a question about accusations brought by Leigh Corfman and Beverly Young Nelson. "I never molested anyone, for them to say that, I don't know why they're saying that but it's not true."
Corfman alleged that Moore touched her over her bra and underwear and put her hand on his genitals when she was 14-years-old and he was 32. Nelson has accused Moore of violently assaulting her in his car when she was 16 by putting his hands on her breasts and locking the car door so she couldn't get out.
Britt followed up by pressing Moore on charges of sexual misconduct brought by Debbie Wesson Gibson and Gloria Thacker Deason, but Moore indignantly cut him off.
"I said I did not know any of the women who have charged me with sexual allegations of molestation and I did not know any of the women. When I saw these pictures on the advertisements of my opponent I did not recognize any of those people."
Earlier this month, Gibson unearthed a graduation card Moore had allegedly written her, telling her he knew she would be "a success in anything you do."
Moore alluded to the card, but it was unclear whether he was saying he never wrote the card or just wrote so many that he didn't remember doing so.
"I have written cards, graduation cards, I've known families I've known a lot of people throughout my life but these allegations are completely false," he said.
Moore has incessantly denied the accusations of sexual assault, and blamed the charges on "ritual defamation" by his opponent Doug Jones because he knows his values are "not what the Alabama people find dear to them" on Sunday.
Many of Moore's alleged victims have said they did not come forward with their stories sooner because they were embarrassed about what happened to them, but the Alabama judge is refusing to believe that logic.
"It's inconceivable to think that somebody would wait 40 years because they were embarrassed or ashamed of something and then less than 30 days before the general election come out and make allegations and then appear on a political advertisement when they've waited 40 yrs not to be embarrassed," he told Britt.
Moore said a win on Tuesday would put an end to accusations of sexual assault, but Senate Republicans have vowed to launch an ethics investigation into the allegations if he is elected.