Alabama's Tua Tagovailoa Declares for NFL Draft, How Does He Stack Up Against Other Top Prospect Quarterbacks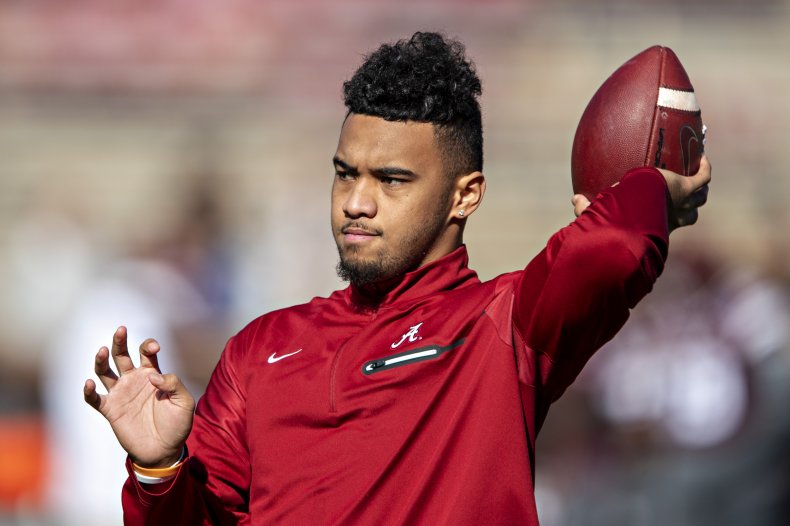 On Monday, Alabama quarterback Tua Tagovailoa announced his plans to forego his senior season and enter the 2020 NFL draft, joining several other top-ranked quarterbacks.
"I have had a difficult time making this decision about my future," Tagovailoa said during a press conference. "Without further ado, with lots of prayers, thoughts and guidance, I have decided that I will be declaring and entering the 2020 NFL draft."
Before the 2019 season began, Tagovailoa was widely considered to be a lock for the 2020 Draft. However, after sustaining an ankle injury and then a season-ending dislocated hip on November 16 against Southeastern Conference foe Mississippi State, some felt that the Alabam quarterback would return for his senior year and use the offseason to recover from the injury.
According to ESPN, Alabama team orthopedic surgeon Lyle Cain stated that Tagovailoa will not be able to resume football activity until mid-February, when he will be cleared to begin throwing the football again.
Despite his injuries and potential recovery time, Tagovailoa has remained one of the top quarterback prospects going into the draft. It is assumed by many that the Cincinnati Bengals will use their number one overall pick to draft LSU quarterback Joe Burrow, but according to some mock drafts Tagovailoa could be the second quarterback taken off the board.
"Expect Tagovailoa to be at No.5 (Dolphins) or No.6 (Chargers) in my 2020 Mock Draft 1.0," wrote ESPN's Mel Kiper Jr. on Twitter.
While Tagovailoa is projected by many to be the second quarterback drafted, his past injuries could potentially sway teams to look at the other choices for the quarterback position.
With Burrow projected as the number one pick, Oregon quarterback Justin Herbert is another name that teams could look to instead of Tagovailoa. Herbert has yet to declare for the NFL draft, but if he does, he has the potential to overtake Tagovailoa among the eligible QB's for the 2020 Draft. In his senior season, Herbert threw for 3,471 yards, 32 touchdowns and 6 interceptions. In one mock draft published by Bleacher Report, Herbert is projected as the 6th overall pick to the Los Angeles Chargers, right behind Tagovailoa.
Another name at quarterback that could potentially stack up against Tagovailoa and Herbert is Georgia's Jake Fromm. During his 2019 season, Fromm completed 60 percent of his passes for 2,860 yards, 24 touchdowns and 5 interceptions. Fromm has yet to announce his decision for the NFL draft but was ranked as Bleacher Report's 10th best potential prospect.
Jacob Eason of Washington and Jordan Love of Utah State are two other names that could also potentially shake up the NFL draft for quarterbacks. These two may not be as popular of names as the others, but according to NFL.com, they are both regarded as two top quarterback choices for the 2020 Draft class. Each threw for over 3,000 total yards, with Eason netting 23 touchdowns and Love 20.