'Aladdin' Live Action Movie: Meet the Cast and Get First Look At Disney Characters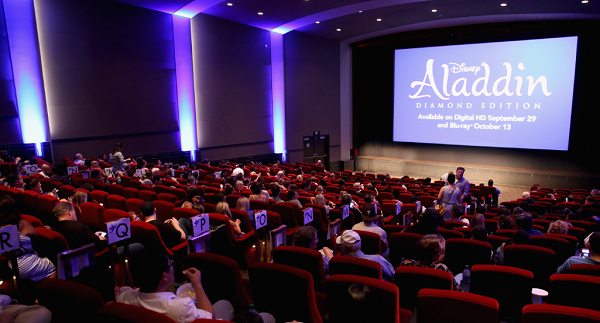 There are still months to go before Disney's live-action remake of Aladdin comes to the big screen, but the film studio is at least giving fans their first look at the cast now. The likes of Will Smith, Mena Massoud and Naomi Scott—who star as Genie, Aladdin and Princess Jasmine, respectively—appear in character on the cover of Entertainment Weekly's latest issue. The full cover story released online on Wednesday.
The updated film, directed by Guy Ritchie, follows the same majestic storyline as the original—the tale of a young, impoverished "street rat" who befriends a genie and uses his wishes to woo the girl of his dreams, the princess of the fictional city Agrabah, by becoming a prince. Aladdin is set to hit theaters on May 24, 2019.
Check out a few photos of the new movie and read on for more about the cast below.
Genie
Standing up to the late Robin Williams' incredibly funny personification of Aladdin's notoriously blue and friendly Genie seems nearly impossible, but Will Smith, who will appear as the blue CGI and human-version of Genie, was up for the challenge. "I started to feel confident that I could deliver something that was an homage to Robin Williams but was musically different," he told EW. "Just the flavor of the character would be different enough and unique enough that it would be in a different lane, versus trying to compete."
Aladdin
Canadian actor Mena Massoud, a former cast member on Amazon Prine Video's Jack Ryan series, landed the starring role in the live-action remake. The 27-year-old had to travel to the set—located in England—to learn how to sing and dance for the role. "The singing and dancing I had to really train and put in time for, as I'm predominately an actor first," Massoud told EW.
Of course, spending so much time with Smith was a huge help too. "What was nice about Will was that the more I got to know him and the more I spent time with him, the stronger naturally our relationships became with our characters," he added.
Princess Jasmine
Naomi Scott, a 25-year-old actor of Indian and British descent, stars as the daughter of Agrabah's Sultan, who is next in line to the throne. Jasmine gets a plot twist in the live-action version. In the cartoon movie, all she wants is freedom from the heavily guarded walls of the castle. While she's expected to escape the castle grounds and venture out into the city—where she'll likely meet Aladdin—in the remake, it's not necessarily in attempts to run away from her princess duties. "Jasmine's main objective at the beginning is to really protect her people and to do right by them. She definitely isn't a finished article at the beginning of the movie, but she has this beautiful arc and progression, and she goes from asking for what she wants to just taking it, and displaying that she is a leader," Scott said.
Dalia
While Jasmine's loyal pet, a tiger named Rajah, is still her noble companion in the live-action movie, the princess will get a human confidante as well. Dalia, a new character played by Saturday Night Live alum Nasim Pedrad, is described as Jasmine's handmaiden and best friend. She'll also play a key role in helping Jasmine decide on a potential suitor. "Jasmine is so resilient and independent in this version, she's focused on things other than which boy she's going to end up with," Pedrad told EW. "She really wants to be a leader, and Dalia really supports that but at the same time wants to make sure she doesn't get into trouble."
Jafar
Marwan Kenzari is set to play the wicked Grand Vizier to the Sultan whose main goal is to steal the genie lamp and become the most powerful sorcerer in the world. Details about Kenzari's role has remained under wraps, but fans of the original Aladdin should expect him to be just as evil in the remake.