Alan Cumming's 'Celibacy' Video Mocks FDA Blood Donor Policy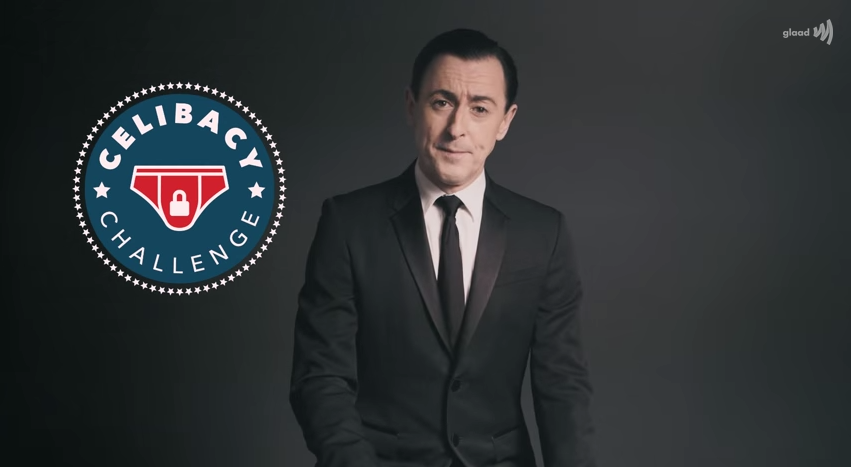 As part of a campaign intended to criticize the Food and Drug Administration's (FDA) blood donor policies, actor Alan Cumming appeared in a mock public service announcement on Thursday, touting a "Celibacy Challenge" for gay and bisexual men. The video is part of a campaign from GLAAD and the Gay Men's Health Crisis, a nonprofit group focused on AIDS prevention, to protest what they call a double standard for gay and bisexual men hoping to donate blood.
The Celibacy Challenge campaign, created by the design firm Bullitt and advertising agency Saatchi & Saatchi NY, comes after the FDA announced in December that men who have sex with men would no longer be banned from donating blood for life, as they have been since 1983, but would still need to abstain from sex for a year in order to be eligible.
"Now if you're gay and you want to save lives, the FDA will let you," says Cumming, who introduces himself as head of the Department of Sexual Abstinence. "You just can't have sex, for an entire year. That's right, 365 days of celibacy."
"Introducing, the Celibacy Challenge!" he announces in the video. "To help you abstain from any naughty temptation, here are some fully approved activities that are guaranteed to make your year without sex fly by."
A montage of suggestive scenes rife with phallic symbols then appears on the screen, before the camera again cuts to Cummings.
"Or there's another option," he says. "Sign our petition."
The goal, as Cumming says at the end of the video, is "to pressure the FDA to change its questionnaire so donors are screened based on their exposure to risk, and not their sexual orientation. So, no matter who you are, you can save lives."
The PSA points viewers to a website for the Celibacy Challenge. "America's hardest challenge," the homepage proclaims alongside Cumming's disapproving face. "Scroll down if you enjoy sex and signing things," reads the bottom of the screen, leading visitors to the Change.org petition.
The petition points out that whereas straight men who have safe sex with multiple women can still donate blood, gay and bisexual men who have had safe sex in the last year—even with a monogamous partner—are still prohibited from doing the same. As of Friday afternoon, it had garnered more than 6,400 supporters.
In December, Dr. Peter Marks, deputy director of the FDA's Center for Biologics Evaluation and Research, told The New York Times that "at this time we simply do not have the evidence to suggest that we can go to a shorter period."
But GLAAD president and CEO, Sarah Kate Ellis, says on the group's website: "Stereotypes have no place in saving lives. The FDA's proposed change still means that countless gay and bisexual men will be turned away from blood banks simply because of who they are."