Alan Dershowitz Agrees to Provide 'Constitutional Advice' to Rudy Giuliani's Legal Team Following Raid
Attorney Alan Dershowitz has agreed to provide Rudy Giuliani's legal team with "constitutional advice" following Wednesday's raid by federal agents on the former Donald Trump lawyer's home.
"I had spoken out a number of times against the raid, [and on Thursday] Giuliani called me and asked me if I would share that view with his lawyers," Dershowitz, a Democrat who served on Trump's defense team during the ex-president's first impeachment trial, told The Daily Beast on Friday.
"This is a very serious breach of privacy, and I agreed to help advise him on this issue," Dershowitz later confirmed to Newsweek.
The longtime criminal defense attorney said he told Giuliani he would be happy to offer the team constitutional advice about the search, but said he hasn't heard from the former New York mayor's lawyers yet.
On Wednesday, federal investigators served a warrant at Giuliani's Manhattan home, seizing multiple electronic devices. Prosecutors are reportedly investigating Giuliani's ties to Ukraine and whether he violated lobbying laws when attempting to oust the then-U.S. ambassador to Ukraine, Marie Yovanovitch, through Ukrainian officials.
Dershowitz said search warrants are executed only when you have reason to believe that the lawyer would destroy evidence," adding that lawyers, doctors, priests and other individuals with privileged information have protections under the Fourth Amendment.
"[Giuliani] was publicly known to be representing the president of the United States when they got his cloud from the server...and he had protected conversations with the president and they were seized," Dershowitz noted.
On Wednesday, Giuliani's lawyer, Robert Costello, said prosecutors had covertly executed a search warrant on Giuliani's iCloud account back in 2019, when he was Trump's personal attorney.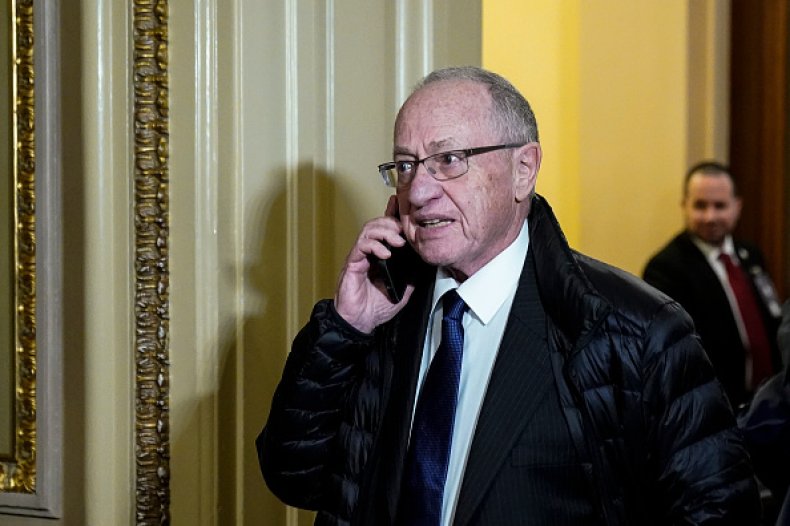 Giuliani and Dershowitz have long been on opposite sides of various Fourth Amendment issues and cases. Before he was elected mayor, Giuliani was a federal prosecutor for the Southern District of New York. Dershowitz said the two would invite each other to speak to their law students to discuss the Fourth Amendment and other legal topics of interest.
"The first case we ever did against each other, I won on Fourth Amendment grounds," Dershowitz recalled to Newsweek. "He was wrong then, and he is right now. Nothing better to help you change your mind than when it happens to you."
Dershowitz said the first action Giuliani's legal team should pursue is issuing a subpoena.
This is not the first time Dershowitz had advised a close Trump ally. Last year, the attorney was asked by MyPillow CEO Mike Lindell to provide legal advice after Dominion Voting Systems filed a $1.6 billion defamation suit over his claims about the voting machine company's actions in the 2020 presidential election.
Although Dershowitz was not an attorney of record on the case, he suggested First Amendment implications for Lindell's team to pursue. Dershowitz also said he is not one of Giuliani's counsels of record.