Epstein Lawyer Alan Dershowitz Will Defend Biblical Child Traffickers In Mock Trial
Update: 4:18 p.m. Congregation Emanu-El confirmed in an email to Newsweek that the event has been cancelled. A full statement with more details is expected.
A mock trail at which Alan Dershowitz was scheduled to defend Biblical characters from charges of kidnapping and child trafficking has been cancelled. The event, originally planned for November at the Temple Emanu-El Streicker Center in New York, drew ire due to Dershowitz's close connections to alleged sex trafficker Jeffrey Epstein, found dead in a federal jail cell on Saturday, and the sexual assault allegations levied against Dershowitz by alleged Epstein victim Virginia Giuffre and Sarah Ransome.
A retired Harvard Law School professor known for TV punditry and defense of celebrity clients, most famously in his role as appellate adviser to O.J. Simpson's legal defense, Dershowitz would have acted as defense in "The People vs. Joseph's Brothers," the sixth annual mock trial hosted by the Streicker Center based on stories from the Torah.
"In the Temple Emanu-El Streicker Center courtroom, no one is above the law—not king nor prophet, matriarch nor patriarch," the event description reads.
In the trial, US District Court judge Ronnie Abrams would have adjudicated whether the brothers of Joseph, who appear in Genesis in the Torah and Bible, should be held guilty for selling the young Joseph to the Midianites as a slave.
"Joseph's older brothers seethed with jealousy at their father's special affection for the son of his old age, the eldest child of his favorite wife, the one with a preternatural ability to interpret dreams. After he gave Joseph a coat of many colors, the brothers refused to contain their envy," the event description reads. "Decades later, Joseph forgave his brothers for their sins. But shouldn't the State hold them accountable for their crimes?"
The event drew attention outside of New York when posted online by Ben Jacobs, a senior political reporter for the Jewish Insider and soon garnered international attention from the Times of Israel and The Jerusalem Post.
Dershowitz was instrumental in a controversial 2007 deal made with U.S. attorneys in South Florida, including former Labor Secretary Alex Acosta, after Epstein was arrested for allegedly sexually assaulting up to 21 girls in the Palm Beach area, some as young as 14. Epstein pled guilty to two charges of felony prostitution, for which he served 13 months in the private wing of Palm Beach County jail, which permitted Epstein 12 hour work-release six days out of the week.
Immunity was also granted to any unnamed "potential co-conspirators." The inexplicably lenient deal led to Acosta stepping down from the Trump administration after the Miami Herald reported that the U.S. Attorney's office had failed to notify Epstein's accusers of the deal, in violation of the federal Crime Victims' Rights Act.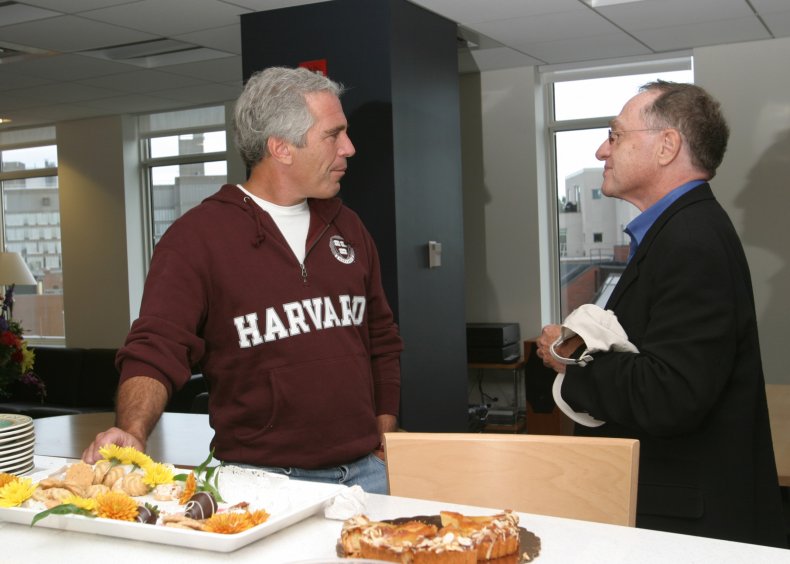 But beyond his longtime professional and personal relationship with Epstein, specific allegations against Dershowitz are detailed in court documents unsealed Friday, which include testimony from Giuffre, who claims she was made a sex slave by Epstein and alleged co-conspirator Ghislaine Maxwell, a British socialite, when she was 16 years old. Giuffre describes being trafficked to powerful men for sex, including Prince Andrew, financier Glenn Dubin, former Senate Majority Leader George Mitchell, scientist Marvin Minsky, former New Mexico Governor Bill Richardson and Dershowitz, in addition to unnamed prime ministers, hotel magnates and foreign presidents.
All of the men accused, except Minsky, who died in 2016, have made public denials. "Glenn and Eva Dubin are outraged by the allegations against them in the unsealed court records and categorically reject them," a spokesman for the Dubins said in statement sent to Newsweek. In addition to Giufffre, testimony from the Dubins' former house manager Rinaldo Rizzo was also included in the newly released court documents, who described a "distraught" Swedish teen's claim that she was pressured to have sex on Epstein's private island, Little St. James, in the U.S. Virgin Islands.
In her testimony, Giuffre describes being told to have intercourse with Dershowitz multiple times, in several Epstein properties. Dershowitz has denied ever meeting or having sexual contact with Giuffre, citing an email from the newly released court documents that he claims exonerates him. In the email, Giuffre writes to Sharon Churcher of The Mail on Sunday, requesting the names of men she had described having sex with on Epstein's orders in previous interviews with the British tabloid.
"With everything going on, my brain feels like mush and it would be a great deal of help," Giuffre wrote.
"Don't forget Alan Dershowitz ... J.E.'s buddy and lawyer," Churcher wrote, adding that his would be a "good name" for the book pitch Giuffre was developing. "We all suspect Alan is a pedo and tho no proof of that, you probably met him when he was hanging out with [Epstein]."
In a statement, Dershowitz positions the email as evidence of a fabricated accusation, rather than an attempt by Giuffre to jog her memory. "If she had sex with me, I'd be highlighted," Dershowitz told The Daily Beast. "This is completely exculpatory and completely consistent with what I've been saying."
Beyond specific accusations, Connie Bruck of The New Yorker documented Dershowitz's pattern of smearing alleged victims while using his "civil libertarian" politics to defend men accused of sexual abuse. The exposé details Dershowitz's preoccupation with false rape accusations, which he brought up so much in his Harvard classroom that "a woman raised her hand and said, essentially, 'Okay, enough rape examples! There are women in this class who have been raped. Can we move on to something else?" The article also delves into a 1997 op-ed, in which Dershowitz argued that the age of sexual consent should be lowered to 15.
The accusations against Dershowitz, combined with his close connections to Epstein, have led to calls for the cancellation of the mock trial event, including from Jewish political cartoonist Eli Valley, author of Diaspora Boy: Comics on Crisis in America and Israel, who has repeatedly targeted Dershowitz in his work.
Former Governor of New Jersey Christie will join Abrams and Dershowitz on stage, serving as the prosecution. Bill Hutton and Sharon Catherine Brown, from the cast of the original 1982 Broadway production of Joseph and the Amazing Technicolor Dreamcoat will also appear.
The Temple Emanu-El Streicker Center has stopped selling tickets to the event on their website. "The People Vs. Joseph's Brothers" was originally scheduled for Sunday, November 17.
This story has been updated to reflect Temple Emanuel-El's cancellation of "The People Vs. Joseph's Brothers" and with a comment from a spokesman for Glenn and Eva Dubin.